This easy strawberry pie uses storebought pie crust and has a cream cheese layer underneath homemade strawberry filling (but you can use storebought filling if you want!). This pie is served chilled, making it a perfect summer dessert.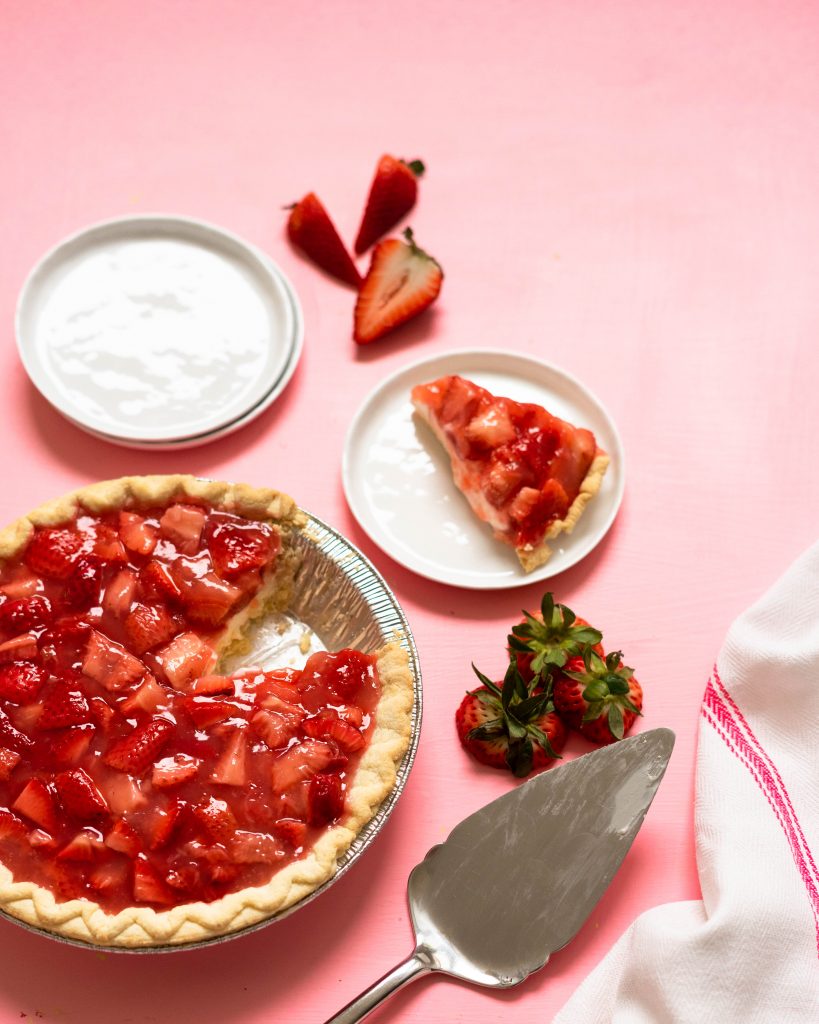 Last weekend, I made Boyfriend and I cinnamon rolls. They were AWESOME. I love making cinnamon rolls because they're fun and delicious, but I rarely do because they take forethought. And effort. A lot of effort.
What do cinnamon rolls have to do with strawberry pie, you ask? Well, if you can believe it, there is such a thing as too much cream cheese frosting and that's exactly what I made. I kept the leftover frosting in my fridge for a couple of days for berry dipping, but we hardly put a dent in it. So, when friends came over for dinner last week, I tried to think of a dessert that incorporated the cream cheesy goodness, and strawberries immediately came to mind.
And so this pie was born.
How to Make Strawberry Pie
You'll want to get a deep dish frozen pie crust and prebake it according to package instructions. Yes, you could make your own pie crust… but why? Make your own if that's what makes you happy. Taking the easy way out makes me happy.
To make the base cream cheese layer, you essentially make a thick cream cheese frosting! All you need for the cream cheese layer is:
Cream cheese
Milk (any dairy or non dairy milk is fine, just something to thin it out)
Powdered sugar
And you whip it up until it's a light but thick cream cheese dream.
The strawberry layer is a little different. I hulled and sliced all the strawberries then added about half to a saucepan over low heat, where I mashed them. Then sugar is added with a cornstarch slurry. A cornstarch slurry is cornstarch mixed with cold water. Once the cornstarch is smoothed out and starting to thicken, remove the mixture from heat. Add the sliced strawberries and toss until they're well coated.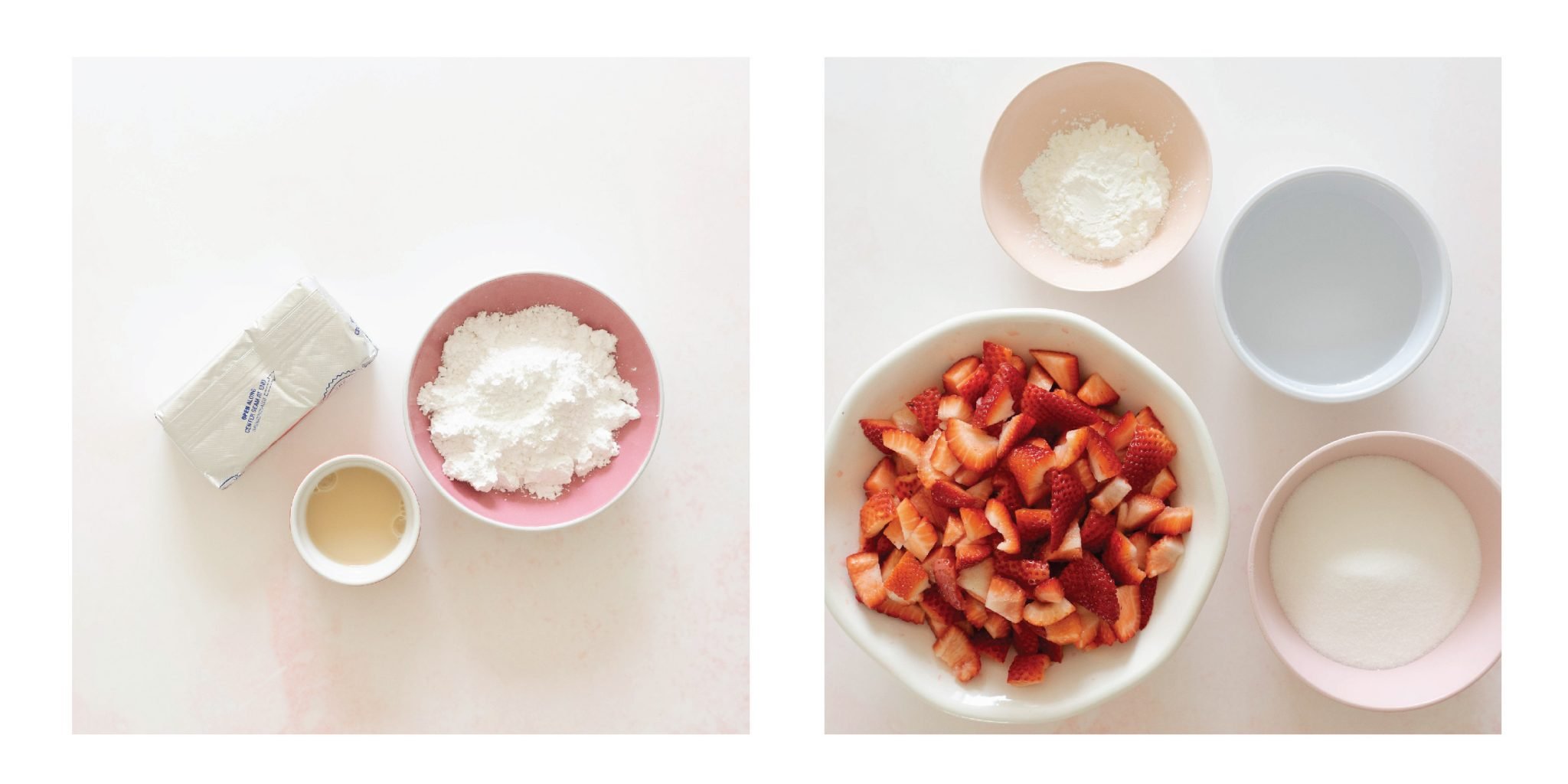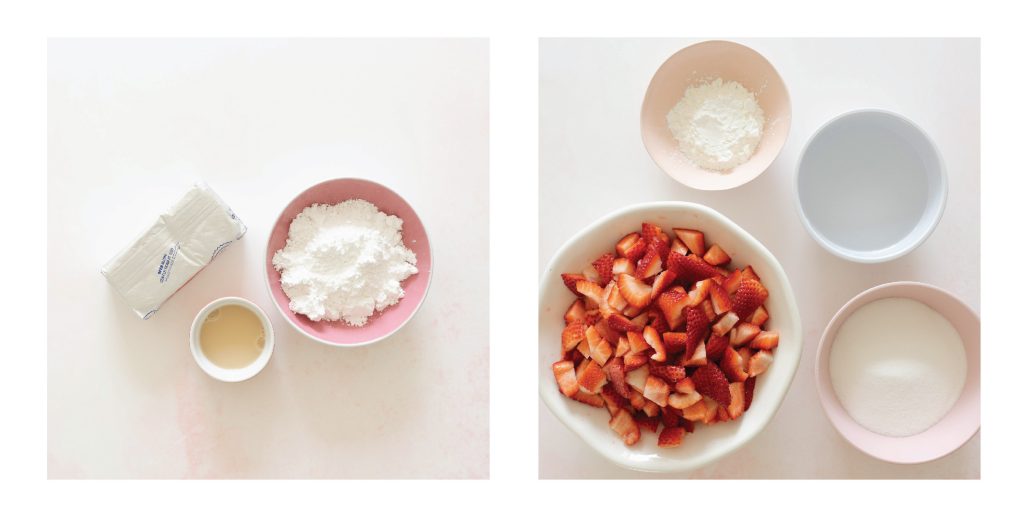 To assemble everything, spread the cream cheese out in the pre-baked and cooled pie crust, then pour the strawberry mixture on top! It's that easy. Let it set up in the fridge for a few hours and you're good to go!
Can strawberry pie be frozen?
Good news: this strawberry pie freezes beautifully. Just let it thaw in your fridge for about 24 hours before serving. But the good news is: it's best served cold!
Can I use a can of strawberry pie filling?
Of course! I like the texture of this homemade strawberry pie filling, but if you'd prefer to use canned/store bought, go for it.
More Strawberry Recipes
Looking for more strawberry dessert ideas? I've got 'em!
Watch the Video
Easy Strawberry Pie Recipe
If you make this recipe, I'd love it if you'd rate and review it! Want to stay in the loop? Follow me on Instagram: @aducksoven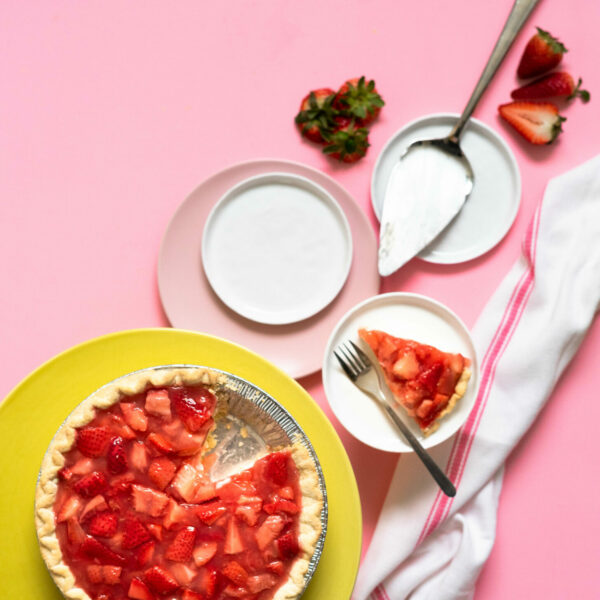 Get the Recipe: Easy Strawberry Pie
This easy strawberry pie uses storebought pie crust and has a cream cheese layer underneath homemade strawberry filling. This pie is served chilled, making it a perfect summer dessert!
Ingredients
1 deep dish frozen pie crust
8 oz 1 package cream cheese
1/2-3/4 cup powdered sugar
2 tbsp milk
2 lb strawberries, hulled and chopped into quarters
1 cup sugar
1/2 cup cold water
3 tbsp cornstarch
Instructions
Bake pie crust according to package directions and set aside to cool.

Using the whisk attachment on a handheld or standing mixer, whip together cream cheese, 1/2 cup powdered sugar, and milk for at least 3 minutes. Taste and add remaining powdered sugar if desired to achieve a thicker texture.

Add 1/2 cup of the strawberries to a medium-sized saucepan and mash. Add the sugar and cook until sugar begins to dissolve.

In a separate bowl, combine water and corn starch. Add the cornstarch mixture to the sugar/strawberry mixture and cook over medium heat for about ten minutes, or until the mixture thickens and becomes translucent. Remove from heat and add the remaining strawberries, mixing to coat.

Spread the cream cheese mixture in the bottom of the cooled pie crust. Top with the strawberry mixture and spread evenly.

Let sit in fridge for several hours or until cool and set.
Notes
You can totally use canned strawberry pie filling if you'd like. This pie freezes beautifully!
Calories: 387kcal, Carbohydrates: 57g, Protein: 4g, Fat: 17g, Saturated Fat: 8g, Cholesterol: 32mg, Sodium: 197mg, Potassium: 243mg, Fiber: 3g, Sugar: 39g, Vitamin A: 401IU, Vitamin C: 67mg, Calcium: 56mg, Iron: 1mg