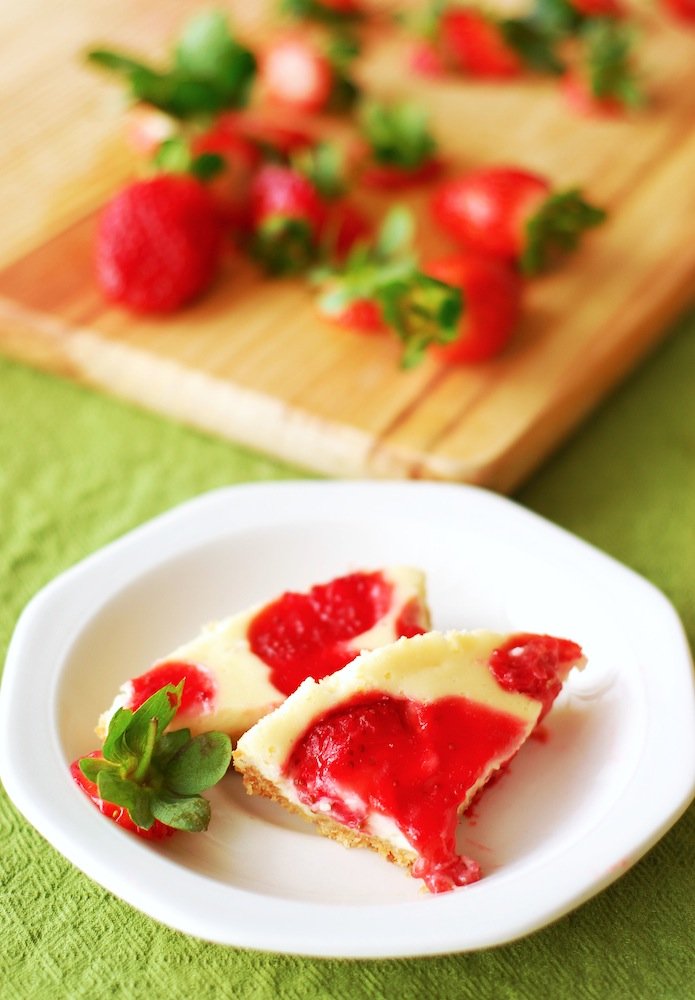 Seasonal strawberries. They're here, people. There are few things more yummy than strawberries in June from the farmer's market. As much I love eating them just as they are, I've been baking a lot with them because they're beautiful and delicious and somehow even better when baked into something.
And oh my gosh, do they go with anything better than cream cheese? Maybe chocolate. Maybe. But strawberries and cream cheese… just so tasty.
And so I made strawberry cheesecake bars. It was the only logical thing to do with the many containers of strawberries waiting in my fridge.
The crust is simple and delicious: ground up graham crackers and melted butter.
Then yummy cheesecake batter. This cheesecake isn't a super sweet cheesecake, so if you are a sugar fiend, give it a taste and see if you want to add a little more.
The strawberries get broken down with lemon juice and sugar, then the mixture is thickened up with cornstarch. I could eat this mixture by the spoonful.
And it all gets baked! People: I don't know why I didn't swirl the strawberry mixture into the cheesecake. It would have been so much prettier. Instead, mine is blotchy and kind of weird looking. You should probably swirl yours.
Cut it up into bars. They're good warm or chilled, take your pick!
Seriously, these were so tasty. Like portable strawberry cheesecake. And somehow I feel less guilty eating several bars than I would several slices of cheesecake.
You can also view this recipe as a step-by-step web story here.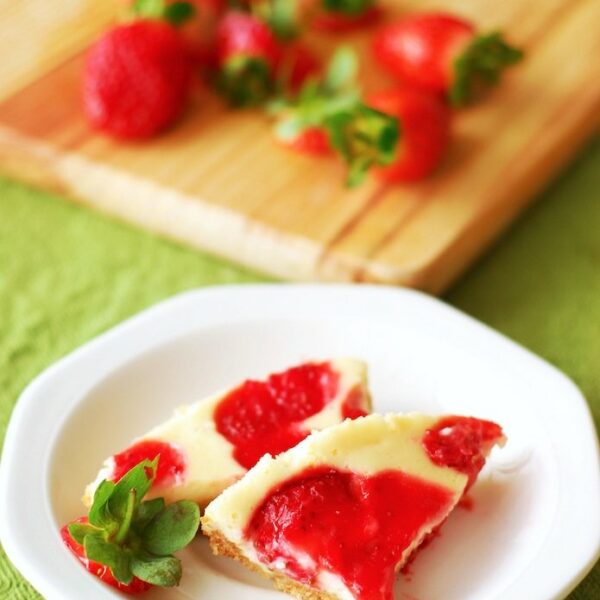 Get the Recipe: Strawberry Cheesecake Bars
Strawberry cheesecake bars: my favorite dessert in slightly more portable bar form!
Ingredients
15 graham crackers
1/4 cup butter, melted
1 8 oz package cream cheese, room temperature
1/3 cup sugar
3 tbsp milk
1 egg
1/4 cup sour cream
1 tsp vanilla
1 tbsp flour
1 cup strawberries, tops removed and sliced in half
2 tsp lemon juice
1/4 cup sugar
2 tbsp cold water
1 tsp cornstarch
Instructions
Preheat oven to 350 degrees. Spray a 9×13 inch dish with cooking spray.

Process graham crackers in a food processor until big crumbs have formed. Stir in melted butter. Press the graham crackers into the bottom of the baking dish. Bake for 10 minutes in the preheated oven.

Beat cream cheese with an electric mixer until lighter. Add 1/3 cup sugar, milk, egg, sour cream, and vanilla and beat until well combined. Pour over baked crust.

In a small sauce pan over medium heat, combine strawberries, lemon juice, and 1/4 cup sugar. Let simmer, stirring occasionally, until strawberries have mostly broken down. Mix cold water and cornstarch together, then add to strawberry mixture. Cook until cornstarch is no longer white and the mixture has thickened. Pour over cheese cake mixture.

Bake the bars in the preheated oven for 20 minutes, or until no longer jiggly.

Let cool for ten minutes before cutting, or you may prefer to refrigerate it for a few hours before serving. Cut into squares to serve.