The most amazing, wonderful, exciting, (insert more happy adjectives) thing happened when I went to the grocery store last week. The little grocery store I shop at keeps it pretty seasonal with the produce, and lately the shelves have been pretty bare. It's winter here in South Africa, so there ain't a lot. But. BUT. On this day, I saw strawberries sitting on the shelf. And they were advertised as being seasonal! So I bought plenty. And what do you know, they tasted just like the wonderful, incredibly sweet seasonal strawberries that crop up every year at home.
I have no idea why it's time for strawberries here when it's winter. But I'm not gonna argue about it.
We've been eating oatmeal with strawberries, strawberry cheesecake bars (coming soon to a blog near you!), plenty of them by themselves, and these lovely little strawberry palmiers.
Also, this recipe is super easy. There is a bit of passive waiting time involved, but you won't be lifting too many fingers.
Get yourself some gorgeous, seasonal strawberries. Give them a thorough rinse, lop off the tops, and slice 'em in half. I generally don't hull strawberries that I'm going to be breaking down because I want as much strawberry as I can get. You can if you'd like!
Next up: my favorite thing from the frozen aisle. Puff pastry! Sprinkle a generous amount of sugar onto a cutting board or another clean surface…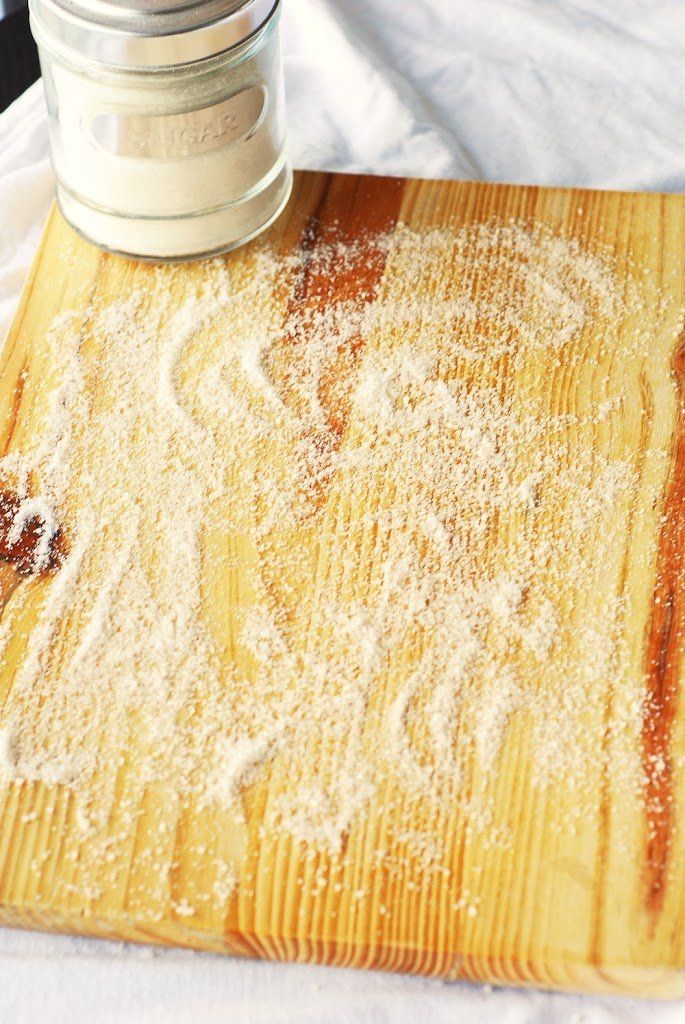 Then lay your defrosted puff pastry out onto it and roll it with a rolling pin. You don't need to flatten it too much more, you're mostly doing this to get the sugar into the pastry. Once you've rolled it for a bit, sprinkle the top with sugar, flip it, and repeat. Be very generous with the sugar.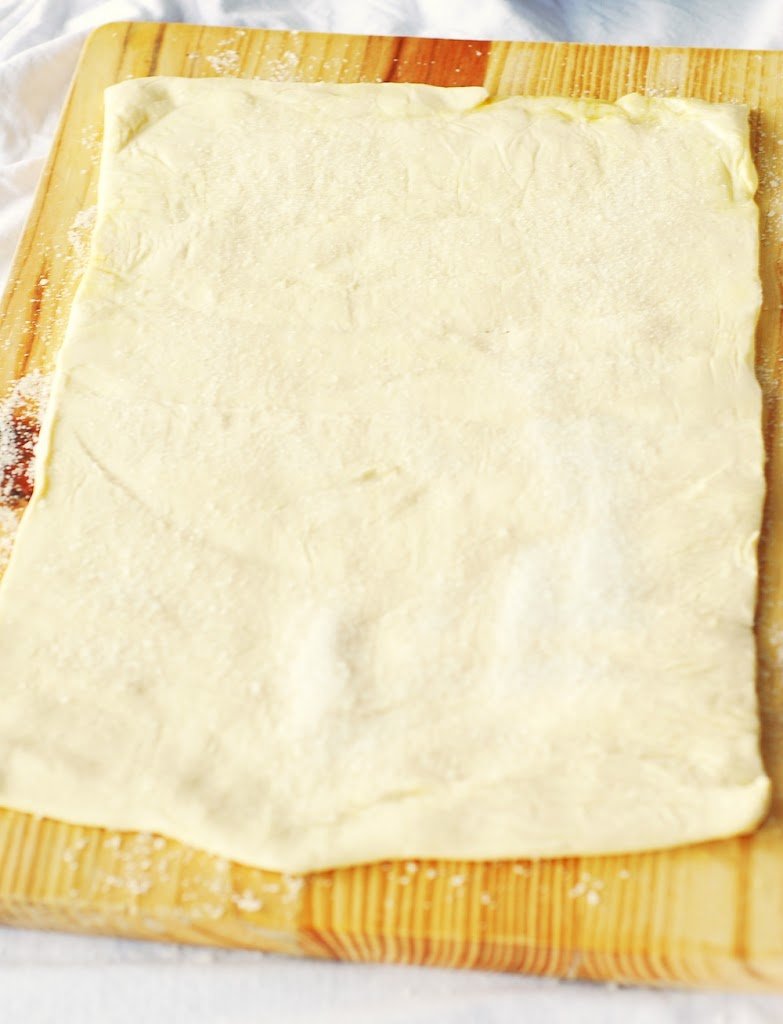 Then spoon saucy strawberry goo all over the puff pastry. The strawberry filling is really easy: strawberries, sugar, lemon juice, water, and cornstarch. You only need a very thin layer.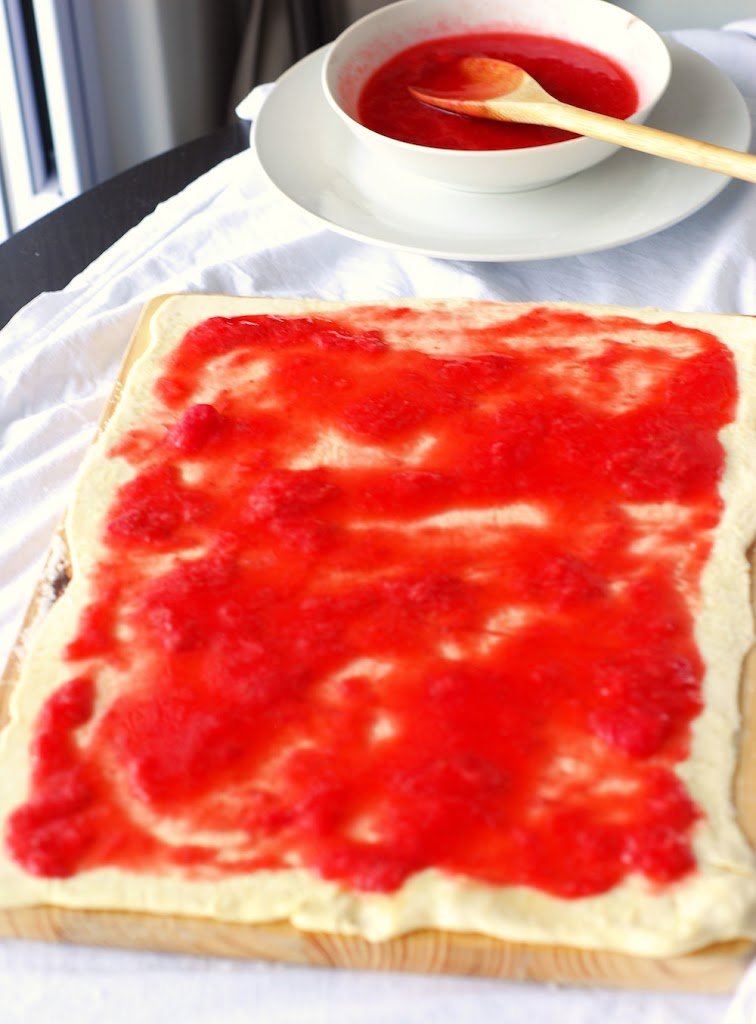 Unfortunately I did not call Fiance over to take pictures of me rolling up the pastry- I should have. You just want to eyeball the middle of the puff pastry and take a knife and make a small indent in it down the middle. Then roll each side long ways until it hits that indent. Wrap it up in some plastic wrap and freeze the puff pastry log for about a half hour. I was impatient and didn't wait that long, but it would have made my life easier if I had.
Remove it from the freezer and make slices that are about a half inch wide and arrange them on a greased cookie sheet.
Pop 'em in the oven until they're golden brown, and you've got gorgeous little palmiers!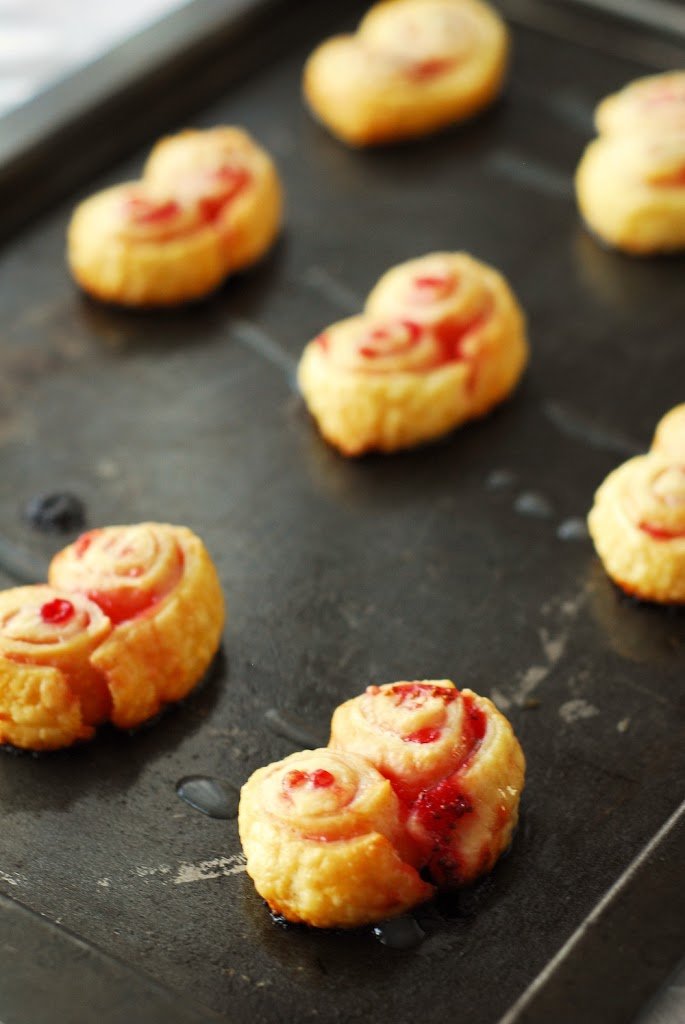 I made a simple syrup glaze for them, but it was totally not necessary. Seriously, aren't these so pretty?!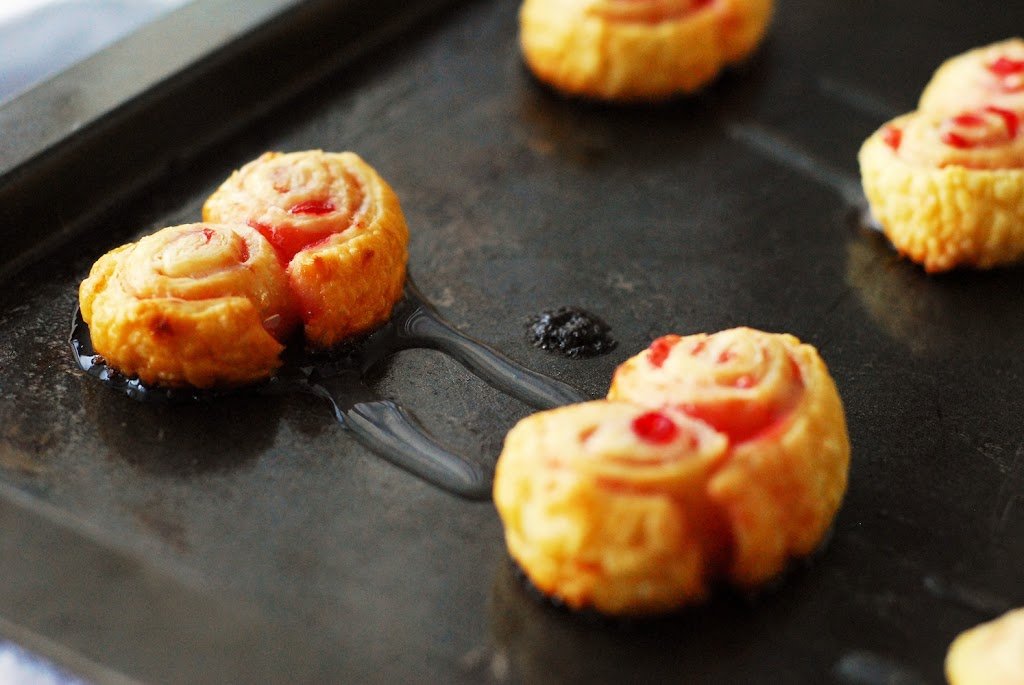 And they were so tasty… it took no time at all for them to disappear.
Happy strawberry season! June's desktop calendar is of a photo of these palmiers, and it's wonderful to open my laptop to such a pretty sight each day!
You can also view this recipe as a step-by-step web story here.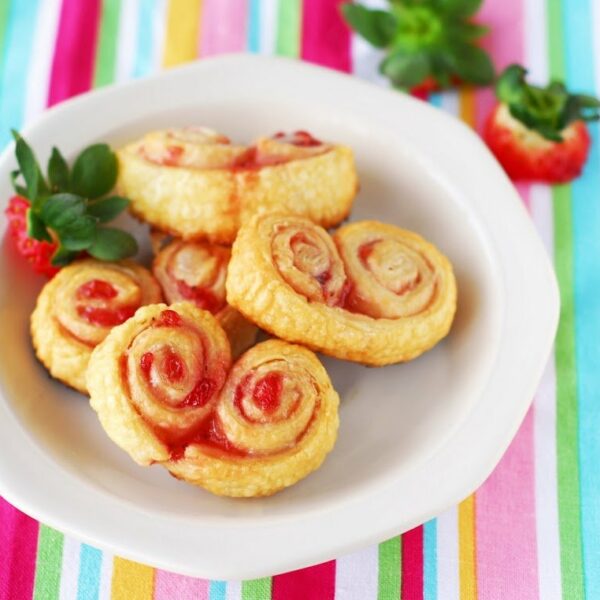 Get the Recipe: Strawberry Palmiers
Strawberry Palmiers: incredibly simple cookies made with puff pastry, sugar, and a homemade strawberry sauce.
Ingredients
1/2 cup strawberries, tops removed and sliced in half
2 tsp lemon juice
1/4 cup sugar
1/4 cup cold water
1 tsp cornstarch
1 sheet puff pastry, defrosted
1/3 cup sugar
Instructions
Preheat oven to 350 degrees F (180 degrees C). Spray a cookie sheet with cooking spray.

In a small saucepan, combine the strawberries, lemon juice, and sugar and cook over medium low heat. Cook for about ten minutes, stirring occasionally, until the strawberries have broken down and are mostly liquidy. Mix the water and cornstarch together and add to the strawberry mixture. Continue to cook until the cornstarch is transparent and mixture has thickened.

While the strawberries are cooking, sprinkle about half the sugar onto a clean surface, such as a cutting board. Lay the puff pastry over the sugar. Lightly roll the puff pastry to press the sugar into it. Sprinkle the top of the puff pastry with remaining sugar, flip the pastry, and roll the sugar into the other side.

Pour the strawberry mixture onto the puff pastry and spread into a thin layer. You may not need all of the strawberry mixture (it's great on pancakes or waffles!).

Determine the middle of the puff pastry long ways and use a knife to make a small indent in the middle from end to end. Roll each side of the puff pastry to the indent. Wrap the log of puff pastry in plastic wrap. Freeze the log for a half hour.

Remove the log from the freezer and unwrap. Slice the log into 1/2 inch slices. Arrange on the greased cookie sheet a couple inches apart.

Bake for 25-30 minutes or until golden brown.