You knew I wouldn't let you go too long without a curry recipe right? Actually, this is just a crockpot friendly recipe that's very similar to some of the other curries that I've posted on here. Of all the things I missed while I was in Cape Town, my crockpot has got to be near the top of that list and I didn't really even know it.
I've also got to say, I definitely didn't use this handy appliance enough before I left. It's so fantastic for work! I've been getting a few crockpot meals ready to throw in on Sundays, throwing them in the fridge, then pulling 'em out and adding everything to the crockpot on the mornings I want to use them. We've had chili, teriyaki chicken meatballs, and of course, A Duck's Oven's most popular recipe, Lemon Crockpot Chicken. We were really missing curry, and since this is a recipe I usually like to cook low and slow, it was time to try it in the crockpot.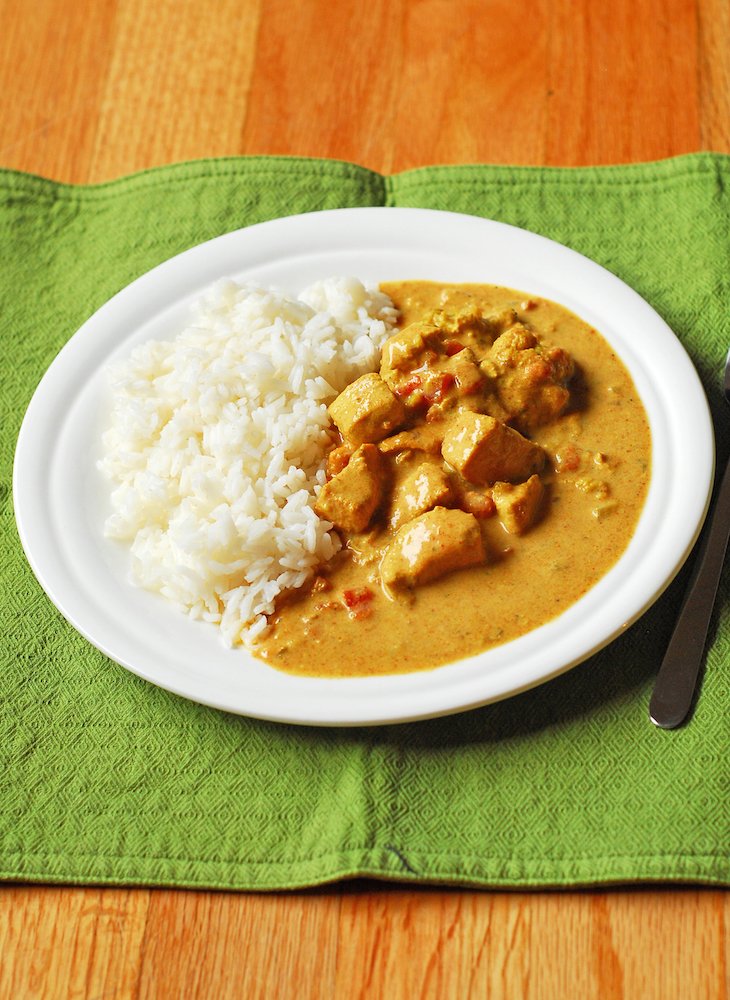 Aaaand crockpot curry came out beautifully! It's a very simple curry: coconut curry sauce + diced chicken breasts + frozen veggies. I haven't tried it myself yet, but I think this curry sauce would hold up well if you made it ahead of time and froze it.
As always, make plenty of rice to serve it over! The leftovers make an awesome lunch. In fact, the leftovers might even be a little better than the first go around.
If you get the opportunity to whip this up yourself, make sure to stop back by and let me know what you think!
You can also view this recipe as a step-by-step web story here.
Get the Recipe: Crockpot Coconut Chicken & Veggie Curry
Ingredients
1 tbsp olive oil
½ medium-sized yellow onion, diced
1 jalapeño pepper, finely diced
1 tsp minced garlic
1/2 inch piece ginger, shredded
4 chicken breasts, trimmed and diced into 1 inch pieces
Pepper
2 tbsp curry powder
½ tsp ground coriander
½ tsp turmeric
1/2 tsp cumin
1/2 tsp paprika
Pinch of cayenne pepper, optional for extra heat
1 14.5 oz can diced tomatoes
1 13.5 oz can coconut milk
1½ cups frozen vegetable mix
Instructions
Heat the olive oil in a large skillet over medium heat. Add the onion, jalapeno, garlic, and ginger. Cook for about 5 minutes, stirring occasionally.

Season the diced chicken breasts with salt and pepper. Add to the skillet with the veggies and brown on all sides. Add remaining spices and cook until fragrant, about 2 minutes.

Add the chicken mixture to your crockpot. Add the diced tomatoes and coconut milk and stir to combine.

Cook on low for 6-8 hours and stir it occasionally if possible. About an hour before the end of the cooking time, add the frozen veggies.

Serve over white rice.