This is what Fiance lovingly calls "weird pizza". In fact, in our world, this isn't really even pizza. If it doesn't have red sauce, mozzarella, pepperoni, sometimes sausage, and that's pretty much it, then it falls into a category all its own.
But it is still utterly and completely delicious.
The name pretty much spells it out: this Brie, Bacon, and Orange Pizza with Truffle Oil has all of those things, but let me expand a bit. It's also got just a bit of mozzarella, plenty of fresh basil, and that bacon on there- that's pepper bacon. The thick-cut good stuff.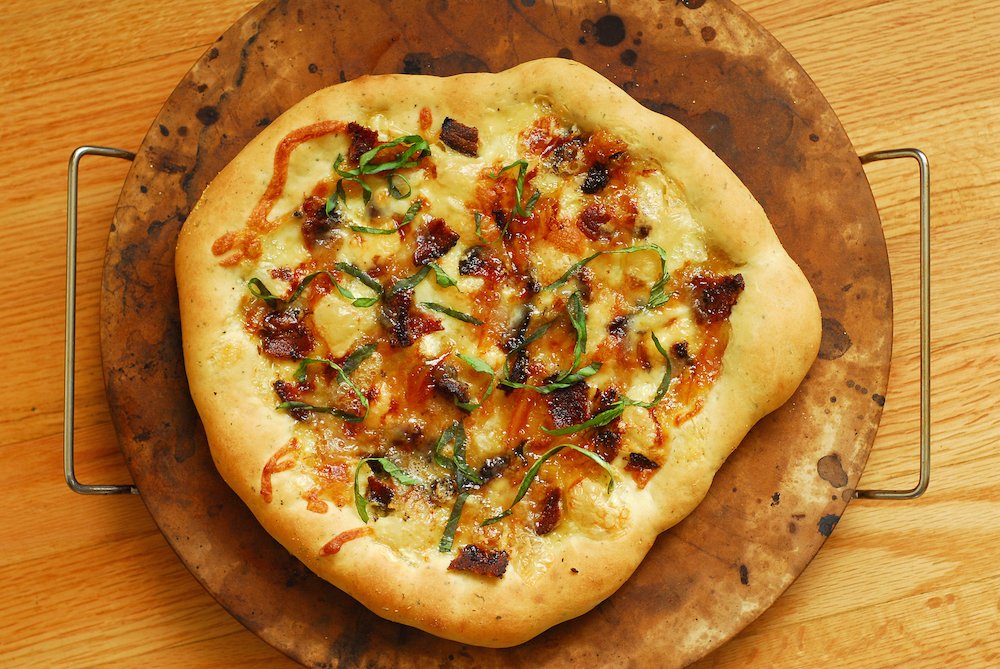 You guys. Smooth and creamy brie cheese + salty, peppery bacon + sweet and citrusy orange marmalade is the stuff of dreams. Oh yeah, the "orange" component of this dish is this ridiculous orange marmalade that has chunks of peel and isn't overly sweet. The usual salty sweet combination on pizza uses figs, which I totally love, but this was fun to shake things up even more.
And to really push everything over the top, of course I had to drizzle on just a bit of nutty, incredible white truffle oil to finish it off. Thank you for an excellent Christmas gift future MIL! I actually made this with Valentine's Day in mind, and I think using an ingredient like white truffle oil makes a meal feel all the more special. I work in the restaurant industry, which means not only am I often working on Valentine's Day, but Valentine's Day in restaurants just make me feel exuberant amounts of stress. I'm just watching the poor restaurant staff attempt to handle the hordes of people coming into their restaurant with high and specific expectations. I'm getting anxiety just writing about it. So we stay home, enjoy a fun, fancy, and homemade meal, a bottle of wine, and a good movie, and it's the perfect night.
Don't worry- if ya can't get white truffle oil, this pizza is still super fancy and delicious.
The crust is homemade, but don't let that scare you off. Homemade pizza crust is super easy, especially if you have a standing mixer to do the grunt work for you! I highly recommend using a pizza stone because it almost always means perfect crust. And a good, chewy crust is what really sends this pizza over the edge.
So, if you love salty + sweet like me and you wanna make something fancy that's looks hard and creative but isn't really all that difficult, especially if you have someone to impress, whip up this pizza and call it a job well done.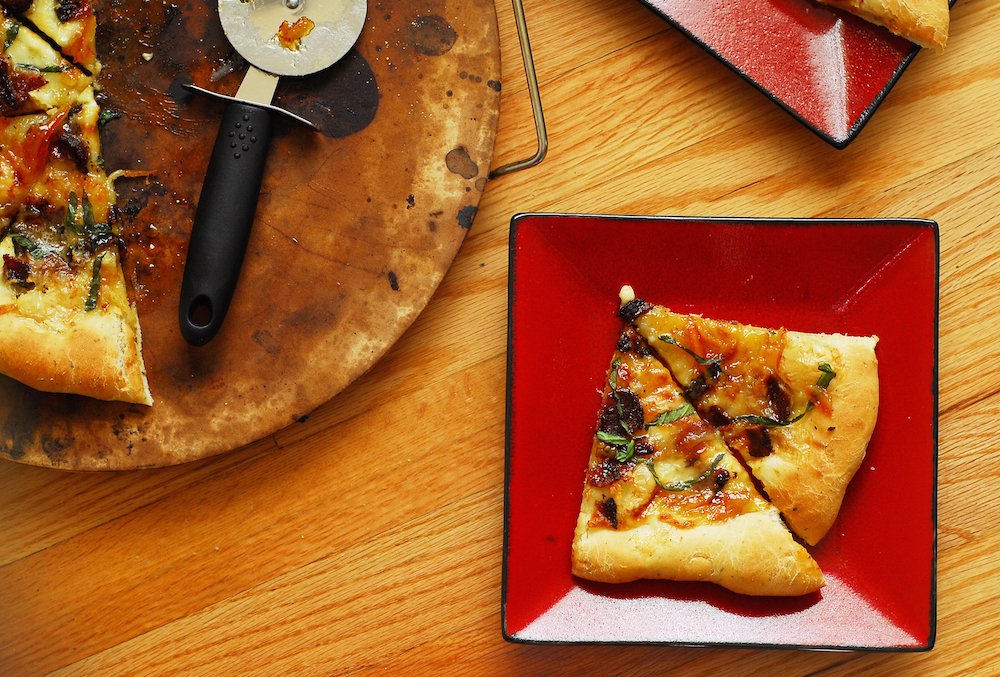 You can also view this recipe as a step-by-step web story here.
Get the Recipe: Brie, Bacon, and Orange Pizza with Truffle Oil
This pizza is topped with brie cheese, pepper bacon, orange marmalade, basil, and truffle oil for a fun and fancy flavor combination.
Ingredients
Pizza Crust
Toppings
1 4 oz wedge brie cheese, diced into 1/2 inch pieces
1/4 cup shredded mozzarella cheese
6 slices thick cut pepper bacon, cooked and roughly crumbled
2-3 tbsp orange marmalade
1 tbsp white truffle oil
6 large leaves basil, chiffonade
Instructions
Gently whisk the water, yeast, and sugar together. Let sit until proofed and foamy, about 10 minutes.

Add the salt, garlic powder, Italian seasoning, and olive oil and mix until combined.

Using the dough hook on your standing mixer, slowly add the flour, ½ cup at a time, until dough pulls away from the sides of the bowl and is no longer sticky.

Using the dough hook, knead the dough for 4 minutes. Let rest for 3 minutes. Knead for another 4 minutes.

Coat a bowl with olive oil, add the dough, and turn to coat. Cover the bowl with saran wrap and let rise until doubled, about 1 hour.

Preheat an oven to 450 degrees. Put your pizza stone in the oven and let sit for 20 minutes.

When done rising, roll the dough out until ¼-1/2 inch thick, leaving the edges a little thicker to make a crust.

Remove pizza stone from oven and carefully transfer the crust to the stone. Top with mozzarella cheese, brie cheese, and bacon. Evenly drizzle orange marmalade over the top.

Bake in preheated oven for 12-15 minutes, or until crust is just golden and cheese is melted.

Let cool for 5 minutes, then top with basil and drizzle white truffle oil over the top.
Notes
Be careful not to overcook the bacon since you'll be cooking it again in the oven. Cook until just crispy.
To make drizzling the marmalade easier, spoon into a plastic bag and cut the corner. Squeeze onto pizza.