Pizza has got some serious competition for warm comfort food that I over eat, now that I've discovered the beauty of Indian food. Not that I hadn't eaten it before, but I'd never cooked it myself before we came to South Africa.
Malaysian and Indian style cuisine is very popular here, including a creation straight out of Durban, South Africa called "bunny chow", which is unbelievably tasty. And has nothing to do with rabbits. It's a hollowed out loaf of bread or roll filled with curry. And I will be attempting it myself here, soon.
This recipe came about because I was making lots of curries, and Fiance kept asking why they weren't orange like the tikka masala he'd get from Gandhi's in Portland. So I took a crack at whipping up my own tikka masala.
It starts out with chicken. I'm using boneless, skinless chicken breasts cut up into smallish cubes. They get seasoned with a little curry powder, salt, and black pepper.
Then browned just a bit, enough to get the seasoning to stick on there.
In the same pot that I browned the chicken in, I sautéed an onion, a green chili, and a little ginger in ghee (clarified butter). Straight up butter will work, too.
Once the veggies are nice and soft, plenty of masala gets added. Fiance and I went to a spice shop in the Bo-Kaap neighborhood this week where I stocked up on all kinds of goodies, including this leaf masala.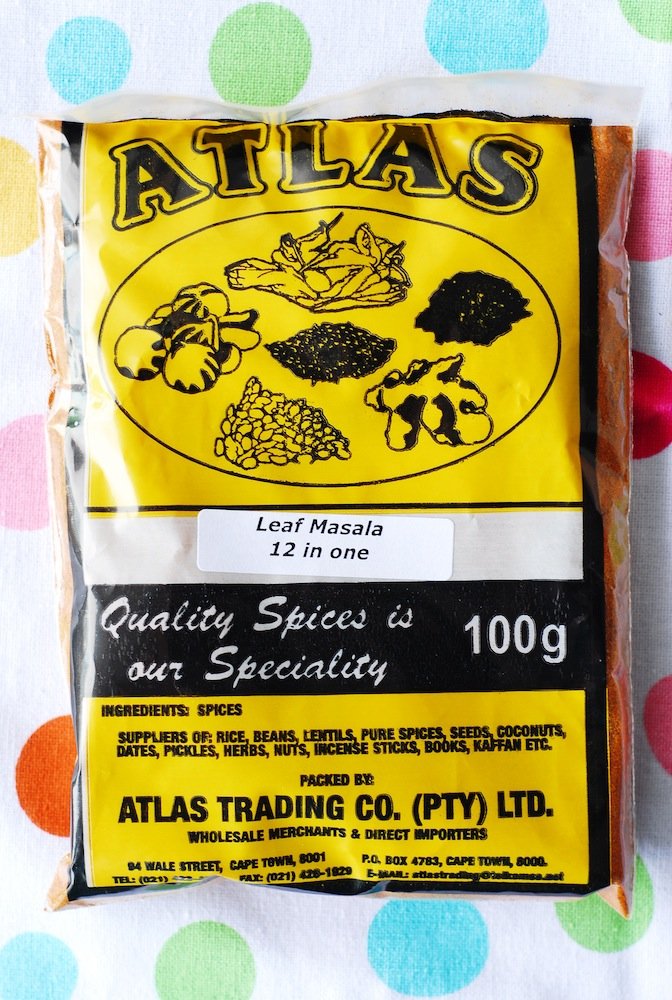 If you're not lucky enough to have a super neat spice shop near you, you can still make your own masala using a mix of spices I'll list in the recipe box.
The rest is not pictured because the area around my stove is way too dark. Which makes me sad inside. But the veggies and masala get simmered with tomato sauce for awhile until it's thick and super fragrant. Then plenty of yogurt and some heavy cream for good measure, followed by the browned chicken. The whole thing simmers for 25-30 minutes, until the chicken is cooked through and tender.
We have ours with coriander rice and naan if I have the foresight.
I also really like to toss frozen veggies in when I add the chicken. They absorb so much of the flavor and cook perfectly in the sauce!
This makes really excellent leftovers and I'm definitely going to try slow-cooking it when I'm reunited with my crockpot!
Get the Recipe: Chicken Tikka Masala
Ingredients
4 chicken breasts, cut into bite sized cubes
2 tsp curry powder
1 tsp salt
1/2 tsp black pepper
1 tbsp canola oil
1 tbsp ghee, or butter
1 medium yellow onion, diced
1 green chili, a cayenne pepper also works, finely diced
1 tsp grated ginger, or 1/2 tsp powdered ginger
1 1/2 tsp minced garlic
2 tbsp masala of choice, see below for masala substitution
1 14 oz can tomato sauce
2 tsp paprika
1 tbsp white sugar
1/3 cup heavy cream
3/4 cup thick natural yogurt, plain greek yogurt works well
If you don't have masala, use the following spices:
1 tbsp cumin
1 tsp ground ginger
1/2 tsp cayenne pepper
1/2 tsp ground cinnamon
1/2 tsp ground turmeric
1 tsp curry powder
Instructions
Season the chicken with the curry powder, salt, and black pepper. In a large stock pot over medium-high heat, heat the canola oil. Brown the chicken for 20-30 seconds on each side in batches until all chicken has been browned. Remove from pot and set aside.

In the same pot used to brown the chicken, reduce heat to medium-low. Add the ghee or butter, the onion, chili, ginger, and garlic. Cook, stirring occasionally, until onions are just starting to turn soft and translucent.

Add the masala (or other spices) to the veggies and fry until fragrant, 20-30 seconds. Add the tomato sauce, paprika, and sugar to the veggies. Cover with a lid cracked to allow steam to escape and let simmer for ten minutes, until thickened a bit.

Stir in the heavy cream and yogurt. Add the browned chicken to the mixture and stir (you can add frozen veggies at this point if you'd like). Cover with a lid cracked to allow steam to escape and cook for 25-30 minutes, or until chicken is cooked through and tender. Taste the sauce and add salt or cayenne pepper (to make it spicier) if necessary.

Serve with rice and naan. To make coriander rice, cook basmati or your rice of choice according to package directions for 3-4 people and add 1/2 teaspoon of dried coriander to the water.