A simple chicken and pineapple curry. Creamy coconut milk makes this pineapple chicken curry so yummy. Delicious served over rice and ready in 20 minutes!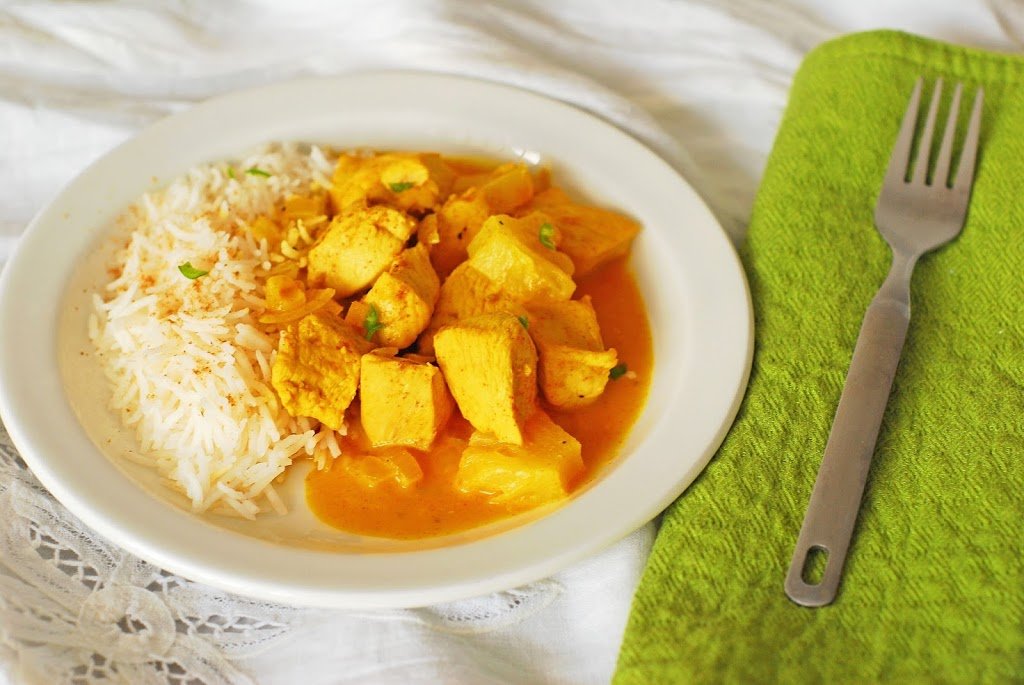 This post may contain affiliate links which won't change your price but will share some commission.
This delicious, simple chicken and pineapple curry is adapted from Tastes of Africa,
a new favorite cookbook of mine. According to the book, this is a popular dish in Kenya known locally as Kuku Nanazi. Although I'm mostly exploring South African recipes while we're here in Cape Town, it's fun to read about nearby(ish…) cuisines and experiment with them.
The pineapple in this dish does an excellent job of balancing out the heat from the green chiles. We had this curry with basmati rice cooked in coconut milk, and it was perfect!
How to Make Chicken and Pineapple Curry (Kuku Nanazi)
Start off by sautéing onions and garlic in olive oil until soft and fragrant.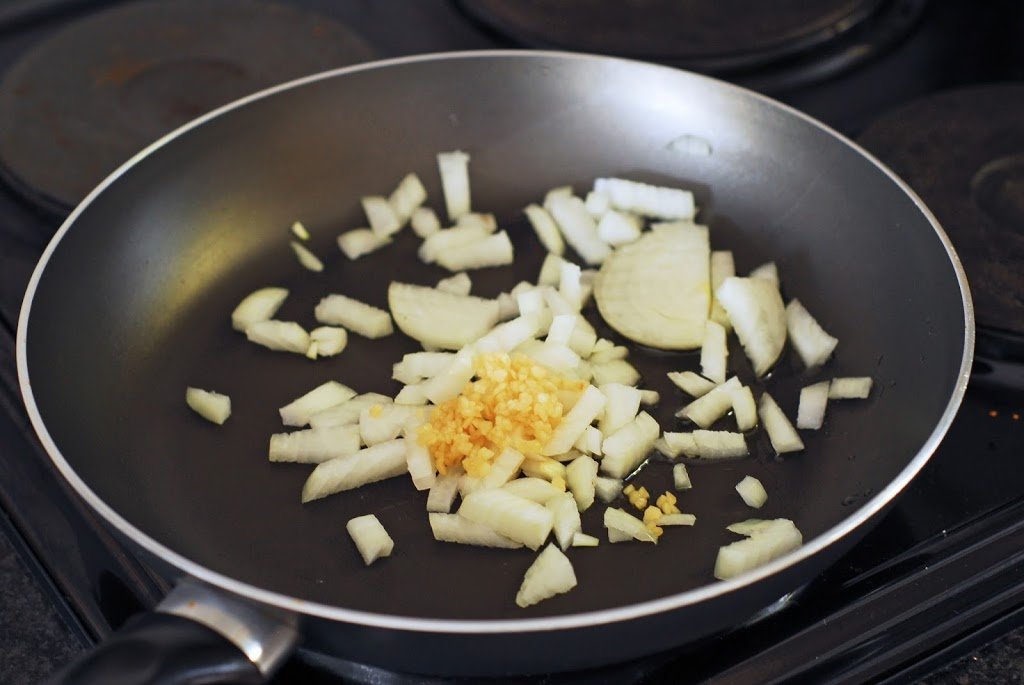 Next, all of the lovely spices. This is my favorite part of making any curry. We're using ground ginger, curry powder, ground cardamom, turmeric, and ground coriander, along with the usual staples, salt and pepper.
You'll also add the green chili at this point. I recommend using half a chili – we really like spicy and this was plenty of heat for us. If you really want to kick it up, throw in the whole thing. In fact, the original recipe says 1-2.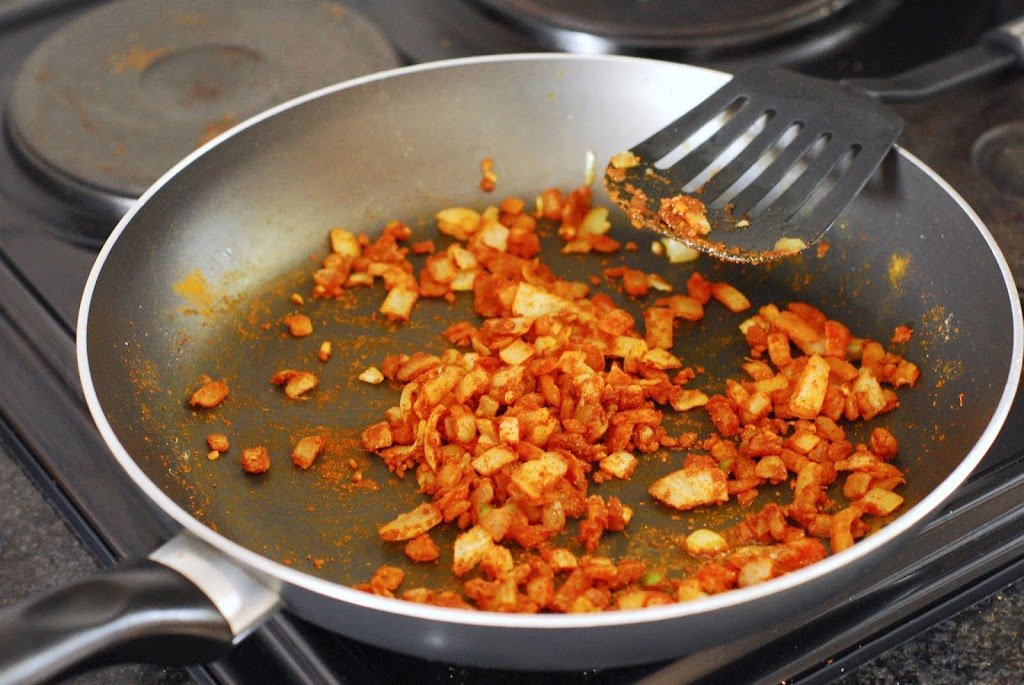 Once the you can smell the spices, add coconut milk, cubed chicken breasts, and chopped pineapple. Usually, I would use a fresh pineapple, but this time I will admit I used canned. I didn't feel like playing the "is it ripe?" guessing game and then wrestling it open. I know, I know, I'm lazy.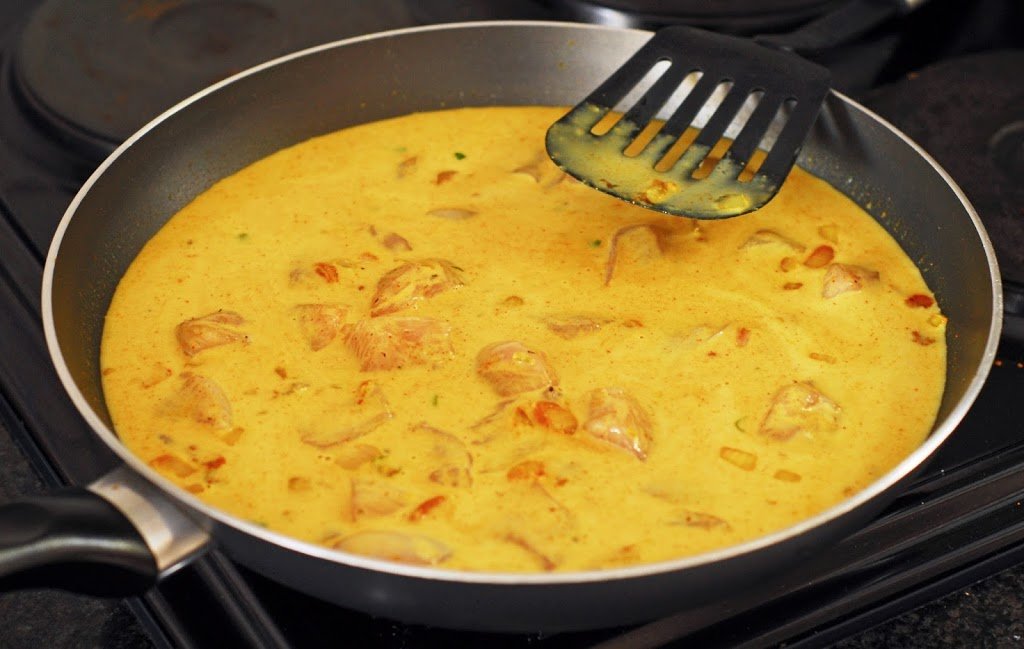 Let the whole thing simmer for 15 to 20 minutes, until the chicken is cooked through and the sauce is a little thicker.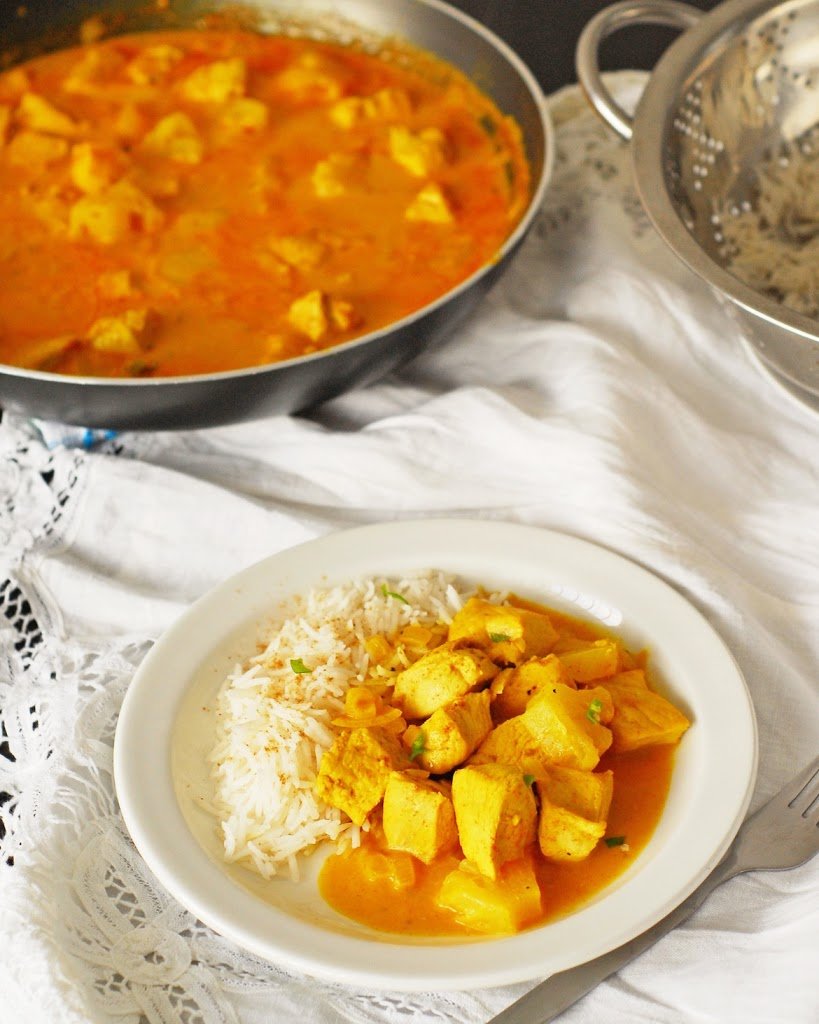 Aren't curries pretty? I love the vibrant orangey yellow color! This was really simple and quick to prepare, it definitely falls in the weeknight dinner category. It also makes great leftovers for lunch.
Tips for Pineapple Chicken Curry Success
If you serve with rice, cooking it in coconut milk makes an excellent companion to this curry!
For those who are paleo, coconut cauliflower rice would be excellent with this.
Start with half a chili and check the spiciness once everything is done cooking. If you want more heat, add cayenne 1/4 tsp at a time, tasting and stirring between additions.
This freezes well and makes great leftovers!
If you make this recipe, it would mean the world to me if you'd rate and review below! It helps other people find the recipe, too.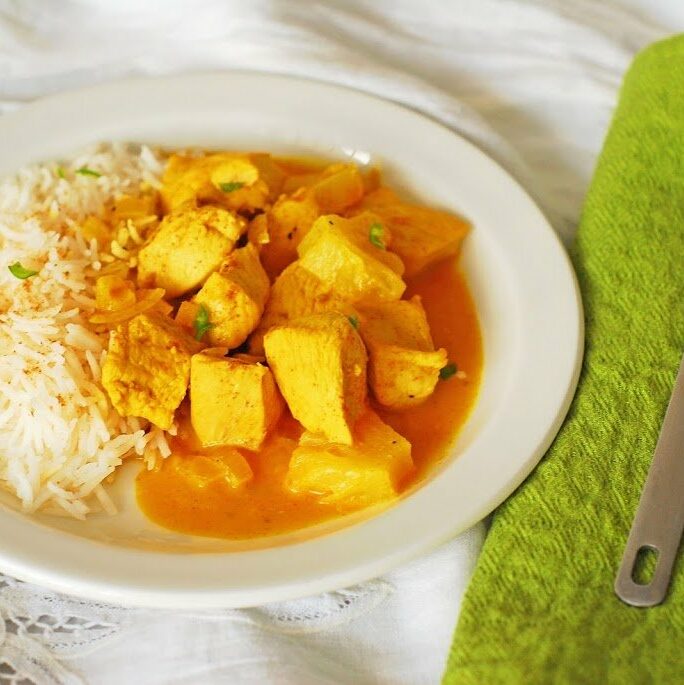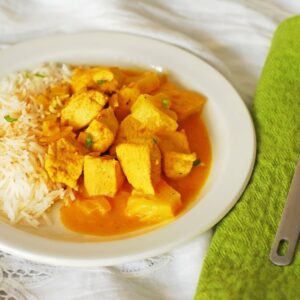 Get the Recipe: Chicken and Pineapple Curry
A simple chicken and pineapple curry. Creamy coconut milk makes this pineapple chicken curry so yummy. Delicious served over rice and ready in 20 minutes!
Ingredients
2 tbsp olive oil
1 onion, finely diced
2 tsp minced garlic
1 tsp ground ginger
2 tbsp curry powder
1/2 tsp ground cardamom
1/2 tsp ground coriander
1/2 tsp salt
1/4 tsp black pepper
1/2-1 fresh green chile, finely diced
1 can coconut milk
4 boneless skinless chicken breasts, cubed
1 small pineapple, cubed or 1 can cubed pineapple
Instructions
In a medium-sized pot over medium heat, add the olive oil, onion, and garlic. Saute until onion is soft and garlic is fragrant.

Add the ginger, curry powder, cardamom, coriander, salt, pepper, and chile. Saute for 1-2 minutes, or until spices are fragrant.

Add the coconut milk, chicken breasts, and pineapple. Bring coconut milk to a simmer and cook for 15-20 minutes, or until chicken is cooked through.

Serve with coconut rice and veggies of choice.
Calories: 450kcal, Carbohydrates: 33g, Protein: 23g, Fat: 28g, Saturated Fat: 18g, Trans Fat: 1g, Cholesterol: 58mg, Sodium: 369mg, Potassium: 831mg, Fiber: 6g, Sugar: 22g, Vitamin A: 157IU, Vitamin C: 93mg, Calcium: 64mg, Iron: 3mg