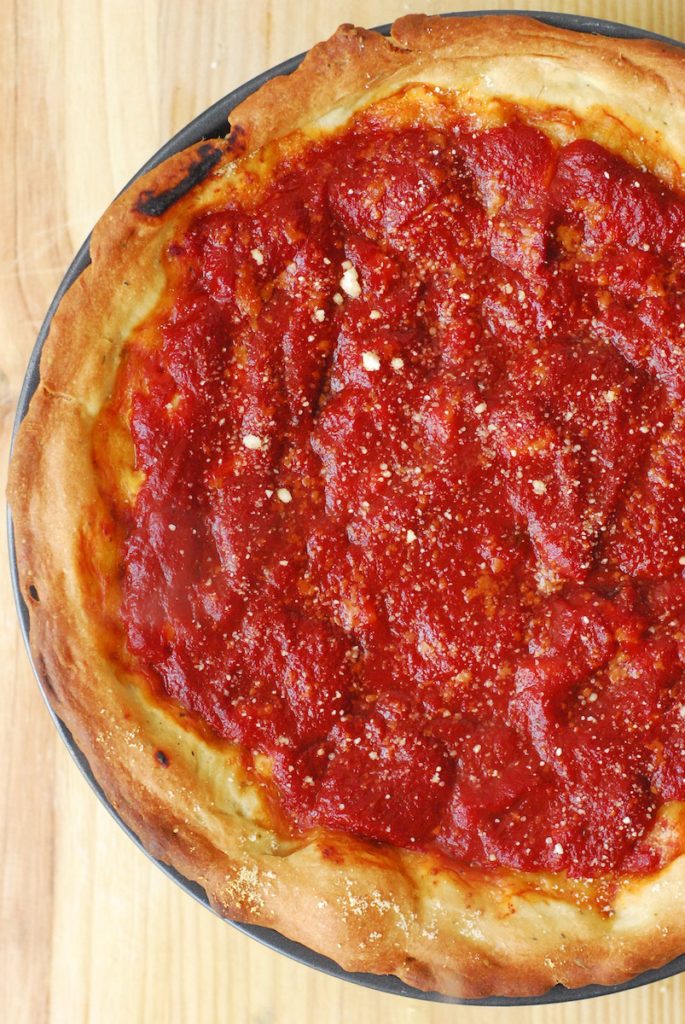 I am seriously considering writing a book detailing all the very many ways Fiance and I consume pizza. What else do I do with all of these bread+cheese+meat+sauce ideas?! Oh, yes, I bombard you with them here! Let's break down all that I've done so far:
And now, I present to you, Chicago-Style Deep Dish Pizza. Each component of this title is important. Deep dish pizza, of course, refers to pizza that's indented in the center to accommodate layer after layer of toppings. What does Chicago-Style refer to, you ask? In this case, the order of the layering, which differs from your standard pizza pie: meat and/or veggies, cheese, then the sauce on top.
Here's where I nerd out on pizza a bit. Fiance and I really appreciate a good tomato sauce. In our opinions, it should have that bold, citrusy, tomato flavor with distant background flavors like garlic, fresh herbs, and a hint of spice. Eating pizza this way hits you with all that tomato goodness first, followed by saltiness from the cheese and meat, and everything seems to meld together this way a little better. The tomato sauce traps the cheese in to create a gooey mess of filling that's incredible. Although don't ask my second round of recipe testing about this: I accidentally bought terrible mozzarella that wouldn't melt. It just wouldn't leave it's cube shape. And it was weirdly squeaky. That was a sad day, and I learned my lesson about buying cheap cheese. Don't do it. Unless it's American cheese, or something.
Fo' reals, make yourself this pizza. Use good cheese. And if you have them, use springform pans, but a deep cake pan, as I had to use, will also work. My springform pans are waiting for me back in Portland.
Although I love adding lots of caramelized veggies to my pizzas, this was a Fiance-style pizza for the sake of simplicity. We used mozzarella, a tiny bit of cheddar, parmesan, Italian sausage, and salami. Salami only because pepperoni is hard to come by here in Cape Town. I like to precook the salami or pepperoni just a bit in a nonstick skillet to render some of the fat off and get them a bit crispy.
I like to get all of my toppings laid out and ready before I begin the process. First things first, the dough. I'm using the dough from my Pizza! post. I think I've perfected this pizza dough. Butter the pan fairly thoroughly. My strategy for pressing it into the pan is to roll it into a rough circle with my hands and then press it up the edges. Usually I have too much dough, so I tear off excess as I go.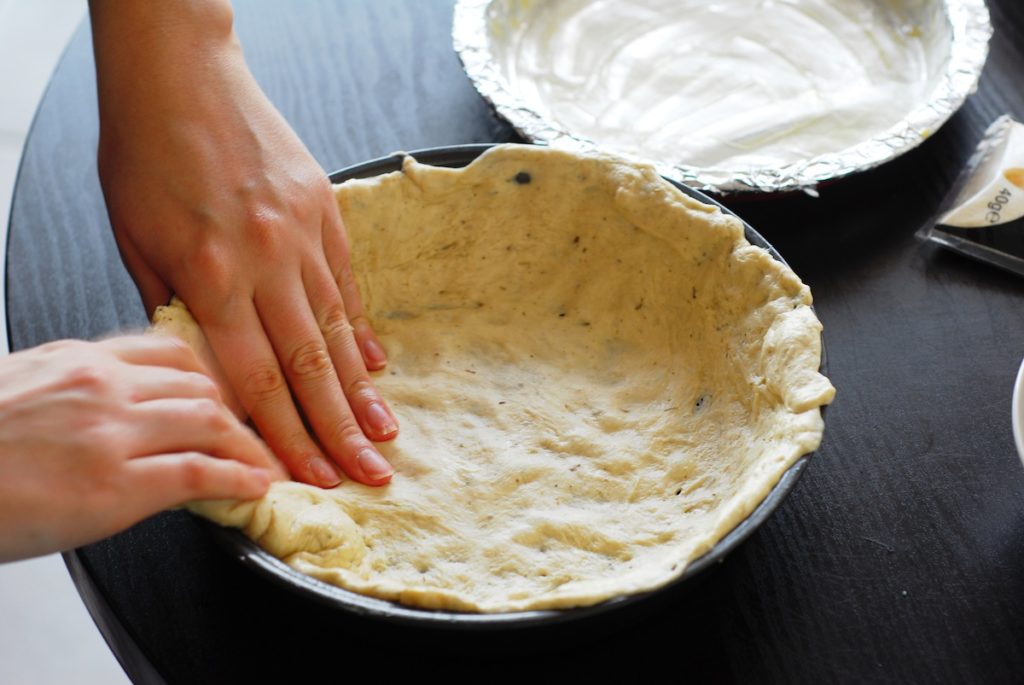 I'll use some of that excess dough to patch up holes. It doesn't need to be pretty, just a relatively even 1/4-inch-ish layer.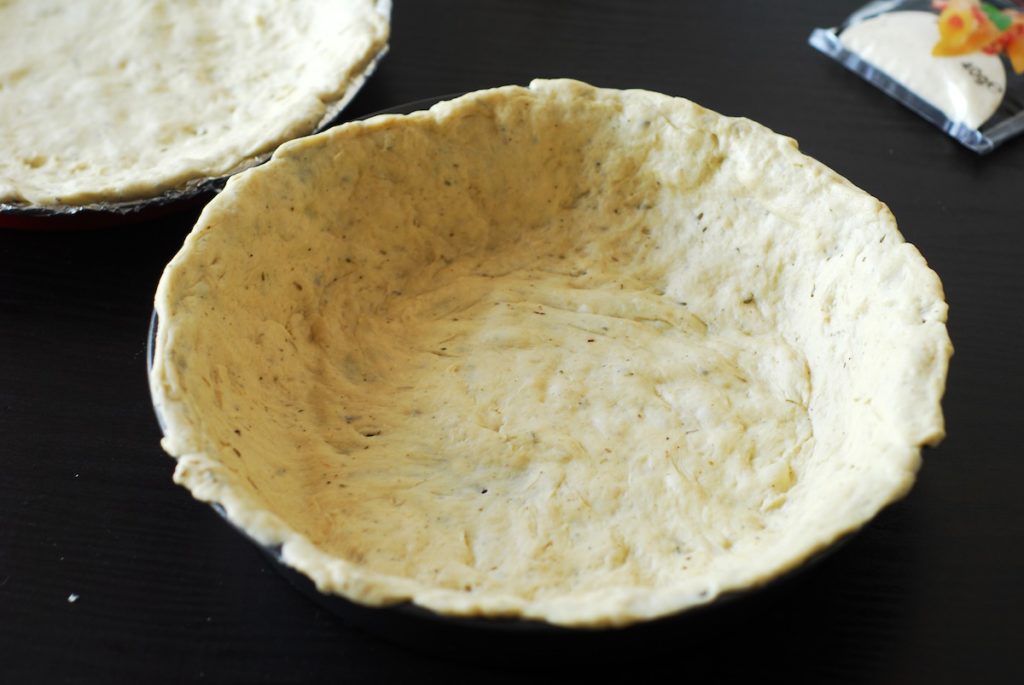 Most of the excess gets turned into breadsticks! Just a little butter, parmesan, and Italian herbs on top.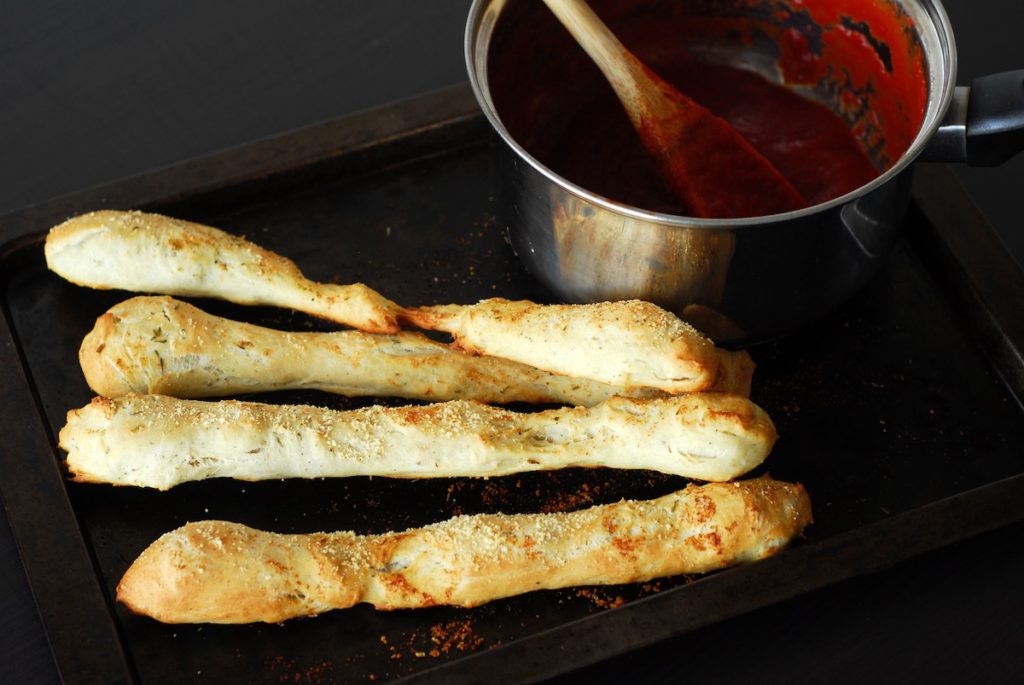 So let's start the layering! First goes salami…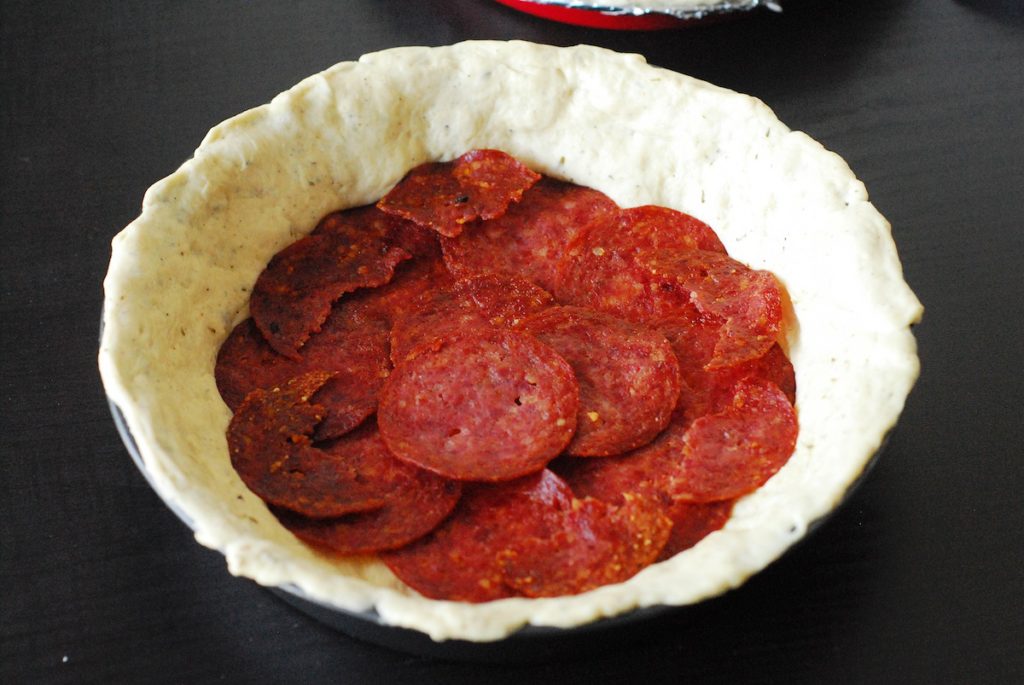 Then sausage. We're using hot Italian sausage because we love the spicy.
Yes, there are two pizzas. Because we have smallish cake pans and recipe testing calls for lots of pizzas. (Those reasons are only half true. We mostly just really like pizza.)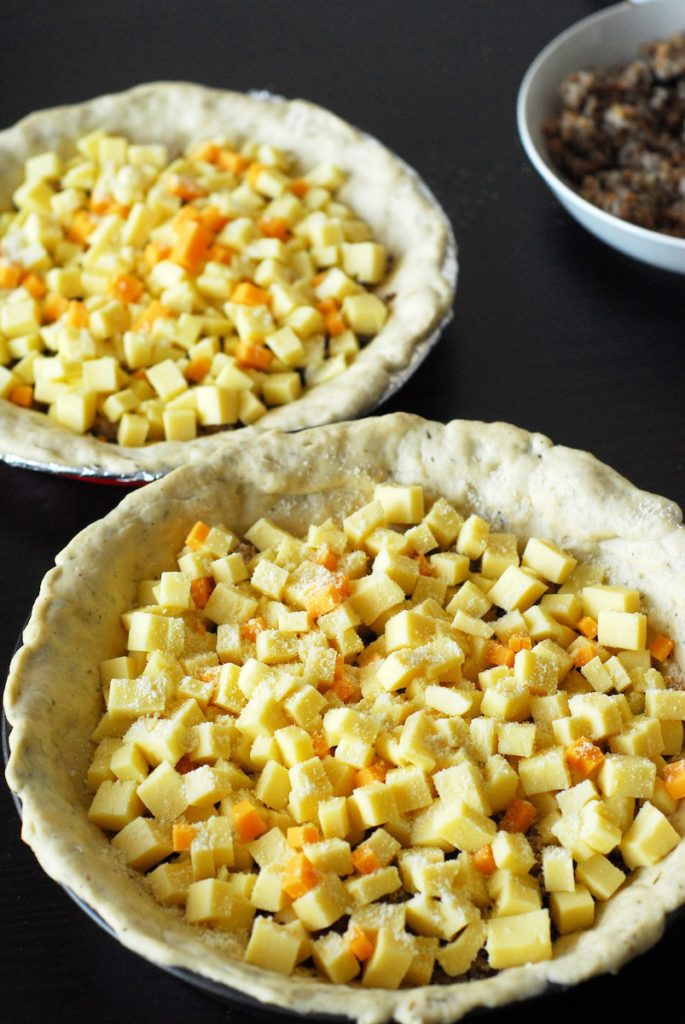 I also sprinkled on a little bit of fresh basil at this point, followed by lots and lots of sauce. Like a lot.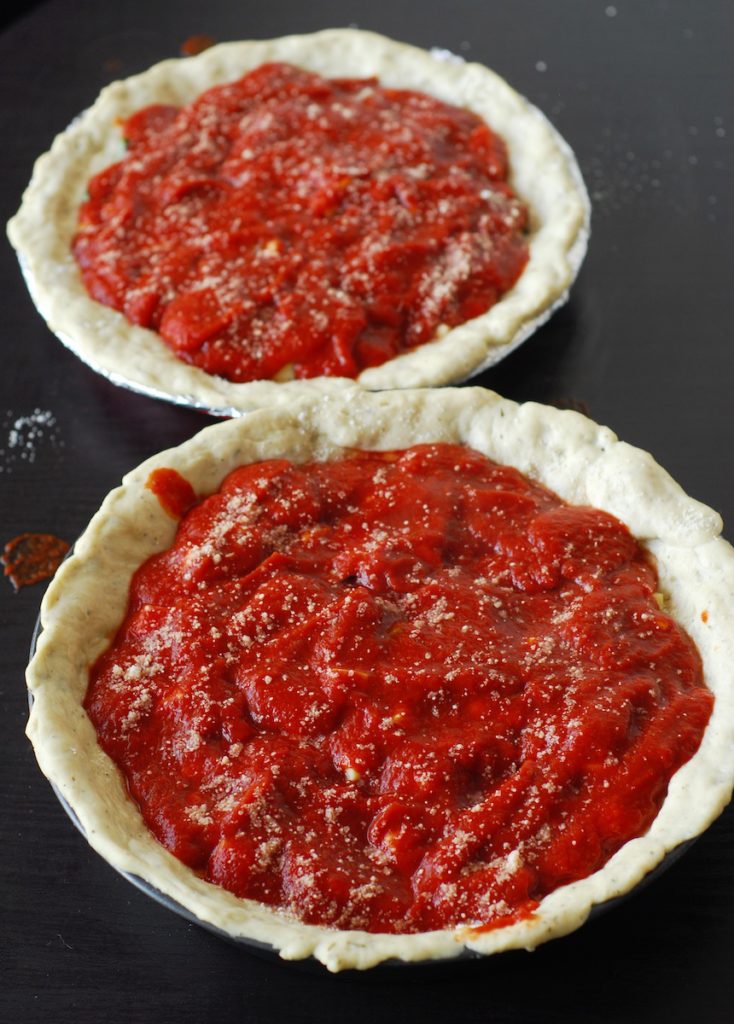 Then bake until the crust is golden and the cheese is melty. MELTY. Not like the dumb squeaky mozz I managed to get. High fat and liquid content mozzarella. Good quality mozzarella. Get that.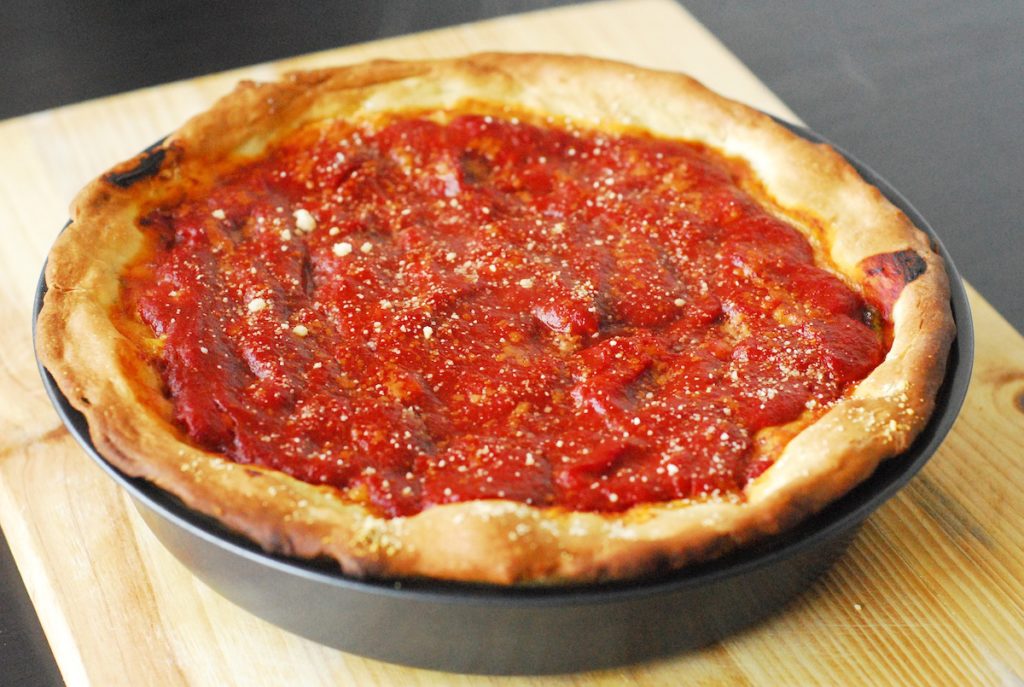 Do you know what's great about deep dish pizza? THERE'S JUST SO MUCH PIZZA. So much delicious pizza. This stuff makes my heart happy. Well, my metaphorical heart. My actual heart begs me to only eat this on rare occasion and gets angry when I eat it twice over the course of a week for recipe testing.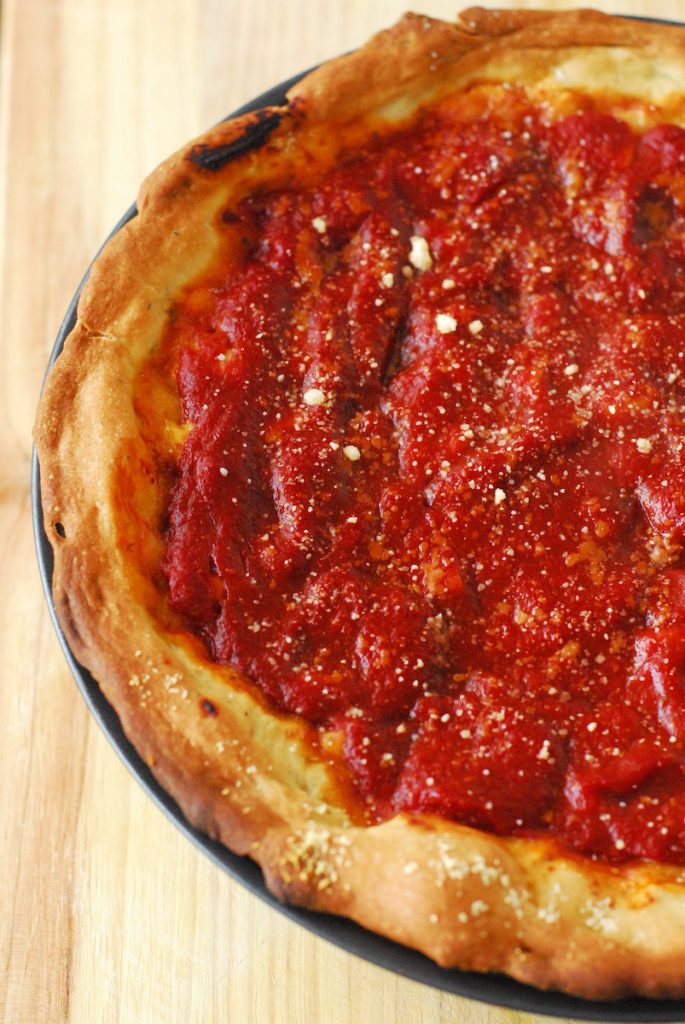 The key to really making a deep dish pizza great is very good sauce, good quality cheese, and this pizza crust. The crust stands up really well to the toppings and bakes all the way through. The lip is crunchy but the rest is chewy and buttery.
Even though homemade pizza takes a little more effort, I promise it's well worth it! The extreme sauciness of this pizza means that it pairs really well with a red wine, or a great pale ale would work!
You can also view this recipe as a step-by-step web story here.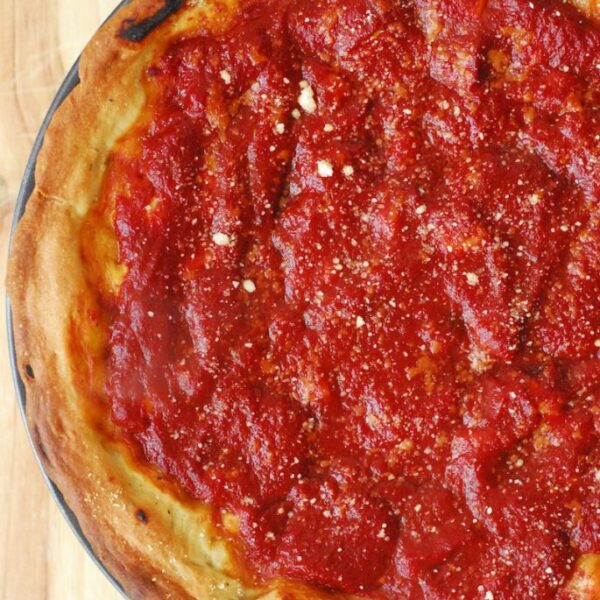 Get the Recipe: Chicago-Style Deep Dish Pizza
Deep dish pizza with the sauce on top, just the way Chicago intended it!
Ingredients
Dough:
Filling:
15 pepperonis
1/2 cup hot Italian sausage
1 cup cubed mozzarella
2 tbsp cubed cheddar cheese
1 tbsp grated parmesan
Sauce:
1 15 oz can of tomato sauce
1 6 oz can of tomato paste
1/4 tsp salt
1/4 tsp garlic powder
1/4 tsp onion powder
2 tsp Italian seasoning
Dash of cayenne pepper
Instructions
Gently whisk the water, yeast, and sugar together in a large bowl or the bowl of your standing mixer. Let sit until proofed and foamy, about 10 minutes.

Add the salt, garlic powder, Italian seasoning, and olive oil and mix until combined.

Using the dough hook on your standing mixer, slowly add the flour, 1/2 cup at a time, until dough pulls away from the sides of the bowl and is no longer sticky. If not using a mixer, stir in the flour until it becomes to thick to stir, then knead in the remaining dough on a lightly floured surface.

Using the dough hook or by hand, knead the dough for four minutes. Let rest for three minutes. Knead for another four minutes.

Coat a bowl with a little olive oil, add the dough, and turn to coat. Cover the bowl with saran wrap and let rise in a warm place until doubled, about one hour.

While the dough is rising, prepare all the filling ingredients.

To make the sauce, combine all ingredients in a small saucepan and let cook covered over low heat for 10-15 minutes, stirring occasionally.

Preheat your oven to 450 degrees. Grease a 9 inch springform pan or cake pan with tall edges with the 1 tbsp butter.

After the dough has risen, punch it down. Using your hands, pull it into a circle a little wider than the base of the pan. Place it inside the springform pan and press the dough up and around the edges, until an even 1/4 inch layer is formed. Pull off excess dough as you go. Patch any holes with the excess dough.

Layer the fillings in this order: pepperoni, sausage, cheese. Pour the tomato sauce over the cheese in a 1/2 inch layer.

Bake the pizza in the preheated oven for 25-30 minutes, until crust is golden and cheese is melted. If the crust bakes before the cheese is completely melted, cover exposed crust with tin foil and bake for a few more minutes.

Let cool for 5 minutes. Cut into slices and serve.
Notes
To make breadsticks from the excess dough, lightly grease a baking sheet. Pull the dough into 5 inch long, 1 inch wide sticks and arrange on the baking sheet. Spread a little butter over them and sprinkle with parmesan cheese and Italian seasoning. Bake for about 10 minutes in the preheated oven, or until golden brown. I'll stick these in the oven before I start assembling the filling and we eat them as an appetizer.