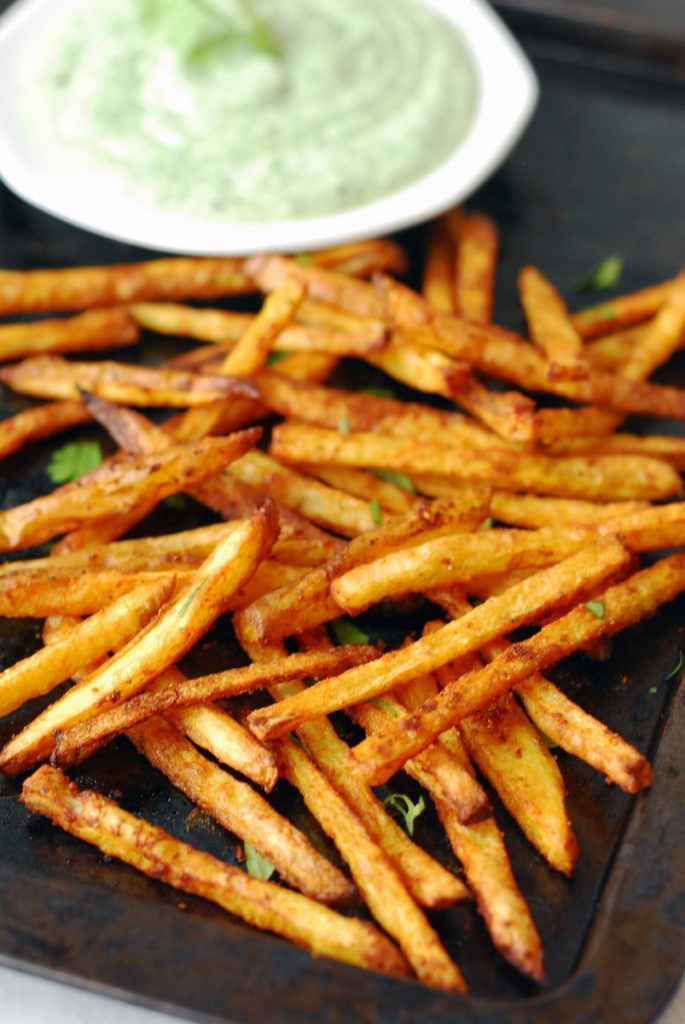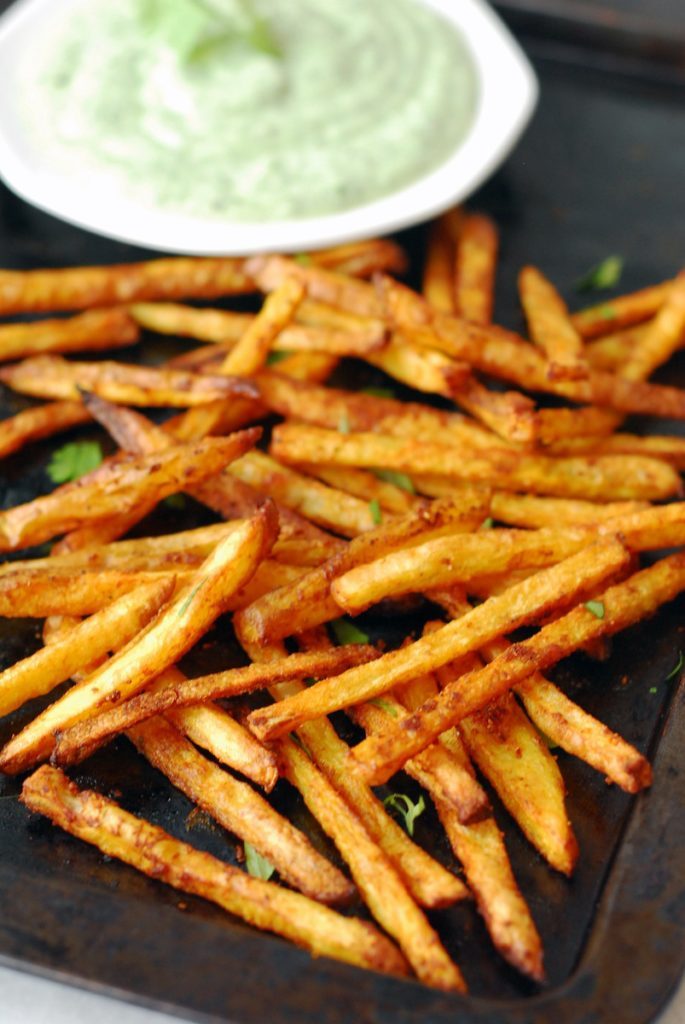 The saga with all things curry continues! But this time in the form of delicious, crunchy french fries.
I've got to give you all a warning. Now that I can clearly see the end of our time here in Cape Town (a month and a haaaalf! EMOTIONS.) there will be likely be a whole lotta not American flavor profiles happening around here. I super encourage you to try them all! I'm so sad that, despite what I thought at the time, I really hadn't branched out all that much with my cooking before moving to South Africa. I've got some super awesome Cape Malay inspired recipes brewing in my head that I can't wait to share with you!
These french fries are deliciously crispy and oven baked so you can eat them to your heart's desire. If you like your fries to be a little more potato-y, in other words closer to steak fries, just cut them a little thicker. The seasoning is crazy simple: just salt, curry powder, and a little ground coriander.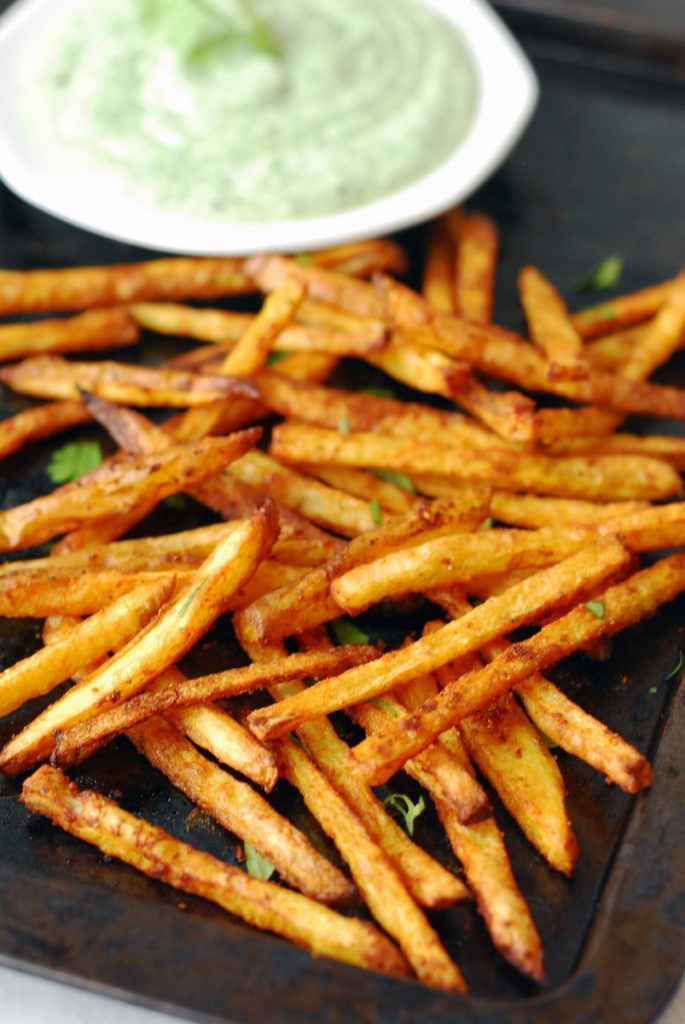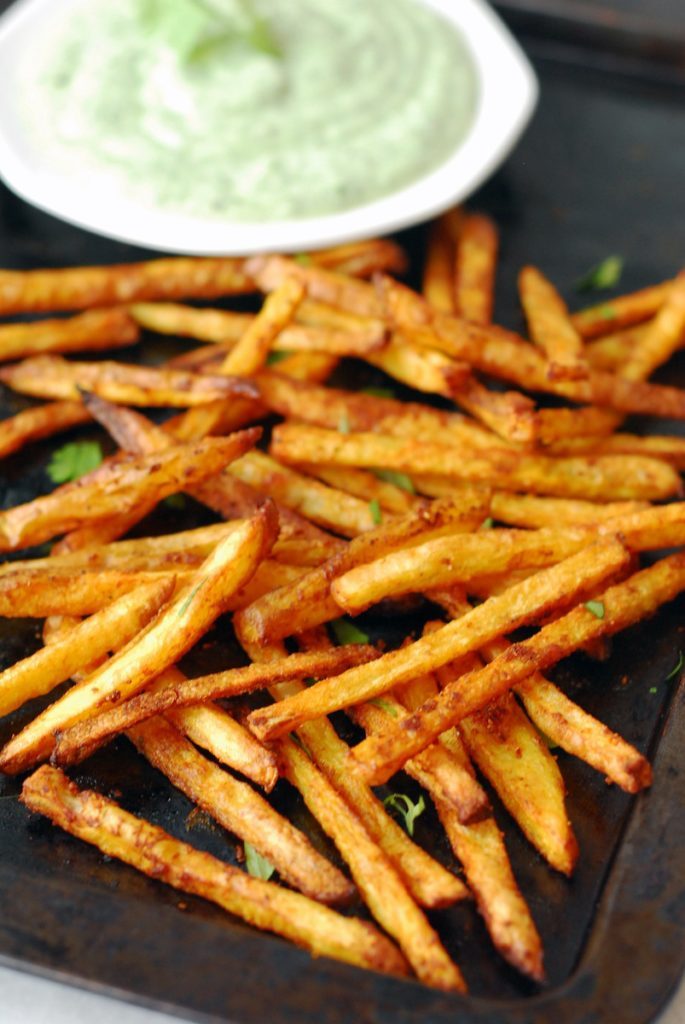 And the sauce might just be one of my favorite things ever. Plain yogurt, greek or regular will do, blended with basil, cilantro, mint, lime juice, and a jalapeño. All the flavors! I accidentally made way too much sauce, so I repurposed it by marinating a few chicken thighs and drumsticks in it. Oh my gosh, it was amazing. Chicken is also really tasty dipped straight into the sauce!
Although this particular recipe for curry fries requires a little more forethought by soaking the potatoes for awhile, it's well worth it! By soaking the potatoes, you draw out a lot of the starch and end up with a crispier fry.
You can also view this recipe as a step-by-step web story here.
Get the Recipe: Curry Fries with Cilantro Mint Yogurt Sauce
Crispy, oven-baked curry fries served with a cilantro mint yogurt dipping sauce. Perfect as an appetizer or a side!
Ingredients
Curry Fries:
3 russet potatoes, peeled and chopped into 1/4-inch wide matchsticks
2 tbsp oil, divided
1½ tsp sea salt
1 1/2 tsp curry powder
1/2 tsp ground coriander
Cilantro Mint Yogurt Sauce:
1/2 cup plain yogurt, can be greek or regular
1/4 cup cilantro leaves
1/4 cup basil leaves
1/4 cup mint leaves
1 jalapeño, roughly chopped
1 tbsp lime juice
1/2 tsp minced garlic
Instructions
For the fries:
Soak the chopped potatoes in cold water in a large bowl for 1-2 hours. When finished soaking, lay the potatoes out on paper towels and pat to dry.

Preheat the oven to 400 degrees F (200 degrees C).

Oil a large baking sheet with one tablespoon of olive oil.

Toss the potatoes with the other tablespoon of olive oil, sea salt, curry powder, and ground coriander. Arrange in a single layer on the prepared baking sheet.

Bake the potatoes for 20 minutes. At the 20 minute mark, turn the heat up to 450 degrees F (230 degrees C) and bake for another 20 minutes. Check to see if there are any fries done to your liking. Remove them, and continue baking for a few minutes until all fries are golden brown.
For the sauce:
Combine all ingredients in a food processor and blend until herbs are finely chopped.
Notes
If you find yourself with a lot of leftover sauce, try using it as a marinade for chicken and then grill or roast in your oven. It's delicious!