Okay. I know that fall is the season of the glorious pumpkin spice latte. Who doesn't know? And really, what's not to like? Pumpkin spice in pretty much anything is bound to be a winner.
But I've got to tell you something. My favorite fall hot beverage is not the PSL. I'm really sorry about that, but it just doesn't get me jumping up and down for joy like it seems to for the rest of the world.
Instead, I get real excited for the salted caramel mocha. Oooh my gosh. I love salty-sweet desserts, and nothing makes up the sweet component of that partnership like caramel. Or chocolate, for that matter. So to get to have them both, in one beautiful hot drink, that is also caffeinated?! Dreams do come true, people. If you haven't had this over the top fall beverage yet, go get your hands on it. Now. Then report back and tell me all about how it changed your fall beverage world.
Here in Cape Town, it's spring, and I just earned my first sunburn of the season laying out at Clifton Beach for several hours. And even though spring in Cape Town is all kinds of wonderful, I'm definitely missing Portland fall, and my favorite fall coffee treat. So, logically, I decided to bake a cookie version to help fill the void!
I adapted this cookie dough from Sally's Baking Addiction. Her website is an awesome resource for dessert recipes! It's a super chocolatey dough, with chocolate chips and instant coffee mixed right on in to give these cookies really rich flavor. Give yourself lots of time to make these cookies because the dough gets refrigerated, and you absolutely, positively can't skip it! I made the refrigeration time too short and my cookies were a little thinner than I would have liked. I just wanted to eat them oh so much. Be more patient than me.
Caramels get chopped up and added to the dough, too. So, caramels are hard to cut. Make it easier on yourself by dunking your knife in water between each piece. But don't worry! Your efforts are worth the chewy caramel tastiness.
Then spoon 'em on to a parchment or silicone mat lined baking sheet. Make sure you line the baking sheets, because the caramel will get sticky. And press even more caramel into the tops of them because more caramel is always better. Sprinkle with a little sea salt. Just a little, because you'll hit 'em again when they come out.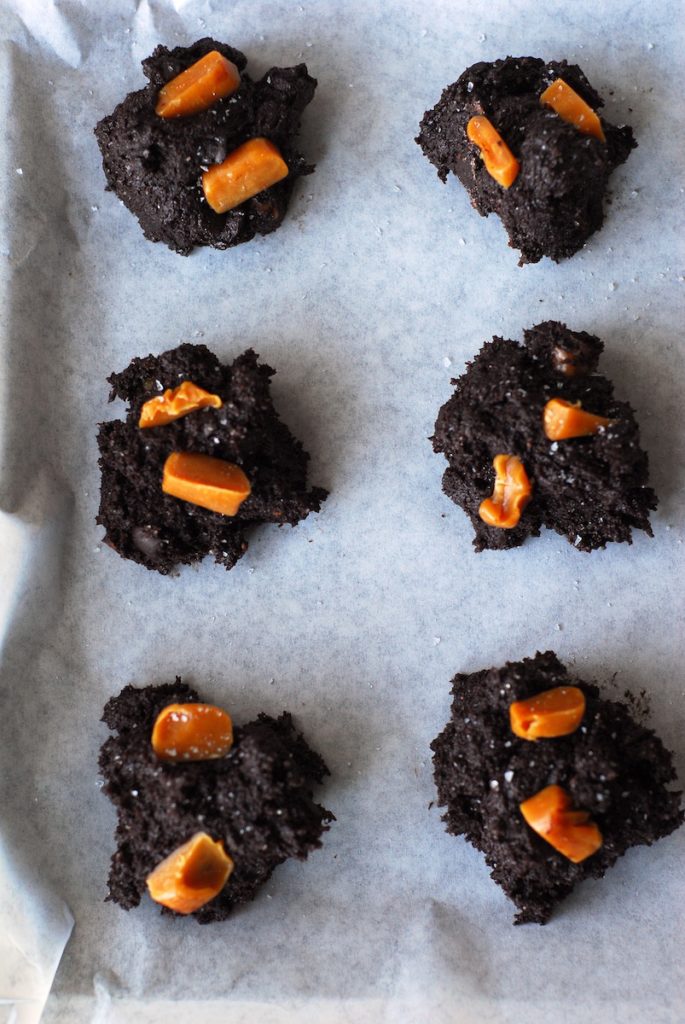 Then let 'em cool for several minutes, sprinkle with a little more salt, and make yourself a big cup of coffee to drink with them. I even did some coffee-dunking and it was crazy delicious. You can always go with the traditional milk, too. Or just have both.
I looooved the texture of the gooey, melted caramel. These cookies will last for up to a week! Which to me means: cookies for breakfast. Which is totally acceptable since they are inspired by a drink I would have for breakfast if I had the option nearby. Right? Right.
So here is your mission, should you choose to accept it:
Go to your favorite local coffee shop and try a salted caramel mocha. Do it again if you've already enjoyed this incredible creation.
Swing by the grocery store on your way home with the recipe below in mind.
Make these cookies and be happy. You can share them… or be like me and eat them for breakfast all week.
You can also view this recipe as a step-by-step web story here.
Get the Recipe: Salted Caramel Mocha Cookies
Salted Caramel Mocha Cookies from A Duck's Oven. A cookie inspired by the delicious fall beverage!
Ingredients
1/2 cup butter, room temperature
1/2 cup white sugar
1/2 cup brown sugar
1 large egg, room temperature
1 tsp vanilla
1 cup flour
1/2 cup unsweetened cocoa powder
1 tbsp instant coffee
1 tsp baking soda
1/8 tsp salt
2 tbsp milk
3/4 cup chocolate chips
12 1- inch long soft caramels, chopped into thirds
Sea salt
Instructions
Use a handheld or standing mixer on medium speed to beat the butter until lighter in color and fluffy, about 20 seconds. Add the sugars and beat until creamed together on medium speed, for another 30 seconds. Beat in the egg and vanilla, scraping down the sides of the bowl as necessary.

In a separate bowl, mix together the flour, cocoa powder, instant coffee, baking soda, and salt.

Over medium-low speed, mix the dry ingredients into the wet ingredients. The dough will be very thick. Mix in the milk, chocolate chips, and half the caramels by hand.

Cover the dough with saran wrap in a bowl and refrigerate for at least an hour, up to 36 hours.

After the dough has chilled, preheat your oven to 350 degrees F (180 degrees C). Line two baking sheets with parchment paper or silicone baking mats.

Roll the dough into balls a bit larger than a tablespoon each and arrange a few inches apart on the prepared baking sheets. You should have 16 cookies. Press the remaining caramels into the top of dough. Lightly sprinkle sea salt over cookies.

Bake in preheated oven for 12-15 minutes. Cookies should be soft and fudgy. Lightly sprinkle with just a little more sea salt.

Let cool for a few minutes on the baking sheets then remove to wire racks to cool completely.
Notes
I like to use mini chocolate chips for this recipe because I find that they compete less with the caramels and just add to the richness, but this is totally optional!
Adapted from Sally's Baking Addiction