The PAC-12 Championship Game
The Oregon Ducks won the first ever PAC-12 Championship Game Friday night! I got to be there because Boyfriend is still a student and managed to snag me a "companion ticket." Oh, how I had missed the smell of hot dogs and, ahem, smoke of the Autzen Stadium student section. All joking aside, Autzen Stadium is one of my favorite places in the world to be. You know I mean it when I'm willing to spend four hours standing and screaming in 30 degree weather to support the Ducks.
I'm not going to do quite the recap that I did for Oregon vs. Stanford, largely because it was no surprise that the Ducks pulled out a W Friday night. I wanted to blog about this night because it was the first game that I've been to in over a year (oh, the perks of being a student!) and because it was so incredible to be a part of the first ever PAC-12 Championship Game. The ceremony was beautiful and the celebration was fantastic.
On a side note, it did feel mighty good to whoop Neuheisel at his last game as UCLA's head coach after getting fired considering his history with the Ducks. While coaching the Washington Huskies (who many Duck fans loathe more than the Beavers), Neuheisel beat Oregon and then led his team to dance on the Oregon "O". Talk about poor sportsmanship. In 1996, Neuheisel was coaching the Colorado Buffaloes who faced the Ducks in the Cotton Bowl. Towards the end of the game, when the Buffaloes were up 38-6, Neuheisel, being the horrible person he is, called for a fake punt.
Needless to say, Ducks are not big fans of Neuheisal. To end this rant, I would like to say: HA HA NEUHEISEL. You lost your job coaching at your alma mater after losing to USC 50-0! "Scoreboard, baby!"
Whew. Really, that was far more tame than I'm capable of being.
Anyways, here are a few photos snapped by Boyfriend and myself. It was really an amazing night.
Another shot of Autzen with all the PAC-12 stuff. Isn't it pretty?
The players ran through fire and fireworks from the locker rooms! So cool.
I was freezing cold, despite wearing leggings, jeans, under armor, a long sleeve t-shirt, sweatshirt, jersey, scarf, and headband.
I absolutely love this photo, taken by Boyfriend. It captures the moment so well.
Loved the giant confetti-filled balloons!
Boyfriend antsy to rush the field. Isn't he cute?
The players showin' love to university president Lariviere after Coach Kelly dedicated the PAC-12 trophy to him. Chip is ballsy on and off the field.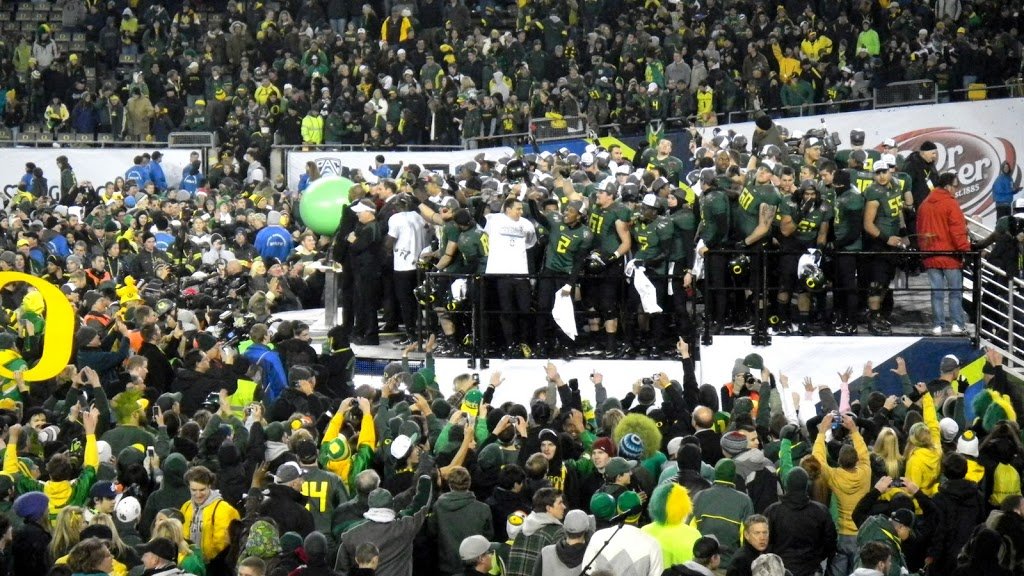 Another favorite photo. Crowd and team so pumped.
All in all, it was an incredible day and I can't wait to watch the Oregon Ducks play the Wisconsin Badgers in the Rose Bowl. I smeeell rooooses… and they're yellow! Here's Supwitchugirl's I Love My Ducks (I Smell Roses) video from way back in 2009 to get us pumped and ready!
See you at the Rose Bowl!
Also, for your enjoyment… Chip Kelly's acting debut: