Almost Hands Free Parmesan and Herb Risotto
A few weeks ago, my mom challenged readers to stop googling random recipes and instead cook from the piles of cookbooks sitting unused on their shelves. Although my collection isn't too big yet, I decided to take her up on this as I really do ignore the beautiful cookbooks I own.
Last year at my mom's annual cookie exchange, I won the category "Best Chocolate" with my salted caramel brownie cookies and the prize was the cookbook The Best of America's Test Kitchen 2011.
So, after reading my mom's challenge, I pulled this cookbook off my shelf and started tagging recipes. Although I selected several, the one that stuck out to me was "Almost Hands-Free Risotto with Parmesan and Herbs." I have read about risotto countless times. I've heard about it's incredible creaminess and texture. But I've always been too scared to make it. I have a definite comfort zone with my cooking and it includes meat and most desserts.
A recipe that involves me standing over the stove and stirring constantly for 45 minutes does not live in my comfort zone.
But, kindly enough, America's Test Kitchen has made it a little simpler for all of us. I was only on duty for this recipe for the first 15 minutes and the last 10, making this easy (almost). Which gave me time to roast a chicken (okay, okay, I mean heat up the already roasted one I bought at Safeway on my way home from work).
Since this recipe does require you to be on your toes, I prepared everything before hand, from chopping veggies to measuring ingredients.
When making risotto, you want to make sure to have hot liquid ready and waiting. In a small saucepan, bring chicken broth/stock to a boil and then reduce the heat to medium low.
In a Dutch oven, melt some butter over medium heat.
Add the onion and salt. Cook it until the onion gets a little bit soft. You'll notice some little green things in the picture below. They are there because I have a problem reading directions and immediately combined the chives and onions as soon as I was done chopping them. I really tried to pick most of them out for you. Really. Also, almost nothing smells better to me then onion cooking in butter.
Add the garlic and cook it 'til it smells yummy but isn't browned (about 30 seconds). Then you get to add the rice! Cook it until the grains are just translucent around the edges (about 3 minutes).
Now we start cookin'. Pour in some wine. I love cooking with wine. It makes my nose happy. Cook until it's fully absorbed. Now stir in most of the broth, cover it, and let it simmer.
Then walk away. Yep. You are now cooking a risotto that doesn't have to be babysat. Just give it a good stir twice during the 15 minutes, and that's it.
Once most of the liquid is absorbed and the rice is al dente, add a little bit more broth. Stir it constantly until the liquid is absorbed and it's creamy. Add the Parmesan, remove from heat, and stir. Finally, slap on some more butter, Italian herbs, chives, and lemon.
Stir it all up until well combined. And then eat the entire Dutch oven full of creamy goodness.
Don't let your boyfriend have a bite of it because he'll say, "I don't like the lemon very much and it doesn't taste that much different from boxed rice" because then you'll have to scold him for not appreciating the beauty that is risotto.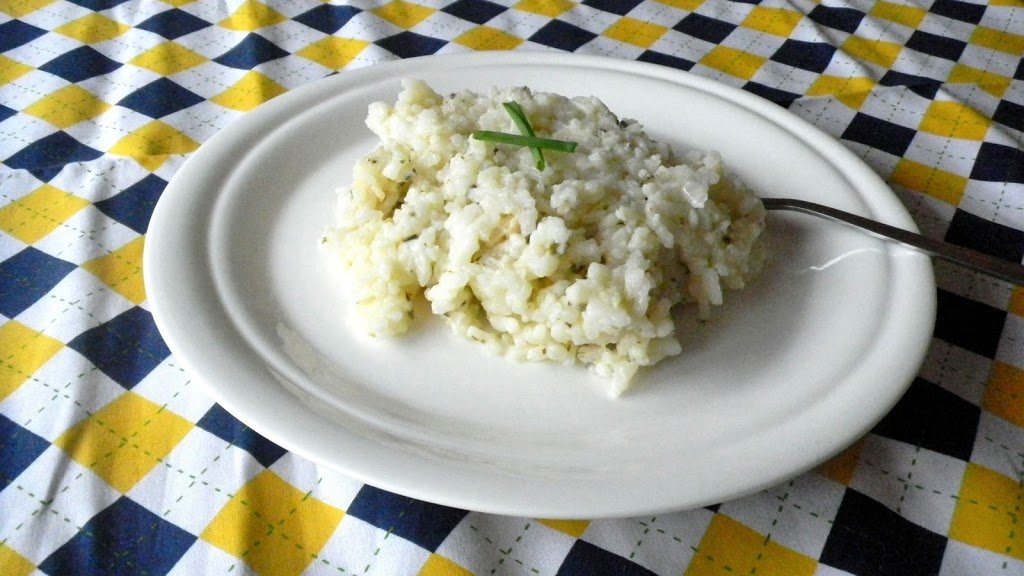 So just keep it to yourself. Because it deserves to be appreciated.
Almost Hands-Free Risotto with Parmesan and Herbs
From The Best of America's Test Kitchen 2011 (online recipe can be found here for members)
Notes:
Any changes to the recipe that I made were due to my availability of ingredients and are listed below the original ingredients in italics. I halved this recipe and had enough for Boyfriend and I to eat with dinner and have leftovers for lunch for 3 days. I encountered rice sticking to the bottom of the Dutch oven, so stir it well each time. The recipe includes variations, such as chicken and herbs and saffron risotto with chicken and peas.
Ingredients
5 cups low-sodium chicken broth
(Substituted chicken bouillon and water)
1 1/2 cups water
4 tablespoons unsalted butter
(Used salted butter)
1 large onion, minced
Salt
1 large garlic clove, minced
2 cups Arborio rice
1 cup dry white wine
2 ounces Parmesan cheese, grated (about 1 cup)
2 tablespoons fresh parsley
(Used "Garden Fresh Italian Herbs")
2 tablespoons chopped fresh chives
1 teaspoon fresh lemon juice
Pepper
Directions
1. Bring broth and water to boil in large saucepan over high heat. Reduce heat to medium-low to maintain gentle simmer.

2. Heat 2 tablespoons butter in large Dutch oven over medium heat. When butter has melted, add onion and ¾ teaspoon salt; cook, stirring frequently, until onion is softened but not browned, 4 to 7 minutes. Add garlic and stir until fragrant, about 30 seconds. Add rice and cook, stirring frequently, until grains are translucent around edges, about 3 minutes.

3. Add wine and cook, stirring constantly, until fully absorbed, 2 to 3 minutes. Stir 5 cups hot broth mixture into rice; reduce heat to medium-low, cover, and simmer until almost all liquid has been absorbed and rice is just al dente, 16 to 19 minutes, stirring twice during cooking.

4. Add ¾ cup hot broth mixture and stir gently and constantly until risotto becomes creamy, about 3 minutes. Stir in Parmesan. Remove pot from heat, cover, and let stand 5 minutes. Stir in remaining 2 tablespoons butter, lemon juice, parsley, and chives; season with salt and pepper to taste. If desired, add up to ½ cup remaining broth mixture to loosen texture of risotto. Serve immediately.