It is so totally without a shadow of a doubt soup season!
… okay, the recent 70 degree weather leaves room for a little doubt. But I'm forging ahead!
So I made this Cauliflower Bacon Cheeseburger Soup. And I really mean it when I say cheeseburger soup. I threw in everything I like on my burger down to the pickles. But hey, you can add whatever your cheeseburger staples are. I actually thought after the fact that some diced avocado might be nice on here.
I love using cauliflower to thicken my soups and chowders and skip the roux and heavy cream. Just boil the cauliflower in stock and puree with an immersion blender, the world's best kitchen tool, until smooth. I don't ascribe to any particular diet, but lots of dairy never sits well with me (somehow pizza is exempt from this?). I'll often stir in a half cup or so of heavy cream at the very end, but that's much better than the usual several cups. My cauliflower method did not fail for this Cauliflower Bacon Cheeseburger Soup! You can eat bowl after bowl without feeling guilty because hey, you're mostly eating veggies.
I chose to use turkey because I've been swapping ground turkey for ground beef most of the time lately, but use whichever floats your boat.
Feel like you're still missing the bun? Whip up some quick focaccia bread to dunk in the cheeseburger soup goodness.
You can also view this recipe in a step by step web story.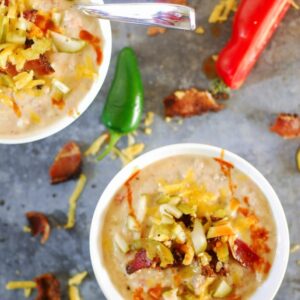 Get the Recipe: Cauliflower Bacon Cheeseburger Soup
This cauliflower bacon cheeseburger soup is packed with veggies and perfect for soup season. Swap beef for turkey for a healthy, delicious meal!
Ingredients
1 pound ground turkey
1 tbsp butter
1/2 onion, diced
2 tsp minced garlic
2 cups chicken stock
1 head cauliflower, cut into florets
1 can diced tomatoes
1 cup shredded cheese
1/4 cup diced pickles
4 pieces of bacon, cooked and torn into chunks
Salt and pepper
1/2 cup heavy cream, optional
Tabasco, shredded cheese, bacon, and diced pickles to garnish
Instructions
In a large stock pot or dutch oven, brown the ground turkey. Remove and drain ground turkey and set aside.

In the same stock pot, melt the butter over medium-low heat. Add the onion. Cook for 3-5 minutes or until softened. Add the garlic and cook for an additional 2 minutes or until fragrant.

Add the chicken stock and cauliflower. Increase heat to medium-high. Simmer for 10 minutes, or until cauliflower florets are soft.

Pour the soup into a blender or use an immersion blender to puree until smooth.

Return soup to medium-low heat. Add the ground turkey, shredded cheese, bacon, and diced pickles. Heat, stirring regularly, until cheese is melted and soup is heated through. Season to taste with salt and pepper. Stir in heavy cream.

Serve and garnish with Tabasco sauce, shredded cheese, bacon, and diced pickles.