Easy turkey and lentil soup that can be cooked on the stovetop or in the Instant Pot or crockpot. A great way to use leftover turkey or chicken!
Yes, I'm a little late on the whole leftover turkey thing. BUT if you're anything like Fiance and I, you're still working through that massive bird. We only had a 7 pound turkey, but we still have a drumstick, thigh, and this soup. And I'm truly impressed with this progress!
We're moving out of our flat and heading back to the good ol' US of A in about 12 days. That means we are eating leftovers and whatever is in our cupboards and freezer, and that's about it. Inexplicably, I bought a ridiculous amount of split red lentils earlier this year with the idea of making an Ethiopian dish with them. Not only have I still not gotten around to making that dish, but I've since learned that just a little bit of lentils goes a long way. Oops.
What to do with leftover turkey
So, when thinking of ways to repurpose our turkey, I wanted to use up some of these lentils. A turkey and lentil curry just sounded a little to strange, and since I was making stock from the carcass anyways (which you should totally do!) I went with this turkey and lentil soup.
This soup is very simple and totally delicious. We also had leftover carrots and celery, so those went into the soup, too. Using the turkey to make the broth made this soup all the better and more wholesome. If you want to know how to make your own stock, check out this post. Just sub your turkey for the chicken! I made it just a little bit spicy and topped it with grated parmesan for good measure.
This soup is also on the lighter side to help you detox a bit after Thanksgiving wonderfulness and in preparation for even more holiday meals. Yay, holiday season!
P.S. Make sure to follow me on Instagram for more Thanksgiving and Thanksgiving leftover inspiration!
You can also view this recipe as a step-by-step web story here.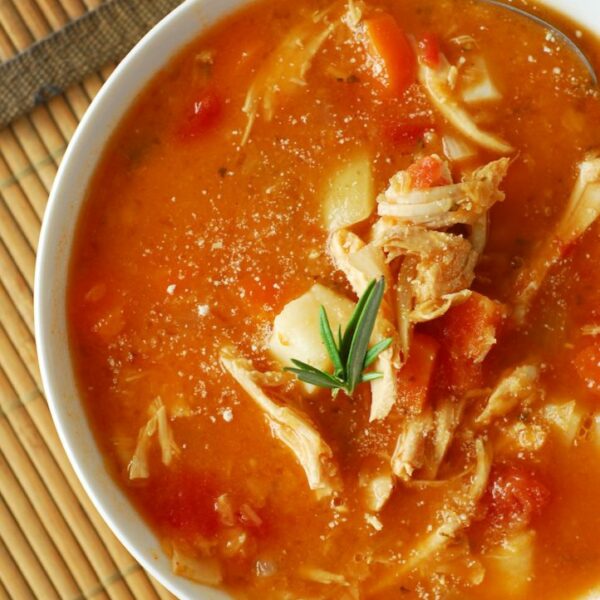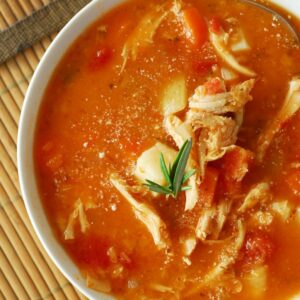 Get the Recipe: Turkey and Lentil Soup
Easy turkey and lentil soup that can be cooked on the stovetop or in the Instant Pot or crockpot. A great way to use leftover turkey or chicken!
Ingredients
1 tbsp olive oil
2 large carrots, peeled and diced
1 yellow onion, diced
3 stalks celery, diced
1/2 tsp minced garlic
6 cups chicken or turkey stock
1 15 oz can diced tomatoes
2 medium potatoes, diced
3/4 cup red split lentils
1 tsp chopped fresh rosemary
1 tsp chopped fresh thyme
1/2 tsp salt
1/4 tsp black pepper
1/4 tsp cayenne pepper
1 1/2 cups cooked turkey pieces
Grated parmesan
Instructions
In a large stock pot, heat the olive oil over medium heat. Once hot, add the celery, onions, carrots, and garlic. Cook, stirring occasionally, for about 5 minutes.

Add all remaining ingredients except the turkey to the stockpot. Bring to a boil and reduce to a simmer. Simmer for 20-25 minutes, or until lentils are cooked and carrots and potatoes are fork tender.

Add the turkey and cook for another five minutes to heat through.

Spoon into bowls and sprinkle parmesan on top to serve.
Notes
The turkey in this recipe can be replaced with cooked chicken.
If you'd prefer to cook this in the crockpot, just add all ingredients except the turkey and cook on low for 6-8 hours. Add the turkey about 30 minutes before serving to heat.
Calories: 459kcal, Carbohydrates: 62g, Protein: 30g, Fat: 11g, Saturated Fat: 2g, Trans Fat: 1g, Cholesterol: 38mg, Sodium: 1043mg, Potassium: 1600mg, Fiber: 15g, Sugar: 13g, Vitamin A: 5366IU, Vitamin C: 39mg, Calcium: 103mg, Iron: 6mg