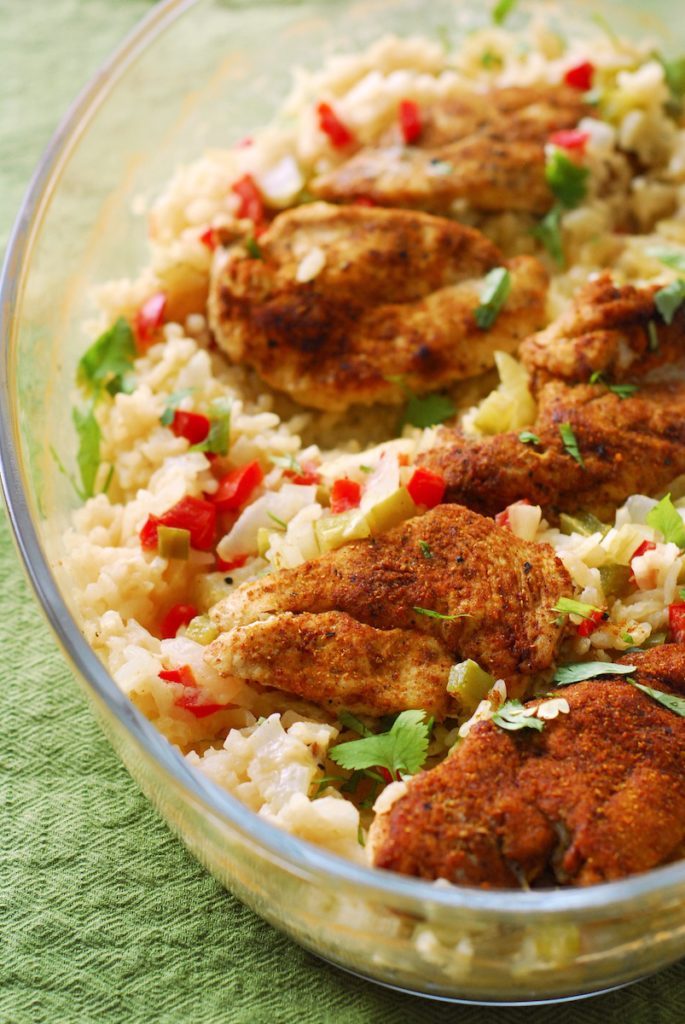 I really, really like risotto. Like a lot. For my birthday this year, we went to a gorgeous restaurant at the V&A Waterfront here in Cape Town called Mondiall. One of their specials was a seafood risotto that had clams, shrimp, mussels, and white fish. It was truly phenomenal. Like in the top 20 things I've ever eaten in my life.
I don't make risotto a lot at home because, frankly, it's kinda hard. And I'm really lazy. Kinda hard + really lazy = not gonna happen, even for serious deliciousness. I don't like dishes that I have to babysit because usually I'm frantically trying to get other parts of the meal ready to go. That's why traditional rice is so great: set it and forget it.
This method of cooking risotto, on the other hand, can take care of itself. In fact, the entire meal can, which means no babysitting, which means I am oh-so-happy!
The rice is some of the best rice I've ever eaten. For reals, not exaggerating. The chicken was great, really good, but at one point I forgot about it entirely to shovel more rice. I'm tellin' ya, you've got to try this.
I love this type of meal because everything is baked in the same dish. Here in Cape Town, I have a teeny oven with just one rack, so this type of meal comes up a lot. It's also a great option for friends that are moving, just had a baby, or any other reason you'd bring your friends some cook-and-eat meals. If you really want it to be ultra-one dish, you can skip the browning, but I wouldn't.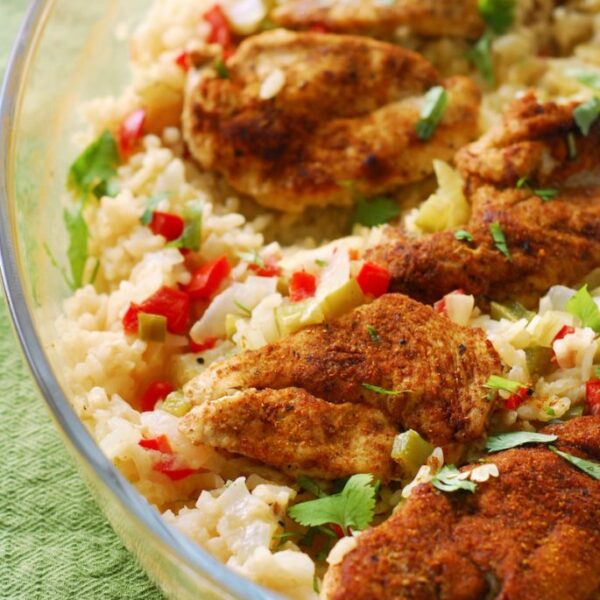 Get the Recipe: One Dish Indian-Spiced Chicken and Coconut Risotto
Ingredients
Instructions
Preheat oven to 350 degrees.

In a small bowl, mix together the curry powder, cayenne pepper, turmeric, cumin, paprika, salt, and black pepper. Coat the chicken breasts in the seasoning.

In a skillet, heat the olive oil over medium-high heat. Brown the chicken breasts on both sides. Set aside.

In a 9x13 inch baking dish, combine the bell peppers, onion, rice, chicken stock, coconut milk, and salt.

Arrange the chicken breasts on top of the rice mixture. It's okay if they're submerged a bit. Cover the dish with foil.

Bake for 45 minutes. Remove the foil and bake for another 15 minutes.

Fluff the rice and serve.
Notes
If you use hot curry powder or are sensitive to spice, omit the cayenne pepper.