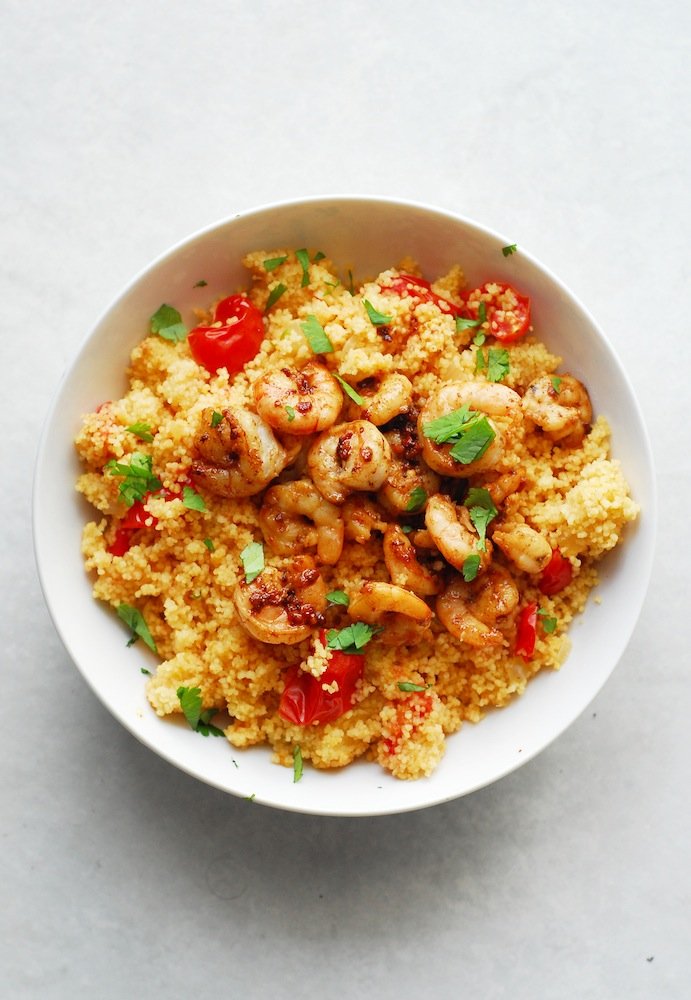 Don't know about sous vide yet, but curious to learn more? Start here! I tell ya about everything you need to get viding.
---
Starch is probably my favorite part of any meal. Well, unless you put a really good steak on my plate. Then that might be my favorite. But most of the time, it's definitely the starch. Bring on the crusty bread, roasted potatoes, and rice! Let's be real here: that's mostly what we want to eat. For this reason, I always make myself eat my veggies first (which I also like!) and then I can indulge in the carbs. The risky part to this strategy, though, is that if I don't play my cards right Fiance will have scarfed all the bread by the time I've finished the healthier food items on my plate.
I know I'm talking about dinner time in our house like it's a war zone, and that's because it kinda is. At least when there's anything bready nearby.
It wasn't until a couple of months ago that this starch entered our home: couscous! In fact, I don't think I'd ever eaten it before we went on our safari at Inverdoorn here in South Africa. This was clearly a mistake, because couscous if a fantastic carb. It's just a little sweet and absorbs the flavor of whatever you cook it in. My favorite part about it: it only takes FIVE MINUTES to cook! Do you know how many times I've planned on serving rice with dinner, only to realize ten minutes before the protein is done that I hadn't started the 30+ minute process of cooking rice? Rice is fantastic, but it takes a long while to cook up. Unless you're copping out with minute rice, but I generally like simple brown or white rice.
For this spicy shrimp and couscous, the shrimp is kept really simple with the classic shrimp trio of flavors: butter, garlic, and lemon. The couscous gets a lot of flavor from veggies like onions, jalapeños, tiny grape tomatoes, and more garlic. And a generous sprinkling of cilantro really pulls it all together!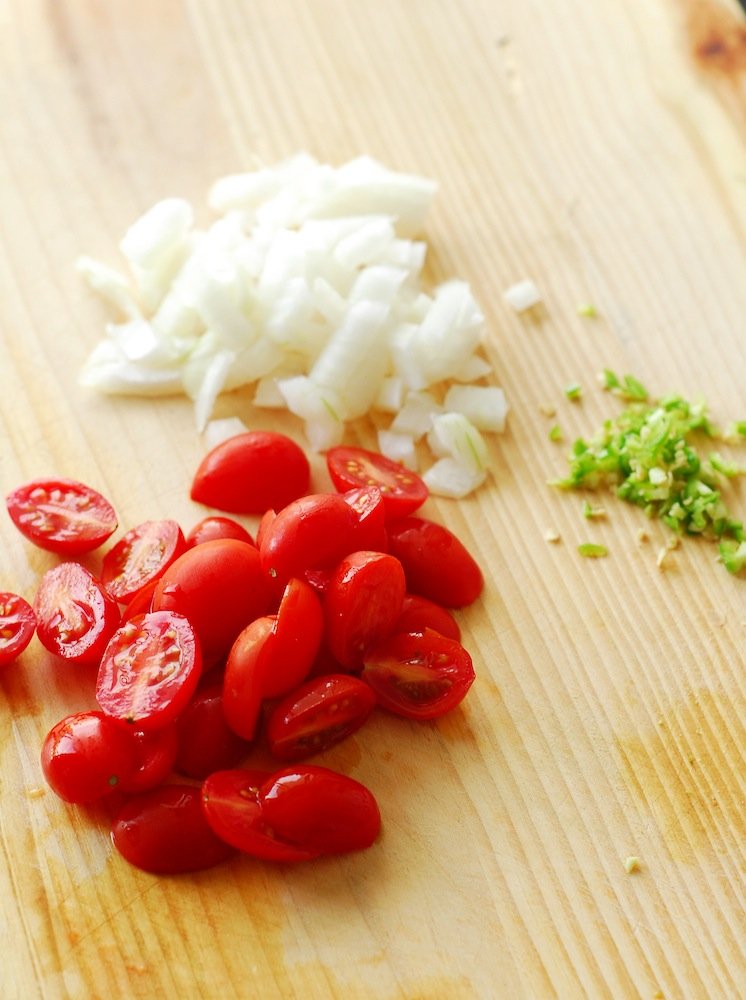 For those of you with pickier eaters around, when I told Fiance we were having this for dinner, he said, "Okay…" with the skeptical look he likes to wear. This reaction always happens when I describe a dish he hasn't had before and can't quite picture in his head. Difficult for him, since a food blogger prepares most of his meals. And, to his defense, he has had to endure many fails and trials during recipe testing phases.
But he totally loved this shrimp and couscous. It's inspired by this recipe from Olga's Flavor Factory. Although it feels like a more summery dish, none of the ingredients are hard to find in the winter.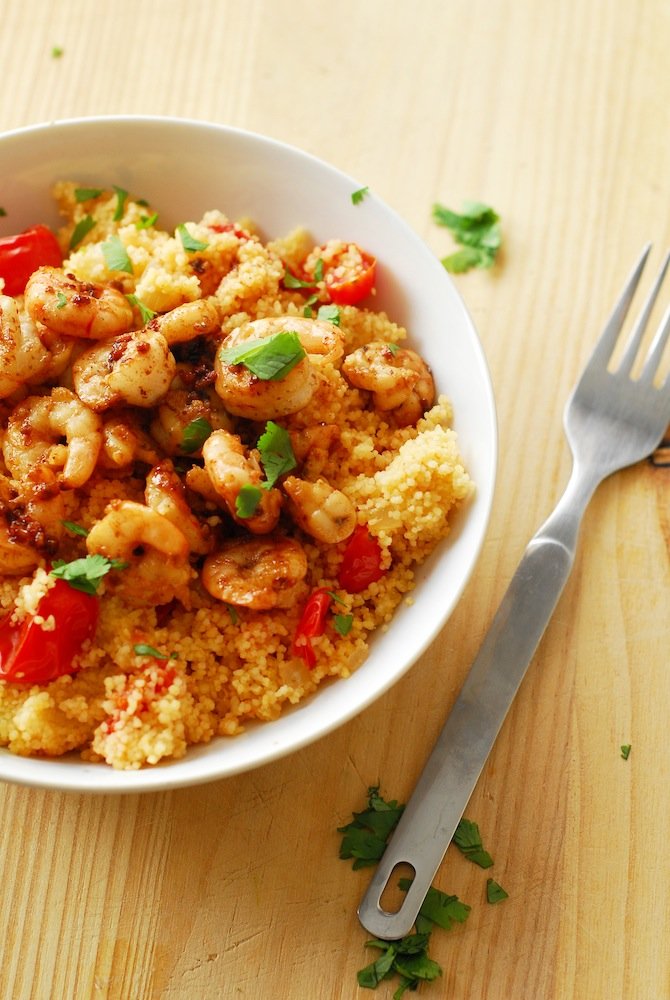 And it's really simple to make. I start by sautéing the jalapeños, onions, and garlic in butter in a pot large enough to cook the couscous. Then I add the sliced tomatoes and cook for just another minute before adding chicken stock and ground coriander. Bring it to a boil, add the couscous, cover and remove from heat! Then just let it sit for five minutes and fluff. Couscous: making dinner ready twice as quickly in homes everywhere.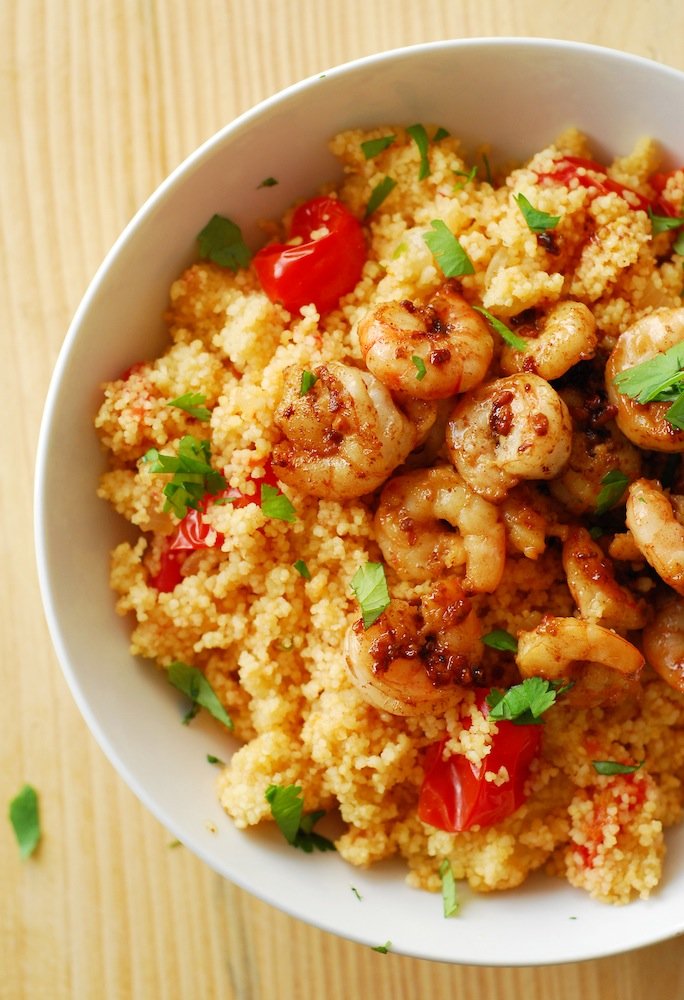 While the couscous is cooking, saute a little garlic in butter in a skillet, then sear the shrimp. After you've flipped the shrimp, add a generous amount of lemon juice. That's it!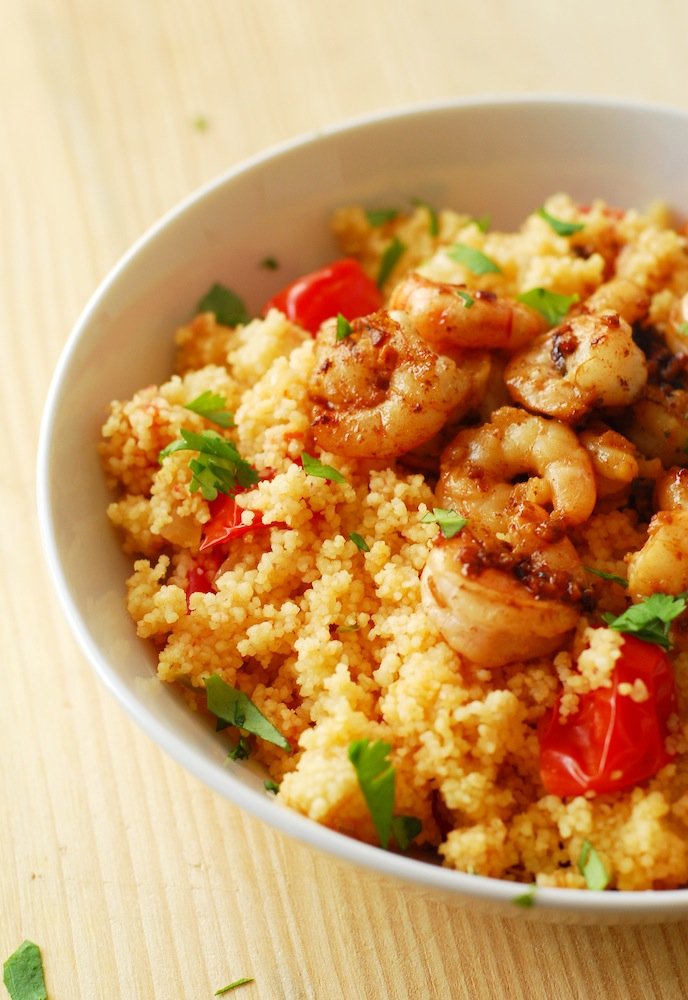 As much as I love the rewarded feeling that comes with preparing a more complex meal, sometimes it's nice to have something so tasty be this easy! Get yourself on the couscous wagon and make this dish. I promise, you'll love spicy shrimp and couscous as much as I do!
You can also view this recipe as a step-by-step web story here.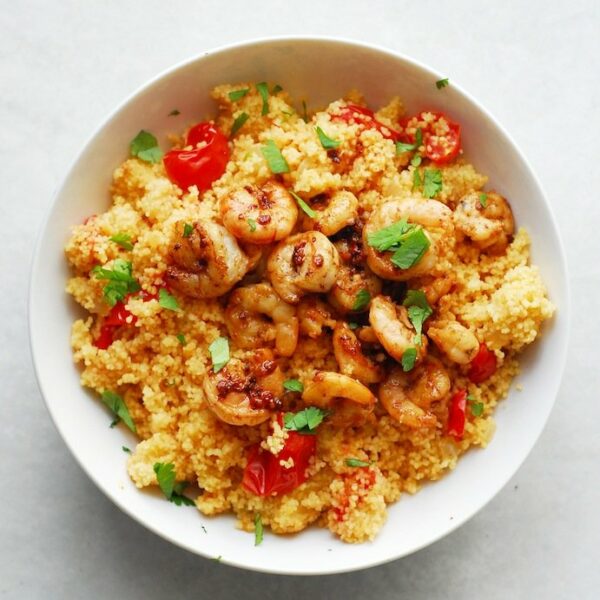 Get the Recipe: Spicy Shrimp and Couscous
This spicy shrimp and couscous is light, full of flavor, and ready in only 15 minutes!
Ingredients
Couscous:
1 tbsp olive oil
1/2 jalapeno, chopped (remove seeds and ribs for less spice)
1/2 onion, diced
1 tsp minced garlic
12 grape or cherry tomatoes, sliced in half
1 cup chicken stock, or water & a bullion cube
1/2 tsp ground coriander
1 cup couscous
Shrimp:
1 tbsp butter
1 tsp garlic
16 shrimp, deveined and peeled (I also removed the tails)
2 tbsp lemon juice
2 tbsp cilantro, roughly chopped
Instructions
In a medium-sized pot, heat the olive oil over medium heat. Add the onion, jalapeño, and garlic. Cook until veggies begin to soften, 3-5 minutes. Add the tomatoes and cook for another minute.

Add the chicken stock and coriander to the pot. Bring to a boil.

Remove from heat and stir in the couscous. Cover and let sit for five minutes, then fluff with a fork.

While the couscous is cooking, heat a skillet over medium heat. Melt the butter in the skillet. Add the garlic and cook for 1 minute.

Add the shrimp and sear for about 2 minutes. Flip, then add the lemon juice to the skillet. Cook until seared and pink. Remove to a plate.

Spoon the couscous into bowls and top with shrimp. Sprinkle cilantro over bowls to serve.