Sous vide is one of the best ways to prepare cod. There's no risk of overcooking it and it's healthier and less messy than deep frying! At 130 degrees F for just 30 minutes, you'll have the most delicious, flaky cod you've ever had. Need to cook from frozen? No worries, just tack on an additional 15 minutes of cook time.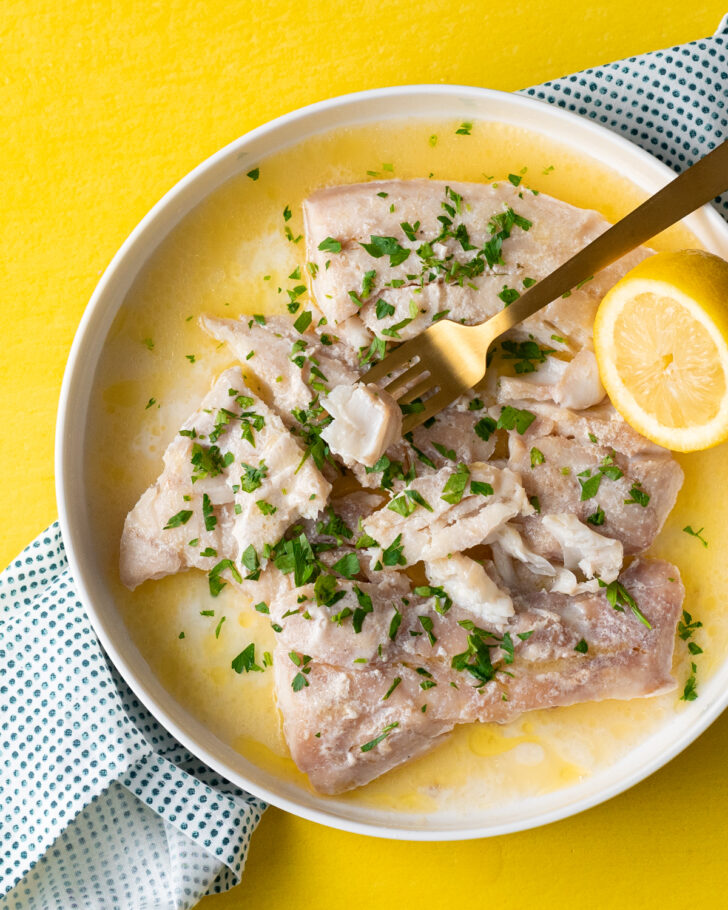 Cod is one of the most popular white fish around, and for good reason! It's flaky, mild, and delicious served all kinds of ways, especially with this lemon butter sauce.
However, when overcooked, it can become rubbery and inedible, and it doesn't take much to overcook it. This can be really intimidating! Enter: sous vide, a cooking method that makes it impossible to overcook the fish since the cooking environment is the same temperature you want the interior of the fish to come to.
Once you've tried this recipe and loved it, make sure to check out my other sous vide seafood recipes, like sous vide salmon and sous vide shrimp. I've got plenty more in my cookbooks, too!
What type of cod should I use?
The method outlined in this recipe will work for any species of cod, whether it's Lingcod, Pacific Cod, Atlantic Cod, or Pollock.
In fact, this method should work well for nearly any white fish that's less than an inch thick.
Time and Temperature for Sous Vide Cod
Usually with my sous vide recipes, I give several time and temp options for each protein. However, with cod, I tested 3 temperatures: 125 degrees F, 130 degrees F, and 135 degrees F and can't recommend any temperature other than 130 degrees F.
Cod is almost always served one way: cooked through and flaky. It's not like steak or even salmon where there are preferences when it comes to how rare it's served.
130 degrees F for 30 minutes is the best time and temperature for sous vide cod. Trust me!
How to Sous Vide Cod
Butter poaching is one of my favorite ways to cook seafood, especially lobster and cod. I keep the seasoning simple with just salt and garlic powder.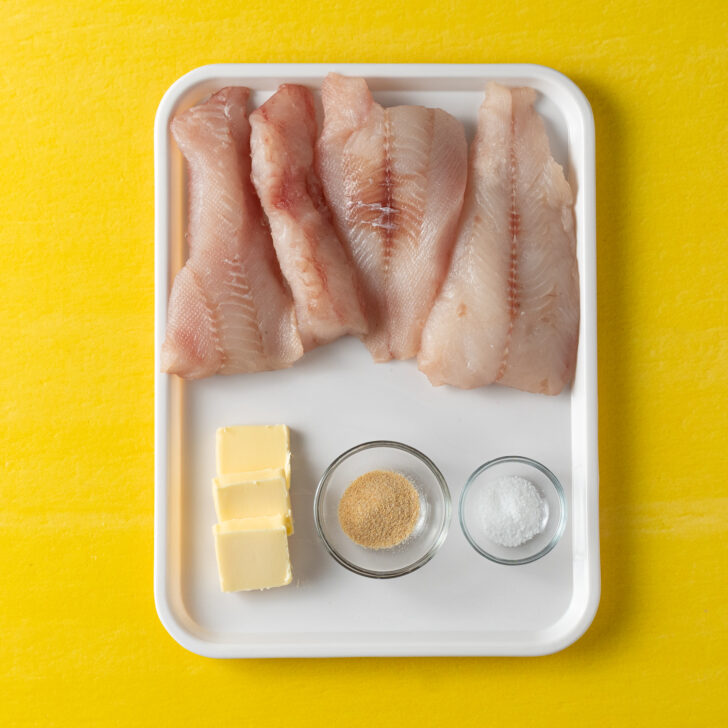 After seasoning, it's time to add the cod and butter to a bag for sous vide cooking. I prefer to use a vacuum sealer and vacuum seal bags, but if you don't have one, you can use another air removal method.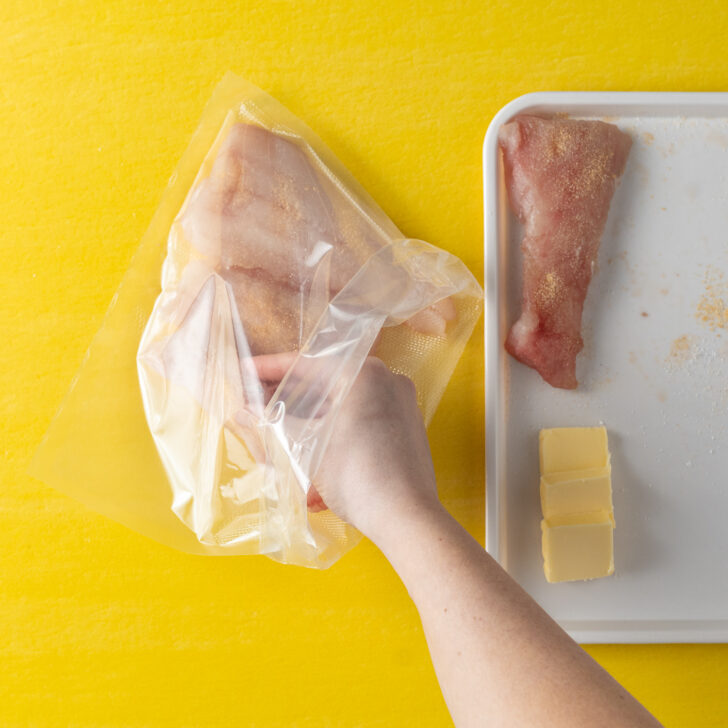 Once sealed, it's time to cook! Preheat a water bath to 130 degrees F using an immersion circulator.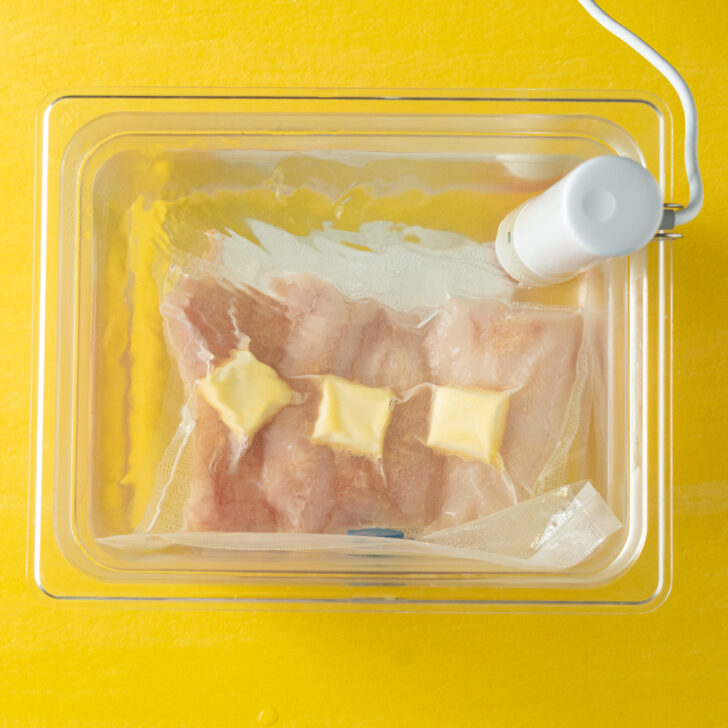 After 30 minutes, remove the bag from the water bath and it's time to serve! You don't need to finish the fish by searing or broiling, it's delicious as is.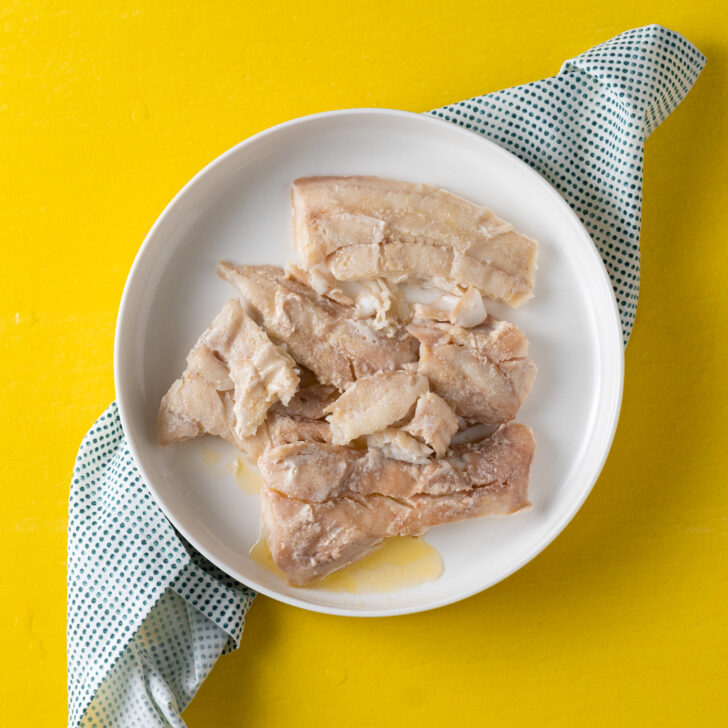 The only other steps you need to take before serving are a squeeze of lemon and some chopped parsley or dill.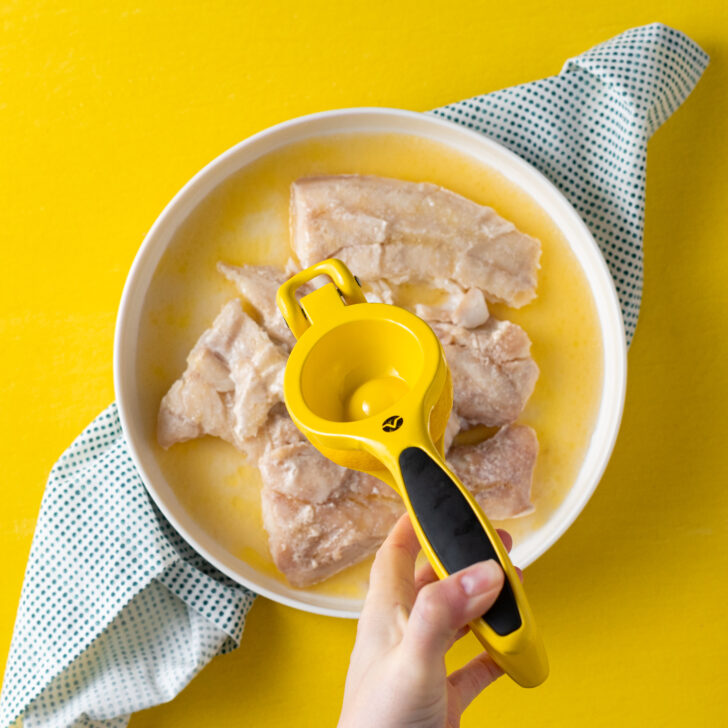 Common Questions
What time and temperature should I use for sous vide cod?
130 degrees F for 30 minutes produces the most tender, flaky cod.
What is the texture of sous vide cod?
Using my suggested time and temperature, sous vide cod is incredibly flaky and so tender it falls apart. It truly melts in your mouth!
How do I finish or sear cod after sous viding?
I do not recommend finishing at all. It's so tender that it will just fall apart, and it really doesn't need it! If you really want to add some color, a culinary torch is probably your best option.
Can I sous vide cod from frozen?
Yes! If cooking from frozen, simply increase the cooking time from 30 minutes to 45 minutes.
You can also view this recipe as a step-by-step web story here.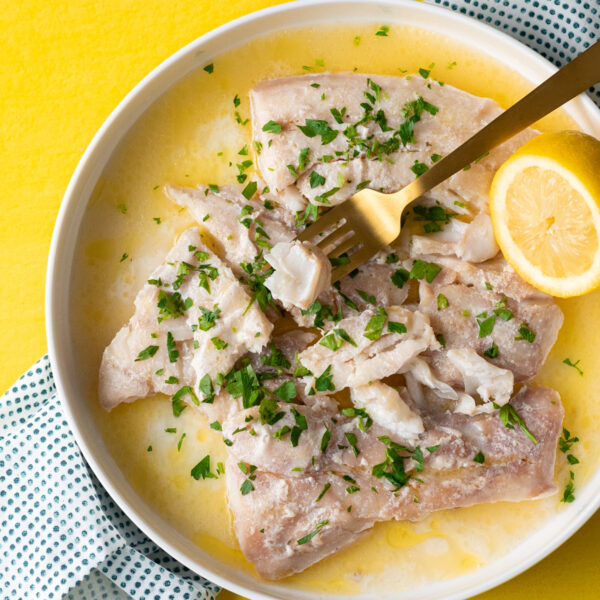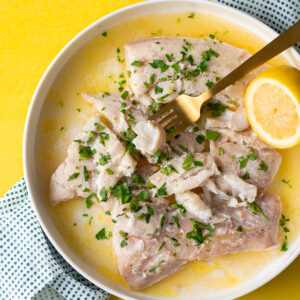 Get the Recipe: Butter Poached Sous Vide Cod (30 Minutes)
Sous vide is the easiest way to ensure that your cod is melt in your mouth tender and never risk overcooking it. When poached in butter and finished with a little lemon, it's truly as good as it gets!
Ingredients
1 lb cod fillets, Pacific, Atlantic, Ling, or Pollock
1 tbsp garlic powder
1 1/2 tsp kosher salt
4 tbsp salted butter, cut into pats
2 tbsp lemon juice, about 1/2 lemon
3 tbsp chopped parsley or dill
Instructions
Evenly season the cod fillets with garlic powder and kosher salt.

1 lb cod fillets, 1 tbsp garlic powder, 1 1/2 tsp kosher salt

Cuff a vacuum seal bag a couple of times and add the seasoned cod fillets. Add the butter pats and distribute them evenly in a single layer on top of the fish. Uncuff and vacuum seal the bag using a vacuum sealer. If you don't have a vacuum sealer, use another air removal method.

4 tbsp salted butter

Add the vacuum sealed bag to the preheated water bath and secure with sous vide magnets to keep from floating, or place a ceramic plate or bowl on top of the bag. Cook for 30 minutes. If cooking from frozen, cook for 45 minutes.

After cooking, remove the bag from the water bath and carefully remove the fish from the bag to a rimmed serving plate. It will be so tender that it will likely fall apart a bit. That's okay! Pour the contents of the bag over the fish for a butter sauce.

Squeeze the half lemon over the fish and sprinkle on the chopped parsley or dill. Serve.

2 tbsp lemon juice, 3 tbsp chopped parsley or dill
Calories: 202kcal, Carbohydrates: 2g, Protein: 21g, Fat: 12g, Saturated Fat: 7g, Polyunsaturated Fat: 1g, Monounsaturated Fat: 3g, Trans Fat: 0.5g, Cholesterol: 79mg, Sodium: 1025mg, Potassium: 503mg, Fiber: 0.2g, Sugar: 0.2g, Vitamin A: 396IU, Vitamin C: 4mg, Calcium: 24mg, Iron: 1mg