This recipe for sous vide cherry cheesecake couldn't be easier! Even better: it makes individual dessert servings, so it's perfect for feeding a crowd.
Sous vide desserts get a bad rap. Lots of "but why tho?" Which I totally get! But when it comes to treats like cheesecake, creme brulee, and custards, sous vide is amazing. Your desserts come out perfectly consistent, with no jiggly center. It takes out all the guesswork!
National Cherry Cheesecake Day is in April (is there a holiday for every food now?!) so I decided to go for it and make some sous vide cherry cheesecake of my own!
Predictable: it was delicious.
I know you're going to read "canned cherry pie filling" and be horrified. GET OVER IT. There are lots of cans of cherry pie filling with good, clean ingredients – like the one I used! The ooey-gooey texture of this filling is exactly what you need to get a classic cherry cheesecake feel.
To mimic a "crust", I just sprinkled some crushed graham crackers on top. 'Cause who's here for the crust, anyways?
Did you know I wrote a whole cookbook about sous vide cooking? It also includes my base recipe for sous vide cheesecake, and a bunch of other amazing, everyday sous vide recipes. Which is probably why I called it Everyday Sous Vide: It's All French to Me. If you buy it, leave me a review and tell me what you think!
If you try this recipe and STILL feel like you need more cheesecake in your life (because seriously who doesn't need more cheesecake), my Strawberry Cheesecake Bars are one of my favorite go-to desserts.
If you have not yet taken the plunge into Sous Vide then today is the day! I cannot recommend Vesta's products enough. Check out my Amazon page for all of my recommended products!
You can also view this recipe as a step-by-step web story here.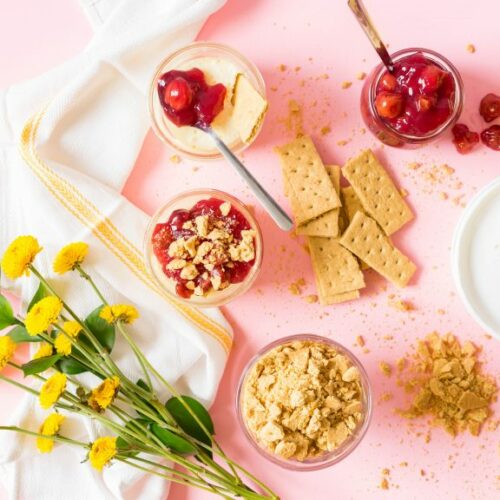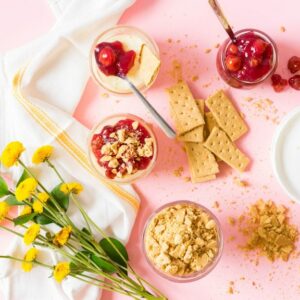 Get the Recipe: Sous Vide Cherry Cheesecake
This recipe for sous vide cherry cheesecake couldn't be easier! Even better: it makes individual dessert servings, so it's perfect for feeding a crowd.
Ingredients
2 eight-ounce packages of cream cheese, softened to room temperature
½ cup granulated sugar
¼ tsp salt
3 large eggs
1 tsp vanilla extract
½ cup heavy whipping cream
1 can cherry pie filling
½ cup chunky graham cracker crumbs
Instructions
Get immersion circulator setup and start preheating water bath to 175 degrees F. This is a hot temperature for sous vide cooking: don't forget to place a trivet under your container!

Add all ingredients for cheesecake to a blender. Blend until smooth – there should be no cream cheese chunks and eggs should be completely incorporated. You may need to pause the blender and use a spatula to scrape down the sides a few times.

Prepare 6 quarter pint-sized wide mouth mason jars by removing the lids and spraying inside of jars with nonstick spray.

Pour the cream cheese mixture evenly between the jars.

Place the undamaged lids on your jars. Close to "finger tight" you should be able to easily unscrew with just your fingertips. Drop jars carefully into water. Jars should be completely submerged and you should see small air bubbles escaping the jars. If the jars are floating, your lid is on too tight.

Let cook for 1 1/2 hours. Remove mason jars to a towel on the counter to cool. Once cool to the touch place in the refrigerator to chill overnight.

When ready to serve spoon cherry pie filling on top of cheesecakes and sprinkle with graham cracker crumbs. Serve!
Calories: 311kcal, Carbohydrates: 50g, Protein: 4g, Fat: 10g, Saturated Fat: 5g, Trans Fat: 1g, Cholesterol: 109mg, Sodium: 201mg, Potassium: 163mg, Fiber: 1g, Sugar: 18g, Vitamin A: 617IU, Vitamin C: 4mg, Calcium: 42mg, Iron: 1mg