These easy Jalapeno Popper Stuffed Sous Vide Burgers are packed with spice and flavor, making them the perfect homemade burger.
This recipe for Jalapeno Popper Stuffed Sous Vide Burgers is from my brand new book, Everyday Sous Vide: It's All French to Me. Snag the book for lots of amazing sous vide recipes like this one!
Don't know about sous vide yet, but curious to learn more? Start here! I tell ya about everything you need to get viding. If you don't yet have an immersion circulator and/or a vacuum sealer then I can't recommend Vesta Precision's products enough: check them out and hop to precision cooking!
---
Stuffed burgers are the most fun recipes I've ever written. I love burgers. Smash Burgers, Bleu Cheese Buffalo Burgers, and Pepper Jack Stuffed Jalapeno Burgers. All the burgers. Don't we all? But, do you know what makes a burger the best it can be? Stuffing all those toppings inside sous vide burgers. Or at least the cheese. That's the important part.
These burgers are messy, ooey-gooey, and all things right in this world. They come stuffed with enough flavor that I don't think condiments are necessary, but you can add them if you want. The key is a high quality bun, slathered with butter and lightly toasted. Please and thank you.
I credit my love of jalapeno poppers to my parents, as these are an appetizer go-to at any party they host. They are the perfect combination of creamy, salty, and spicy, and they are shockingly addictive. So why not take all of those ingredients, and put them inside a burger? It's an obvious move, and I'm disappointed in myself because it took 27 years for the idea to occur to me.
For this recipe, you'll use the water displacement method to get the air out of your bag so you don't damage the burgers. Here's how you do it: add all the ingredients to the bag according to the recipe's instructions. Zip the top of the bag until it's almost closed, but leave a little crack. Submerge the bag, starting from the bottom, in a large container of water (I recommend just using your water bath before you start heating it), until the water has just reached the zipper – do not submerge the zipper. Direct the air towards the crack in the zipper, then zip closed. Most of the air should be removed.
You can also view this recipe as a step-by-step web story here.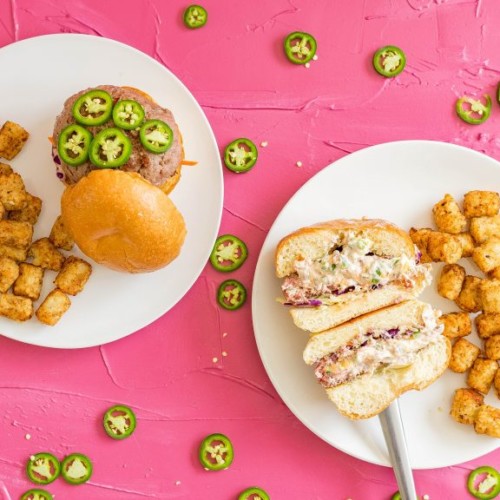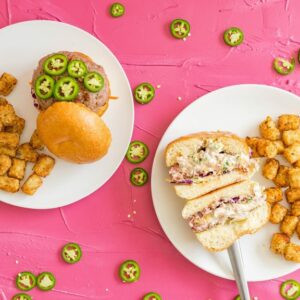 Get the Recipe: Jalapeno Popper Stuffed Sous Vide Burgers
These easy Jalapeno Popper Stuffed Sous Vide Burgers are packed with spice and flavor, making them the perfect homemade burger. 
Ingredients
1 pound 85/15 ground beef
2 tsp kosher salt
1 tsp ground black pepper
⅓ cup cream cheese, softened
¼ cup bacon, crumbled
2 tbsp shredded cheddar cheese
1 jalapeno, seeded and ribs removed, minced
4 brioche buns
Instructions
Get immersion circulator setup and start preheating water bath to 130 degrees F.

In a large bowl, add the ground beef, salt, and pepper. Mix with your hands until salt and pepper are evenly distributed.

Divide the meat into 8 equal sized balls. Press flat into relatively thin circles, just shy of ½ inch.

Combine remaining ingredients in a small bowl.

Spoon a quarter of the cream cheese mixture onto each of four of the patties, leaving about ¾ of an inch around the edge free of cream cheese.

Place a patty that hasn't been topped with the cream cheese mixture over the top of one that has. Pinch the edges together and reshape to seal in the cream cheese mixture. Repeat with remaining patties.

Add to bag and remove the air using the water displacement method. Add the bag to the water bath and cook for 45 minutes to 2 ½ hours.

Preheat a cast iron skillet over high heat. Remove burgers from water bath and bag. Sear in hot skillet on both sides until browned.

Let rest for 5 minutes. Serve on a bun with your favorite toppings.
Calories: 865kcal, Carbohydrates: 40g, Protein: 31g, Fat: 65g, Saturated Fat: 30g, Trans Fat: 1g, Cholesterol: 263mg, Sodium: 1732mg, Potassium: 352mg, Fiber: 1g, Sugar: 1g, Vitamin A: 1057IU, Vitamin C: 4mg, Calcium: 121mg, Iron: 3mg