These extra fluffy, protein package quinoa flour pancakes are a great alternative to traditional pancakes! Top with fresh fruit and enjoy!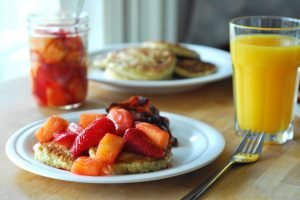 A huge, unopened bag of quinoa has been sitting in my cupboard for several weeks, just begging to be cracked open. And this particular bag didn't want to just be used as a dinner side dish- no, this needed to be something fun and new.
I noticed that I had a pineapple that needed to be cut into and some strawberries that needed to be eaten, so quinoa breakfast it was! But not just any quinoa breakfast- quinoa pancakes! And bacon. Because you always need some bacon.
The first thing you're gonna wanna do is get the fruit topping started, as it takes a while to break down. So cut up some pineapple.
And some chopped strawberries. I left them a little big for a nice chunky topping.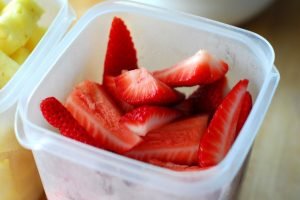 Combine them in a small pot with some sugar and let 'em cook on low while you're making the pancakes. They should get a little syrupy.
Whisk together some flour, salt, and baking powder. I would have used buckwheat flour if I had it on hand. You can if ya want!
Then add the cooked quinoa.
And give it a good stir. This is weird, because you're essentially coating the quinoa with flour.
I was really fascinated by this, so here's an up close picture.
Then make a well in the center and add the wet ingredients: eggs, milk, and vanilla.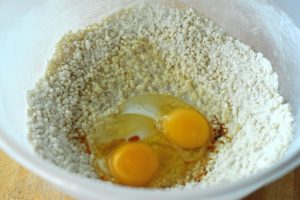 I actually used Mexican vanilla that my mom got me from a little spice shop called Penzey's Spices in Portland. Such a fantastic smell and flavor!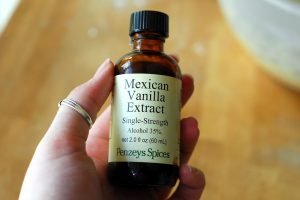 Then whisk it all up.
I cooked the pancakes in a little bit of reserved bacon fat because I'm weird like that, but you could use cooking spray or butter. Pour about a third of a cup of batter on a hot skillet for each pancake and cook until golden brown on each side. You may notice that I have trouble with consistency.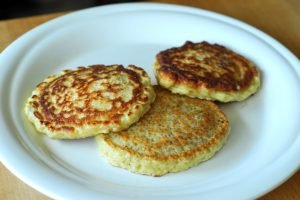 The fruit topping should be done by now- remove it from the stove for serving. Oh so pretty and tasty!
Spoon a healthy serving of the fruit on top of the pancakes and serve 'em with bacon. Lots o' bacon.
Boyfriend and I really liked these pancakes because the quinoa made them so fluffy. I like them more than your average pancake because the quinoa adds so much protein and will help keep you full longer! If you didn't want to make pancakes from scratch, I'm sure you could add them to pancake mix. The texture is really fantastic!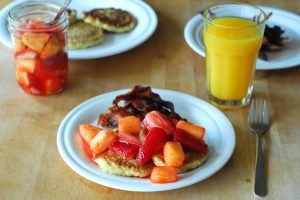 Get the Recipe: Quinoa Flour Pancakes with Strawberries and Pineapple
These extra fluffy, protein package quinoa flour pancakes are a great alternative to traditional pancakes! Top with fresh fruit and enjoy!
Ingredients
1 cup chopped strawberries
1 cup diced pineapple
1/4 cup sugar
1 cup flour, I recommend all purpose or buckwheat
2 tsp baking powder
1 tsp salt
1 cup cooked quinoa
2 eggs
1/2 cup milk
1 tsp vanilla
Instructions
1. In a small pot, combine the strawberries, pineapple, and sugar. Cook on medium low until mixture starts to get syrupy and strawberries are soft.

2. While the fruit is cooking, combine the flour, baking powder, and salt. Whisk in the quinoa.

3. Make a well in the center of the dry mixture. In the well, add the eggs, milk, and vanilla. Whisk until well combined.

4. Butter or spray a non-stick skillet. Heat the skillet on medium. Pour batter on the skillet in 1/3 cup portions for the pancakes. When browned on bottom, flip pancake. Cook until both sides are brown.

5. Top pancakes with the cooked fruit mixture. Enjoy!
Calories: 152kcal, Carbohydrates: 28g, Protein: 5g, Fat: 2g, Saturated Fat: 1g, Trans Fat: 1g, Cholesterol: 42mg, Sodium: 421mg, Potassium: 143mg, Fiber: 2g, Sugar: 10g, Vitamin A: 99IU, Vitamin C: 20mg, Calcium: 94mg, Iron: 2mg