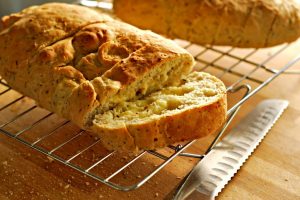 I recently discovered that I have a thing for pepper jack cheese- especially if it's Tillamook (which, by the way, is the greatest cheese company in the world). I even made pepper jack stuffed burgers and they rocked my world. I've made jalapeno cheese bread before and, since pepper jack cheese is essentially jalapeno cheese, I decided pepper jack cheese bread needed to be born.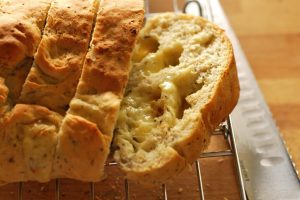 It was incredible! Pepper jack is creamier than cheddar and was perfectly suited for this bread. It's simpler to make since you don't need to chop up jalapenos and throw them in, too. And just so darn good.
Pepper Jack Cheese Bread
Ingredients
Instructions
In a mixing bowl, combine sugar, water, and yeast. Let sit for about 10 minutes or until frothy.

Add all remaining ingredients except flour and combine.

Using your KitchenAid or by hand, incorporate flour 1/2 cup at a time until no longer sticky. Knead for about 7 minutes using your KitchenAid with the dough hook attachment or by hand.

Lightly oil a large bowl with olive oil and let the dough rise until doubled, about 1 hour. Preheat oven to 425 degrees.

Lightly oil a cookie sheet. Punch dough down. Knead in the pepper jack cheese until cubes are evenly distributed. Shape into loaf form on oiled cookie sheet. Let rise for 20-30 minutes on the cookie sheet.

Bake for about 15 minutes, or until top is golden brown.
Tried this recipe?
If you love this recipe, it would mean the world if you gave it a star rating and review! Star ratings help people discover my recipes when searching.