If you can believe it, I'd never had the Easter favorite, hot cross buns, before this.
What a way to introduce myself.
This french toast was truly amazing. Melty raisins and currants, plenty of cinnamon, perfect texture. Whenever Fiance's first words when taking a bite of something I've made are "oh my gosh" followed by fervent shoving of his mouth, I know I've done well, and this did not fail.
This dish is perfect for Easter breakfast, or any other breakfast for that matter.
First, you'll need some shiny Granny Smiths to make the compote. I ended up only using three. I love these apples. If I can't get my hands on some Honeycrisp apples, Granny Smiths are what I reach for.
Peel 'em up. Or don't. For texture's sake, I wanted mine peeled. Then give 'em a good dice.
Like any good sauce or compote, this one starts with plenty of melted butter.
Followed by brown sugar, apple juice, and cinnamon. Take a deep breath and enjoy it in all it's cinnamony butteriness. Let it simmer for a few minutes.
Then add the apples. Let it simmer for a good long while until the apples are soft and the liquid is a little thicker.
Next, I made bacon for the following reasons:
1. Pork and apples are one of the best combinations of ever.
2. French toast is best cooked in bacon fat. Thank you for teaching me this at a young age, Mom.
3. Bacon is essential to every breakfast. And everything.
Alright, alright. I did not make my hot cross buns. Typically, if I'm going to turn something into something else, I'm not going to take the time to make that first something myself. That takes far too much effort. Not to mention, the grocery store I shop at has a great bakery and an abundance of these rolls right now.
Then I sliced the buns in half.
They got dipped into whisked eggs and milk. I wouldn't soak the hot cross buns in the mixture for long, they don't hold up so well.
Then fried for a couple of minutes on each side in that glorious bacon fat.
Once all the buns are have been french-toastified, top them with plenty of apple compote, and, if you're feeling especially indulgent, a little more butter.
Oh, and don't forget that bacon. The bacon is very important.
Make this quickly, while the grocery stores are still full of hot cross buns! Or be super impressive and make your own hot cross buns.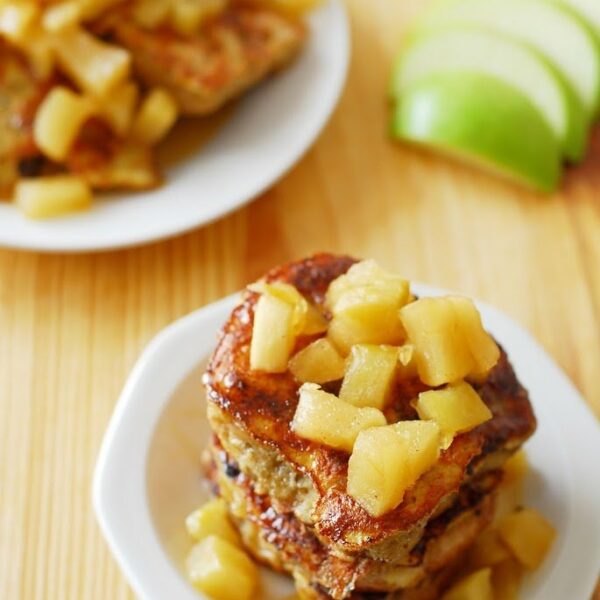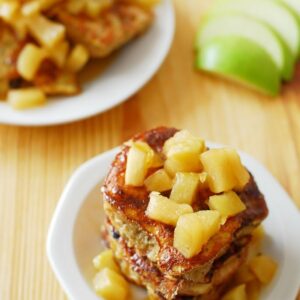 Get the Recipe: Hot Cross Bun French Toast with Apple Compote
Ingredients
3 Granny Smith apples, peeled, cored, and diced
1/4 cup butter
3/4 cup brown sugar
1/2 cup apple juice
1 tsp cinnamon
8 hot cross buns
5 eggs
1/4 cup milk
1 tsp vanilla
Bacon fat or canola oil for frying
Instructions
To make the compote, melt the butter in a medium-sized pot over medium heat. Add the brown sugar, apple juice, and cinnamon. Bring to a simmer and reduce heat. Let cook for about 5 minutes. Add the apples and continue to cook for 10 to 15 minutes, or until the apples are softer and the liquid is a little thicker.

For the french toast, whisk together the eggs, milk, and vanilla. Slice the hot cross buns in half. Heat a pan over medium heat and add bacon fat or canola oil for frying. Once hot, dip the hot cross buns in the whisked egg mixture then fry for a couple of minutes on each side, until golden brown.

To serve, top french toast with apple compote and butter, if desired.