I'm sorry for the slight increase in Thai recipes here on A Duck's Oven. But let me defend myself:
Thai food is really good. This could be so much worse.
Who cares? You'll like it.
I promise.
The inspiration for this recipe came while I was listening to one of my favorite podcasts, The Splendid Table. I am in no way benefiting from talking about them. LISTEN TO THIS PODCAST. Lynne Rosetto Kasper is my BFF (in my head).
Someone called into this podcast saying they had a bunch of coconut cream and wanted to do something with it that wasn't a dessert, and the person subbing for Lynne while she was on vacation recommended a sauce for beets. Somehow that spiraled into the dish you're looking at.
I truly think grilling is my favorite way to cook meat. Less messy, quick, it doesn't heat up my house, direct heat = char. It's perfect. Right now we use a propane grill, but eventually I'd like to have a propane and charcoal grill. A girl needs options.
The marinade is pretty basic and really wonderful: garlic, cilantro, fish sauce, brown sugar, soy sauce, lemongrass. I just used drumsticks, but you can use whatever cuts of chicken you'd like. Just make sure to use bone in, skin on for the most flavor.
I kept the beets very simple. Boiled until tender, tossed with olive oil, salt, and pepper, then into a grill basket to get a good char. I've never been much of a beet hater or a lover, but charred beets? Consider me the latter, now.
The sauce is lovely. It's essentially a simplified coconut milk curry sauce. I could drink this silky, zesty stuff.
We ate ours with rice, but there's no need if you want to skip it.
Pro tip: leftovers make excellent rice bowls for lunch (have I mentioned I'm rice bowl obsessed?). Before storing, I always remove the meat from the bones of our leftover chicken once it's cooled, then put it all in a tupperware container and into the fridge. That way it's a lot easier to eat in bowl form, and better yet eat at work without making a mess and/or looking ridiculous.
You can also view this recipe as a step-by-step web story here.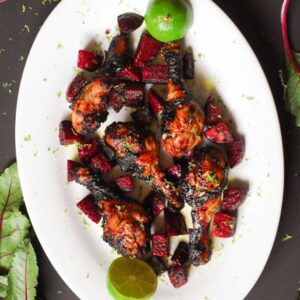 Get the Recipe: Grilled Thai Chicken and Beets with Coconut Lime Sauce
Ingredients
Chicken:
8 bone in, skin on pieces of chicken (I used drumsticks)
2 tsp minced garlic
2 tbsp choppd cilantro
2 tbsp brown sugar
1/2 tsp ground black pepper
1 tsp ground coriander
2 tbsp fish sauce
2 tsp dark soy sauce
1 tbsp lemongrass paste, optional
Coconut Lime Sauce:
Zest of 1 lime
Juice of 1 lime
1 tsp curry powder
1 tsp white sugar
1/2 tsp salt
1/2 cup coconut cream, or use the cream at the top of a can of coconut milk
Instructions
For the marinade, combine all ingredients except the chicken in a gallon sized ziploc bag. Add the chicken, seal the bag, and toss to coat. Refrigerate for at least 2 hours, up to 24 hours.

For the beets, bring a large pot of water to a boil. Add beets, and boil for 10-12 minutes, or until beet cubes are tender when pierced with a fork. Strain and run cold water over the beets to cool them.

Preheat your grill over medium high heat.

Once beets are cool, toss them with olive oil, salt, and pepper. Add them to a grill basket.

Place the grill basket and marinated chicken legs to your preheated grill. Reduce grill heat to medium under the beets and medium low under the chicken. Cover. Let cook for 7 minutes, then flip the chicken and toss the beets. Cook for another 7 minutes then remove chicken to a plate and remove grill basket.

While the chicken and beets are cooking, prepare the coconut lime sauce by adding all ingredients to a small sauce pan. Cook for about 5 minutes over low heat, or until smooth and warmed. Taste and adjust salt and lime juice as necessary.

Serve over steamed white rice (optional) with coconut lime sauce poured over the chicken and beets.