Hey blog, it's been awhile.
Not much has changed. For awhile I was afraid blogging had died in favor of "micro-blogging," but I think it's safe to say I don't really care if it has and I want to get back to dedicating some time to my little corner of the ever-expanding interwebs. However, that's not going to stop me from 'gramming my dinnas on the nightly.
I'm gonna keep things reasonable, though, with a goal of one post per week. Surely, I can pull that off. Surely.
I'm kicking things off with a recipe I created because my MIL has the world's greenest of green thumbs, which means I am #blessed with a never ending supply of crazy fresh produce. Like tomatoes. All of the tomatoes.
Usually I'd make a ton of salsa or tomato sauce, but I'm keeping things fresh (pun-intended) with this silky, umami-packed wonder right here.
My favorite part? It's way easier to make than the above options.
Just slice up more toms than you'll ever think you'll be able to eat, lay 'em in a dish, sprinkle with a seasoned salt and sugar mixture, and continue layering. Bake slow, and you've got yourself roasty, deeply flavorful tomatoes.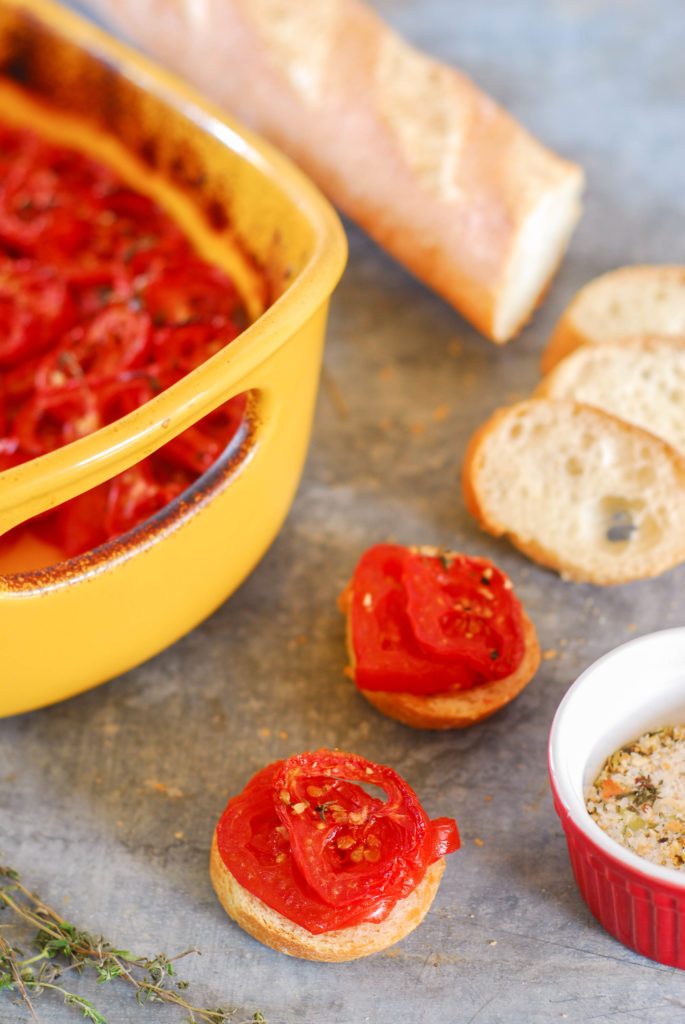 You could totally top this with breadcrumbs and parmesan and serve it as a side dish, do like me and spread them on crusty french bread, or add them to pasta. Please make sure to report back (either here or on the Insta) and tell me what you came up with.
You can also view this recipe as a step-by-step web story here.
Get the Recipe: Roasted Scalloped Tomatoes
Ingredients
1 pound roma tomatoes, sliced into 1/2 inch thick slices
1 tbsp kosher salt
1 tsp white sugar
1 tsp Italian seasoning
1/2 tsp red pepper flakes
Instructions
Preheat oven to 400 degrees.

Grease a casserole dish with olive oil.

Mix together the salt, sugar, Italian seasoning, and red pepper flakes.

Arrange a layer of tomatoes in the bottom of the greased casserole dish. Sprinkle the sugar/salt mixture generously over the tomatoes. Repeat this process until all the tomatoes are in (or you've filled your dish!).

Bake in preheated oven for an hour and a half.

Serve with crusty french bread, as a side dish, or add to your favorite pasta.