Like all other countries, South Africa has plenty of its own street food. The three prominent ones that I know of are boeries, gatsbys, and bunny chow. I've had boeries (check out my Instagram feed to see the ostrich, cilantro, sour cream, guac, jalapeño creation I had and was totally over the moon for) and bunny chow, but I haven't had a gatsby yet. I'll need to knock that out before we leave because it is apparently Cape Town's contribution to South Africa's street cuisine.
On paper, bunny chow sounds totally and completely bizarre. Let's break this thing down! First of all, it has nothing to do with rabbits. It's not even rabbit curry. One theory that I've read as to why it's called "bunny chow" is that the restaurant that started serving them was owned by a family who were part of the Banias Indian caste. "Banias chow" eventually morphed into "bunny chow".
Why did they start serving curry in bread? There are lots of theories for that. The most common end to all these theories is that a group of people, usually workers of some kind, needed a portable, disposable way to eat food. Rotis, a traditional Indian wrap of sorts, didn't hold food well for long. Instead, restaurants would cut off the end of a loaf of bread, hollow it out, fill it with curry, top it with the hollowed out bread, and wrap the whole thing in newspaper. The bread acted as a bowl as well as a utensil and people on the go could get a tasty and filling lunch.
We got bunny chow take out at Curry Quest in Mowbray, a suburb of Cape Town, in preparation for me attempting to make my own. It was INCREDIBLE. If you're looking for good bunny chow in Cape Town, go there. I got a lamb bunny. That's a potato you see on top. You can see that it's in it's traditional form: a quarter of a loaf of white bread.
What we do know for certain about the creation of bunny chow is that it came about in the 1940s in Durban, South Africa, which is home to a community of people with Indian ancestry.
We also know that bunny chow is totally delicious. I know that it sounds kinda weird: curry in a bread bowl? Doesn't that just result in soggy weird bread? The answer is no. This isn't a creamy curry, it's a tomato based curry that also has potatoes in it and in some ways is similar to a spicy, intensely flavored stew, if that helps you wrap your mind around how this is so tasty.
The curry is very, very spicy. You can tweak it so it's less spicy… but most of the "traditional" bunny chows you'll find have plenty of kick. I say just get a super hoppy IPA and embrace the burn!]
This particular recipe uses chicken. Traditionally, bunny chow is made with lamb, mutton, chicken, or beans for a vegetarian version. I love the lamb version, like a lot, and will definitely be making that here soon.
I didn't use a loaf of white bread because, frankly, it's not all that easy to come by an unsliced loaf of bread. And these little bread bowls are super adorable! I actually got day old hamburger buns from the bakery section of my grocery store. Day old is best because it'll hold up better to the curry. Any kind of crusty roll will work well. Or, go traditional and use a loaf of bread!
You can also view this recipe as a step-by-step web story here.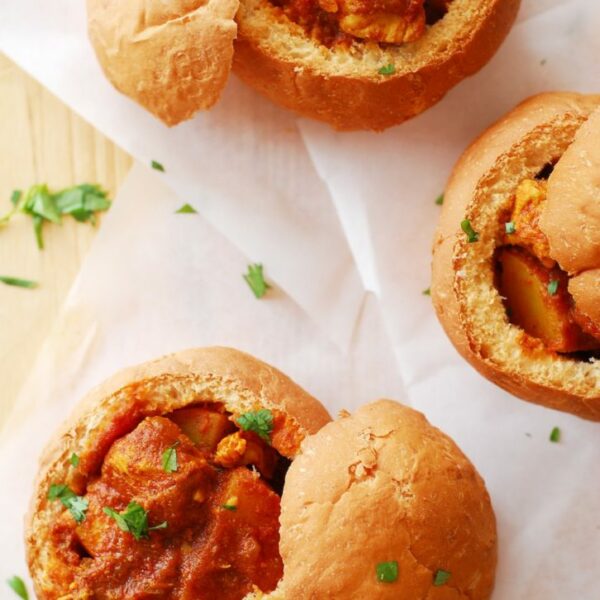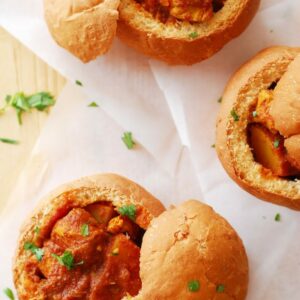 Get the Recipe: Curry in a Bread Bowl (Bunny Chow)
Bunny chow is a street food from Durban, South Africa that consists of spicy curry served in a quartered loaf of bread.
Ingredients
1 tbsp olive oil
1 medium yellow onion, diced
1 green chili, finely diced
1/2 inch piece of ginger, peeled and shredded
1 tsp minced garlic
4 chicken breasts, fat trimmed and cut into 1-inch cubes
Salt and pepper
1 tsp ground coriander
1 tsp ground cumin
1 tsp turmeric
1 tsp paprika
1/2 tsp nutmeg
1/2 tsp cinnamon
1/4 tsp ground cloves
2 tbsp garam masala, or your favorite masala
15 oz. or 400 gram can chopped tomatoes
2 tbsp tomato paste
2 cups chicken broth
2 medium potatoes, cut into 1/2-inch cubes
8 crusty, day-old rolls
1 tbsp chopped cilantro
Instructions
In a large stockpot or dutch oven, heat the olive oil over medium heat. Add the onion, chili, ginger, and garlic. Cook, stirring occasionally, for 3-5 minutes.

Season the cubed chicken with salt and pepper. Add to the pot and fry for about 2 minutes, until all sides are browned.

Add all the spices and fry for 2-3 minutes until fragrant and all chicken and veggies are coated.

Add the chopped tomatoes, tomato paste, and chicken broth. Stir to combine. Bring to a simmer and reduce the heat to medium-low. Let simmer for 30 minutes.

Preheat your oven to 350 degrees F (180 degrees C).

Add the potatoes and simmer for another 20 minutes.

While the curry is simmering, create bread bowls from the rolls by slicing a top off of the roll, about 1/2-inch thick, using a serrated knife. Then use the knife to cut about 1/2-inch from the edge of the roll all the way around, without quite cutting through to the bottom of the roll. Scoop the center bread out with a spoon and save it.

Warm rolls in preheated oven for about 5 minutes, or until just warm and edges are barely toasted.

When curry is done, spoon into bread bowls and serve with tops and centers to scoop the curry. Sprinkle chopped cilantro on top for serving.
Notes
I used 1 1/2 chilis because we really like heat. Do the same if you like spicy!
I highly recommend measuring out all your spices into a bowl before you start! It creates less of a scramble once it's time to add them.
The rolls should be a little stale, a day or two old, to hold up to the curry.