Bleu Cheese Stuffed Burgers with Bacon and Caramelized Onions
Oh blogosphere, I'm so sorry I have neglected you! I have yet to find a way to manage juggling finals, work, Boyfriend, and blogging.
Exciting things are happening, though! I'm a part-time research assistant at the Brain Development Lab at the U of O, and we recently found out we got the grants we applied for. Grants means funding, and funding means my lab has offered me a full time job after I graduate 🙂 I couldn't be happier! It's so nice to work for something you believe in, and I really mean it when I say I love my job. I'm passionate about helping children through education and I'm so grateful for the opportunity to have a hands-on role in doing so.
I also may have some exciting news about local food in Eugene soon… until then, I encourage you to check out Boondocker's Farm!
Anyways, on to food! Last week, Boyfriend and I spent our date night at Red Robin. I wanted to try something different than my usual burger or chicken caesar salad, so I went all out and got the Bleu Ribbon Burger. Crispy onions, chipotle mayo, and bleu cheese? That's my kind of burger.
This was not exactly what I got. Partly because I ordered it veggie-less. Hey, if I'm going to eat a burger, am I really worrying about sneaking my veggies in? No. And I don't appreciate the texture they bring to the burger. This is what my burger looked like. I took the picture with my iPhone. Sorry.
The bleu cheese was sparse, the onions were not exactly crunchy, and the combination of the chipotle mayo and barbecue sauce just wasn't quite right. It was fine. But I certainly wasn't thrilled.
I was inspired, however. I knew I could at least make a bleu cheese burger that topped this. Since it was important to me that this burger was perfect, I wanted to get the highest quality local ingredients. So I headed over to Market of Choice, which is a Eugene-based grocery store chain in Oregon. It's fantastic. I got locally farmed, grass-fed ground beef and bacon, bleu cheese from Tillamook Cheese, buns made in house by Market of Choice (they have slider buns, too! I need to remember this for football season), and a sweet onion, baby peppers, and russet potatoes from a local farm.
Oh! I thought of a brilliant idea for making oven baked fries. I've always had a problem with them sticking to the pan- I've tried oiling the pan, putting foil on the pan and oiling that, all to no avail. Then I remembered that Boyfriend's mom had bought me a fantastic sil-pat. Problem solved! It worked like a charm.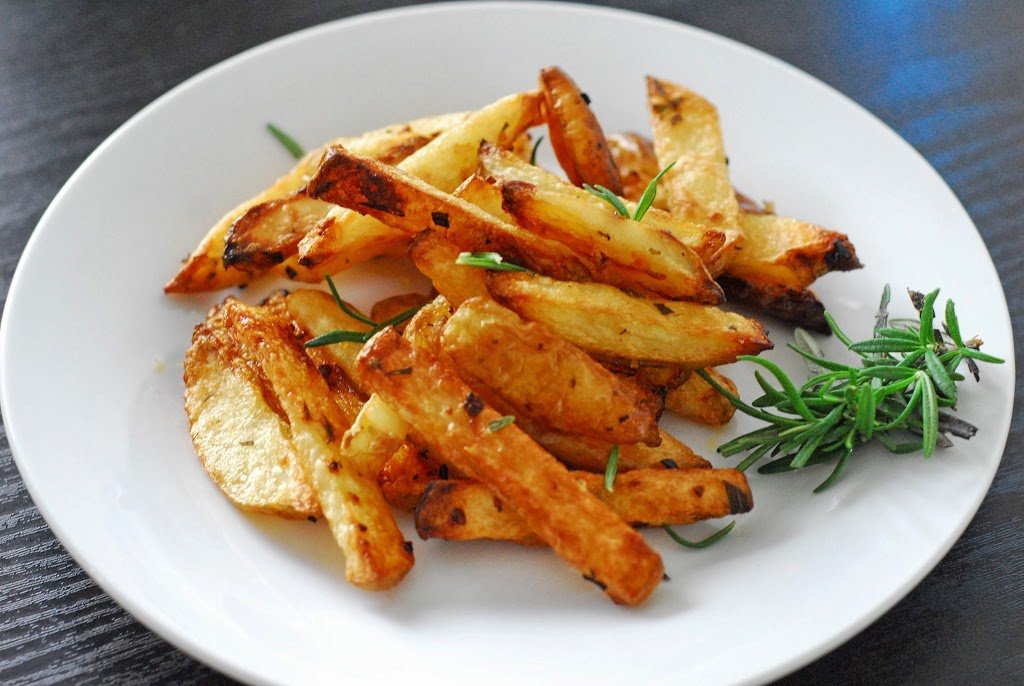 To make the burgers, I used my tried and true burger recipe, but instead of Italian seasoning I used fresh basil, oregano, and thyme. Yuh-hum.
The bleu cheese mixture was simply bleu cheese and a little bit of butter to hold it together. I don't know what I was thinking, I should have thrown some basil into this, too.
To stuff the patty, first I made a very thin patty a little wider than the buns. Then I smoothed on a layer of the bleu cheese mixture. Then I created another thin patty and placed on top of the bleu cheese mixture and pinched the edges of the two patties together.
I cooked them on super fantastic cast iron grill pan, but I envy those who can do this on their grill. I did it on medium-high heat for just a few minutes on each side, because we like our burgers medium.
Boyfriend took a lot of these pictures. Like of my set up:
And of me chopping onions. I was actually trying very hard to not smile:
For the perfect burger, I highly recommend buttering the buns and broiling them for just a minute. Fabulous. To caramelize the onions, I simply threw them in a skillet with a bit of olive oil and kosher salt and let them caramelize while I was preparing the burgers.
Perfect. The fries were great, too. I didn't make a sauce with this because I didn't feel like it needed it, but you could add something if that's how ya like it. Here's an up close and personal look at the masterpiece.
Here are the recipes for my burgers and fries. By now, to make the burgers I simply dump the listed ingredients into a bowl at will until they're what I think is the right texture. You can't go wrong with that combination!
Make these burgers today. They will change your life.