This easy recipe for Brown Butter Apple Blondies results in the most chewy, almost caramel-like dessert with tons of fall flavor.
I am the person who likes the following types of candies and desserts:
Salted caramel anything
Toffee
Praline
I don't really go for sour or fruity (which is perfect because this is what Husband loves). So when I was dreaming up fall desserts this year, my brain went to ooey-gooey, caramel apples. And I recreated this in a handheld, non-messy dessert.
Blondie vs Brownie
Honestly, I'm not sure why we think of blondies and brownies being the same. They are nothing alike except that they are both cut into bars.
The first difference you'll notice when making this recipe: the batter is more of a dough consistency, way thicker than brownie batter. Just trust the recipe.
Tips and Tricks for Brown Butter Apple Blondie Success
Browning the butter is tricky: you're looking for a deep golden brown, but it can go from perfect to burnt quickly. Keep a close eye.
Cream the butter and sugar until the mixture is significantly lighter in color and creamy looking.
These blondies will take a long, long time to bake. There's a sweet spot between underdone and just the right amount of gooey, be patient but don't be afraid to pull them out a little underdone.
Watch the Video for Step by Step
Later, of course, I thought these would be awesome served with
Tillamook French Vanilla Ice Cream
. Looking for a similar recipe? Try my
Peppermint Patty Stuffed Brownies
or
Pumpkin Pie Filled Snickerdoodles
.
You can also view this recipe as a step-by-step web story here.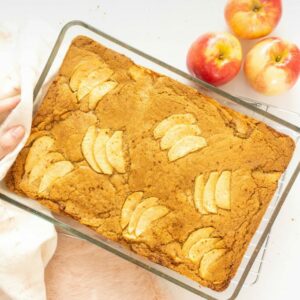 Get the Recipe: Brown Butter Apple Blondies
This easy recipe for Brown Butter Apple Blondies results in the most chewy, almost caramel-like dessert with tons of fall flavor.
Ingredients
1½ cups 3 sticks butter
3 cups light brown sugar, packed
3 large eggs
1½ teaspoons pure vanilla extract
3 cups all-purpose flour
1 tablespoon baking powder
1/2 teaspoon kosher salt
2 tsp pumpkin pie spice
2 medium apples, peeled, cored, and thinly sliced
Instructions
Preheat the oven to 350°F. Grease a 9- by 13-inch baking pan with butter.

Add the butter to a medium saucepan over low heat, stirring occasionally. Check it after about 10 minutes; it should be a medium-brown color, not too light, not burned. Once it reaches that color, take it off the heat and let it cool.

Set aside about 1/4 cup of the browned butter. In a bowl of a mixer fitted with the paddle attachment, beat the remaining cooled brown butter and brown sugar until creamy.

Add the eggs and vanilla and mix, scraping the sides of the bowl, until fully incorporated. Add the flour, baking powder, salt, and pumpkin pie spice and mix until combined.

In the same saucepan, cook all but about 15 of the apple slices with reserved 1/4 cup of brown butter over medium-low heat until softened.

Press half the dough evenly into the prepared pan. Spread the cooked apples over the mixture. Press the remaining dough over the apples. Press the set aside slices into the top of the dough decoratively.

Bake the blondies for 45 minutes - 1 hour, or until a toothpick inserted into the center comes out with only a few crumbs stuck to it.

Let cool, then slice and serve. Store in the freezer or at room temperature.
Notes
Dough will be a lot thicker than brownie batter - don't fear! I like these blondies kind of gooey - don't be afraid to go a little underdone. [nutrifox id="84218"]
Calories: 336kcal, Carbohydrates: 50g, Protein: 3g, Fat: 15g, Saturated Fat: 9g, Trans Fat: 1g, Cholesterol: 61mg, Sodium: 263mg, Potassium: 99mg, Fiber: 1g, Sugar: 34g, Vitamin A: 471IU, Vitamin C: 1mg, Calcium: 76mg, Iron: 1mg