Beer Berry Muffins
I cook with beer. A lot. A lot, a lot. From dinner to dessert, you can find beer in many of my dishes.
Beer Berry Muffins are something I had thought up a while ago, but haven't quite had the guts to make until St. Patty's Day finally gave me the excuse. To be clear, these are berry muffins made with beer. There's no such thing as beer berries. At least to my knowledge. Maybe you could call hops beer berries, but that would be a stretch.
There are very few ingredients you that you would find in your run-of-the-mill berry muffin recipe here. In fact, there are just very few ingredients. No eggs, no oil. This gives the muffins a chewy consistency, which Boyfriend absolutely loves.
The base of this muffin is Buffalo Bill's Blueberry Oatmeal Stout. The fantastic thing about using a beer like this as the base of a muffin is that it gives the muffins so much flavor and allows for a very simple recipe.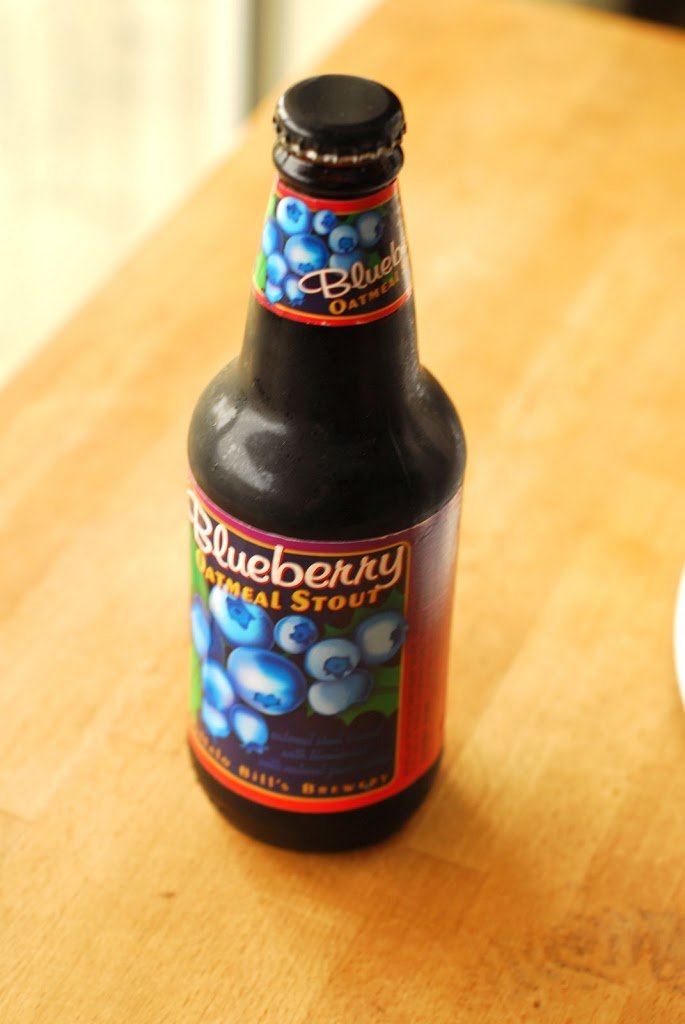 Start by pouring it into a mixing bowl. The beer should be at room temperature, although mine wasn't because I was impatient and they turned out fine. Add some salt and baking powder.
Then add the sugar, followed by some flour.
Measure out a heaping cup of berries. I used the same berries that you will always find in my freezer: a three berry mix from Costco of blueberries, raspberries, and blackberries. Delish. Throw 'em into the batter.
Mix it all up, being careful not to break the berries. Frozen berries are nice for that.
Spoon the batter into a greased muffin tin. Hopefully a little more neatly than I did.
I made a brown sugar crumble topping for these muffins. Because who doesn't need a little extra butter and sugar in their lives? It's just brown sugar, butter, and flour. Smash it together with a fork and sprinkle on top of the muffins before they go into the oven.
Bake 'em at 400 degrees for 15-20 minutes, or until tops are golden brown.
Oh glorious berry deliciousness. Thank you for being so tasty.
Beer Berry Muffins
Makes 18
Ingredients
1 12 oz bottle blueberry oatmeal stout, room temperature
1/2 tsp salt
1 tsp baking powder
1 cup sugar
2 1/4 cups flour
1 heaping cup mixed berries (I used blackberries, blueberries, and raspberries)
1/4 stick cold butter, cut into cubes
1/4 cup brown sugar
2 tbsp flour
Directions
1. Preheat oven to 400 degrees. Grease a muffin tin.
2. Pour the beer into the mixing bowl of a KitchenAid, or into a mixing bowl. Add the salt and baking powder, and still until dissolved.
3. Add the sugar and stir until combined. Add the flour and combine. Gently fold the berries into batter, being careful not to break them.
4. Combine the butter, brown sugar, and flour using a fork until crumbly.
5. Pour the batter into the greased muffin tin- each tin should be about 3/4 full. Sprinkle butter/sugar mixture on top of batter.
6. Bake the muffins in the preheated oven for 15-20 minutes, or until edges are golden brown. Let cool before removing from tins.