Beer Battered Salmon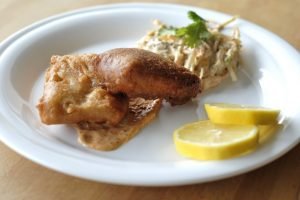 One of my favorite parts about living in Oregon is the abundance of salmon. My dad spends all spring and summer fishing, leaving my parents' freezer stocked with salmon. Then I, being the luckiest daughter alive, get to take home a grocery bag full of beautiful salmon fillets.
I've noticed that I have a pattern of cooking summery foods in January. This must be my breaking point of soups, stews, and squash. Last year I posted a recipe for salsa. On February 1st. Anywho, one thing I've never done with salmon is fry it in a beer batter. Why, I do not know.
For this recipe, I used what our fridge is currently stocked with: Deschutes Inversion IPA. It's got an incredible hoppy flavor and you can really taste the beer flavor, even after frying it. And that's exactly what I wanted.
This batter is very simple, so feel free to dress it up if you wanna. Simply combine flour, salt, pepper, paprika, an egg, and enough beer to get the consistency you want. I used about 2/3 of a 12 oz bottle.
Remove the skin and bones from a fillet of salmon and cut into approximately 3×3 inch chunks.
Fill a saucepan about 3 inches deep with oil and heat it until it's… really hot. I just fly by the seat of my pants here. To test it, I drop in a bit of batter and once it's starts sizzling I know it's hot enough for the salmon.
Dip the salmon into the batter, shake off a bit of excess, and drop into the oil. Cook until the chunks are golden brown- at least seven minutes or so. Remove to a paper towel lined plate, and, by golly, you've done it!
I had mine with chipotle coleslaw. To make it, take some regular old coleslaw.
Add some chopped cilantro.
Make some chipotle mayo by combining 1/2 cup of mayo with 2 chipotle peppers canned in adobo and a teaspoon of the adobo sauce in a food processor until smooth. Add a nice heaping spoonful to the coleslaw and toss to coat.
I served some chipotle mayo on the side to dip the salmon in, too. It adds such a fantastic kick.
The batter was both fluffy and crispy and the beer lent an excellent flavor.
Although I can't say this will be a new salmon staple as I can only handle so much fried food, it'll definitely be added to the special treat rotation, along side hushpuppies.
Beer Battered Salmon
Serves 3 (2 pieces per person)


Ingredients
1 cup flour
1/2 tsp salt
1/4 tsp pepper
1/4 tsp paprika
1 egg
~8 oz beer (I highly recommend Deschutes Inversion IPA)
1 salmon fillet, bones and skin removed
Oil for frying
Directions
1. Combine flour, salt, pepper, and paprika. Stir in egg and beer and whisk until well combined.
2. Cut salmon into approximately 3×3 inch chunks.
3. Add enough oil to a saucepan to fill it about 3 inches. Heat oil until a small amount of batter dropped into oil begins sizzling.
4. Dip salmon chunks into batter mixture and add to the oil. Cook until golden brown, about seven minutes. Remove to a paper towel lined plate to get off excess oil.
5. Serve with chipotle coleslaw and chipotle mayo.