SA Sunday: Dinner at Addis in Cape
Our friends from Portland came to stay with us here in Cape Town for two weeks last month and we had an absolute blast. We got the weather to cooperate for most of their stay despite it being winter here and did tons of fun touristy things. Like get our picture taken with the Cape of Good Hope sign:
Awesome friend 1, awesome friend 2, me, Fiance
In case you missed it, we also went on a safari! Which might just have been the coolest thing of my whole life.
But among those very big tourist things, we did some of the neat local stuff, like go down to Long Street. Before we explored the many bars lining the street (which included enjoying the musical stylings of a high school metal band), we had dinner at the Ethiopian restaurant Addis in Cape! It was a delicious culinary adventure. We sat on low seated chairs around a small wicker table.
You're going to have to forgive the less than stellar photos. I was armed with just my iPhone and the restaurant had very low light.
We did a three course meal that started with an appetizer of fried injera. Injera is a spongey, very thin bread made from ground teff. It soaks up all the flavor of the stews and sauces. And deep friend is even better.
Our main course was another huge piece of injera with several different dishes piled on top of it. We had doro wat (spicy stewed chicken), kai sega wat (very similar to the key wat I posted a recipe for yesterday!), yebeg alicha (slow cooked lamb), prawns addis in dar (prawns in a tomato sauce), misir wat (spicy stewed red lentils), kek alicha (stewed yellow chickpeas), gomen (spinach similar to collard greens), and a tomato salad.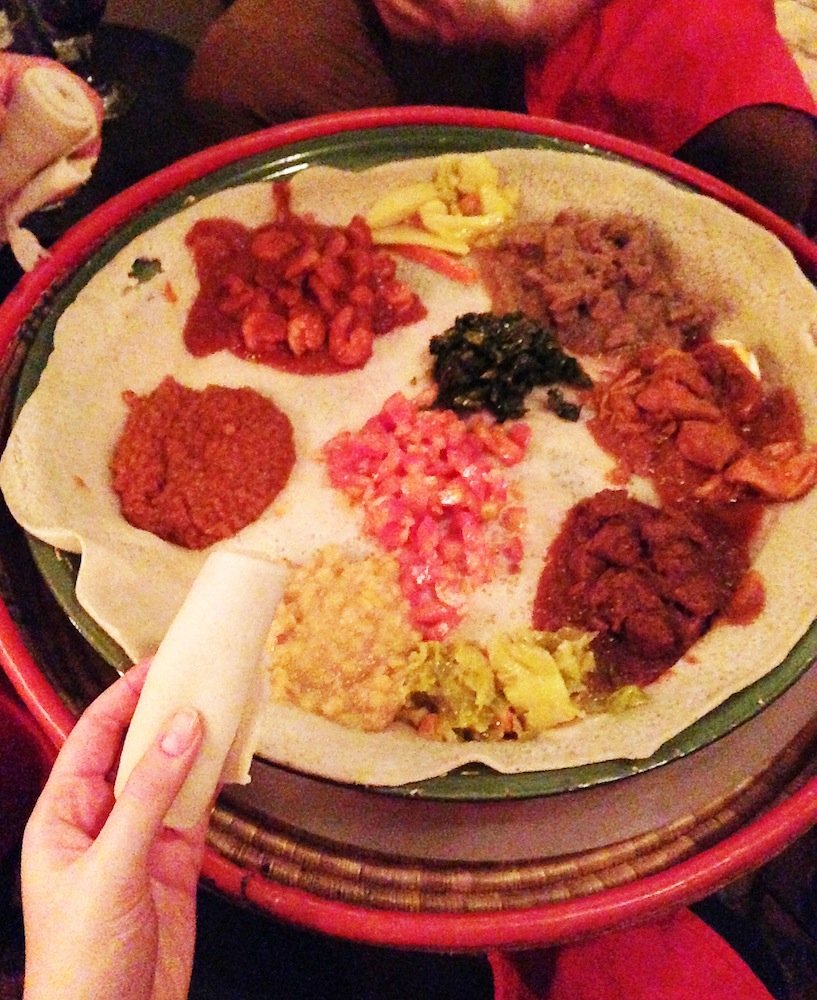 Utensils aren't needed for this! You're given rolls of injera to scoop everything up with, in addition to eating the injera the food is served on.
For dessert, we had baklava. One of my favorite desserts of all time.
Then, to top this wonderful meal off, they served us this incredibly rich Ethiopian coffee and what might be my favorite food: popcorn. Few things in life have made me happier than this surprise.
It was an incredible meal and really fun to try new foods. They make the whole thing a great experience without it being overly touristy. I highly recommend a stop here if you're in the area!
If you AREN'T in the area and want to try making some Ethiopian food at home, try my recipe for Key Wat (spicy Ethiopian stewed beef). It's pretty simple and totally delicious!