I post about our "cheater" Thai Turkey Meatballs on Instagram all. the. time. It is a staple dinner for us that consists of Trader Joe's turkey meatballs, cauliflower rice, and doctored Trader Joe's Thai green curry simmer sauce. But I finally decided it was time I make some Thai meatballs from scratch.
Thai Turkey Meatballs is a little misleading – I also threw in some chicken sausage to lend some fat to the mixture. But you get the gist of things here.
These Thai turkey meatballs are made with all your favs: garlic, lemongrass, ginger, cilantro, Thai basil, fish sauce, etc. then baked and simmered in a homemade green curry sauce.
You can totally do this whole recipe from scratch or sub any component with a "cheater ingredient": make the sauce, use Trader Joe's turkey meatballs; make the meatballs, use Trader Joe's sauce. I highly recommend serving these meatballs over cauliflower rice, but you do you. Reg rice, roasted veggies, whatever sounds yummy.
You can also view this recipe as a step-by-step web story here!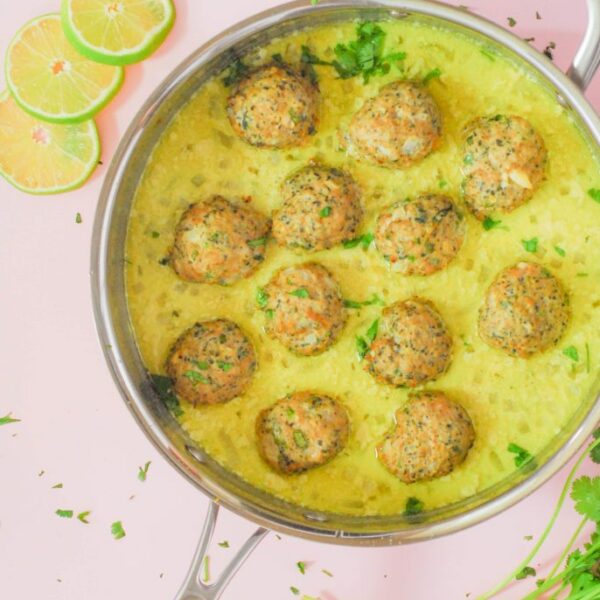 Get the Recipe: Thai Turkey Meatballs
Ingredients
Meatballs:
1 pound 93/7 ground turkey
1 pound chicken sausage
1/2 yellow onion, finely diced
2 tsp minced garlic
2 tsp grated lemongrass
2 tsp grated ginger
1 tbsp chopped Thai basil, regular basil is fine if you can't find it
1 tbsp chopped cilantro
1 tsp fish sauce
1/2 jalapeno, finely diced
1 egg
Green Curry Sauce:
2 tsp coconut oil
1/4 cup finely diced onions
1 tsp grated lemongrass
1 tsp grated ginger
1 tsp minced garlic
1/2 finely diced jalapenos
1 tbsp green curry paste
1 can coconut milk
1 tbsp lime juice
1/2 tsp fish sauce
Instructions
Preheat oven to 400 degrees F. Grease two large baking sheets or line with parchment paper.

Mix together all ingredients for the meatballs in a large bowl. I recommend using your hands to make sure everything is thoroughly combined.

Use an ice cream scoop to create evenly sized meatballs (or use your hands). Drop onto prepared cookie sheets.

Bake meatballs for 20 minutes, until completely cooked through.

While the meatballs are cooking, prepare the sauce. Heat coconut oil in a large skillet over medium heat. Add onions. Cook for 2-3 minutes. Add lemongrass, ginger, garlic, and jalapenos. Cook for 3-4 minutes until veggies have softened.

Add the curry paste and cook for an additional 1-2 minutes, until fragrant.

Add coconut milk, lime juice, and fish sauce to skillet. Reduce heat to medium-low and simmer for 10 minutes.

When meatballs are done baking, add them to the sauce. Simmer for 2-3 minutes.

Serve over cauliflower rice, white rice, or roasted veggies.