Lately, I've been obsessed with smash burgers. I initially discovered them at a bar up the street from our house (shout-out to you, Haymaker!) and then dreamed about them constantly. Now it's the only burger I want.
Unfamiliar with the smash burger? Let's get into it. When you picture an amazing cheeseburger, you probably think if a thick, medium-rare patty. That is not this burger. This is a thinner, crispy on the outside patty that tiptoes towards well-done. I know: this is surprising for the girl who consistently makes fun of her father in law for liking his steak well-done.
But this is a different experience. The charred outside and thin patty stacked with American cheese (JUST DO IT OKAY I DON'T WANT TO HEAR IT) and then another patty with more American cheese is one of the best things you'll ever put in your face. Especially if you add pickles.
I feel your skepticism. I do. But once you smash, you'll never go back.
Oh, and you get bonus points if you order dry aged ground beef from Porter Road. Seriously, it's the best thing I've ever eaten. Use promo code ADUCKSOVEN for $15 off your first order!
You can also view this recipe as a step-by-step web story.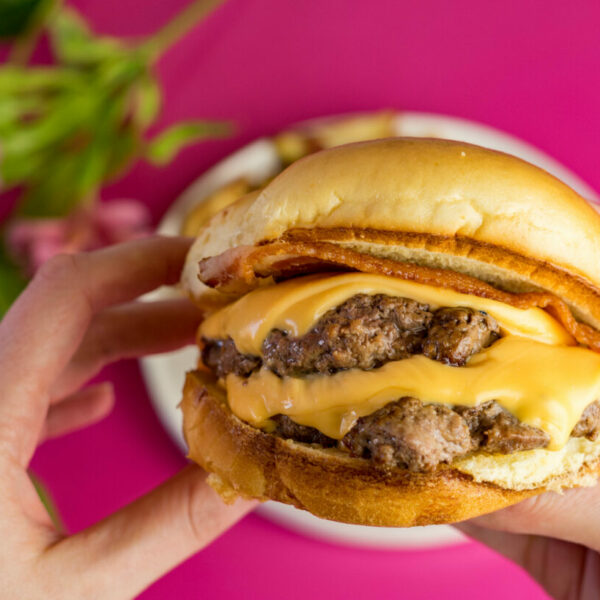 Get the Recipe: Smash Burgers
How to make a smash burger: it's not as tricky as you think! Get my restaurant copycat recipe for smash burgers and you'll never go back to a thick patty.
Ingredients
2 pound ground beef
16 slices American cheese
Butter
4 brioche buns
Desired toppings and condiments, I recommend pickles!
Instructions
Set a cast iron skillet or griddle over medium high heat. Butter the brioche buns and press onto the skillet to brown them. Set aside.

Separate the ground beef into 8 equally sized portions and form into balls with your hand. Working in batches, place the ground beef balls onto the preheated skillet.

Press down hard with a spatula to flatten each ball. Once very flat (no thicker than 1/2 inch), season each patty with kosher salt. Scraggly edges are good - they'll get crispy!

Once charred on the bottom, flip and top each patty with 2 slices of American cheese. Cover if possible until cheese is melted. Remove to a plate and repeat with all ground beef balls.

Top each bun with two patties and your desired condiments.