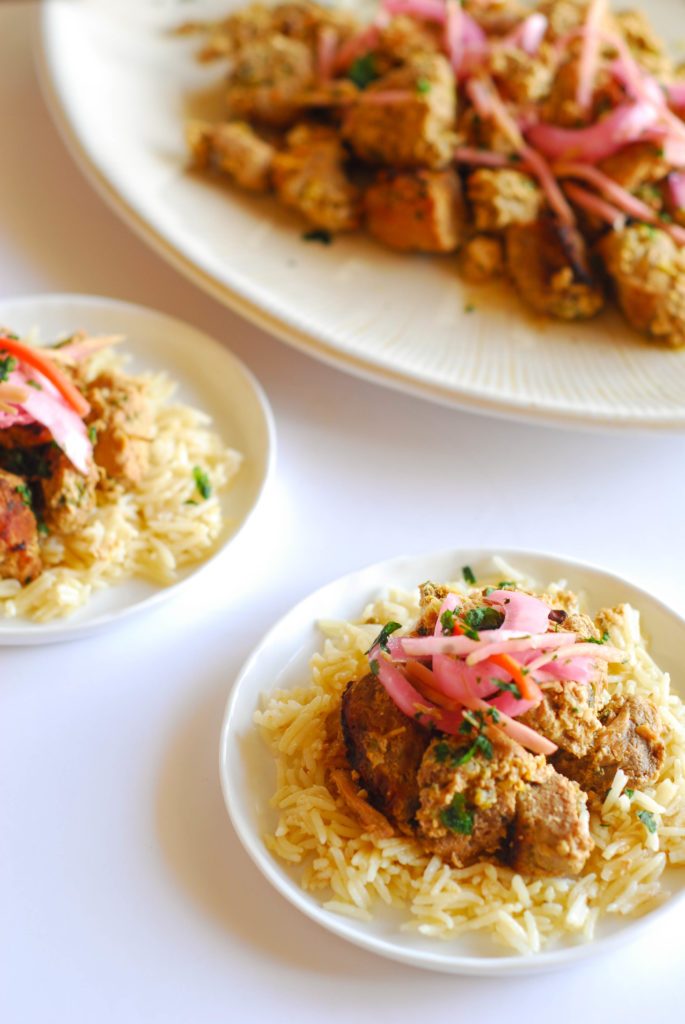 Okay, here it is: I'm on a bit of a slow cooker kick lately. It is so nice to have dinner ready, or at least, very close to ready, right when I walk in the door and almost completely removes the temptation to order a pizza or go out to a nearby restaurant <<< a very nice thing for our waistlines and wallet.
I'm also on a rice kick lately. Is there a better starch?! It's filling, but unlike potatoes or pasta I can actually stop eating it; it absorbs any flavor you add to it; and it's crazy easy to make! Thanks to our rice cooker, even Husband can handle getting this side dish ready.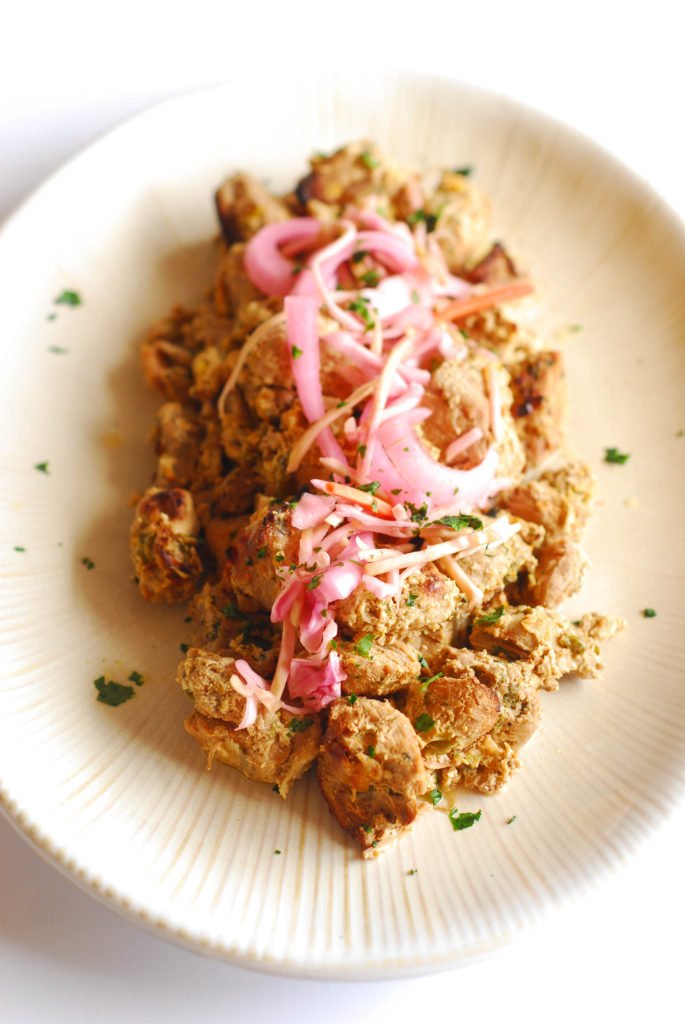 Have I also mentioned that we're on a step-getting craze lately? Husband especially. 10,000 steps a day is a minimum. Which is so awesome and wonderful for our health, HOWEVER it takes a lot of extra time out of my day since I (now!) work a desk job. AKA many mornings and evenings spent at the gym, especially with this rainy spring Portland weather. AKA mornings and evenings that I usually spend on meal prep are being otherwise occupied.
So these meat + rice dinners have become a lifesaver, especially because there are so, so many variations. It's eaten all over the world! Today's variation comes from Haiti.
This recipe for Slow Cooker Haitian Pork was adapted from one on NY Times Cooking. Admittedly, this slow cooker recipe takes a little more forethought than others. If you make the pikliz (which I HIGHLY recommend you do) it takes three days forethought. But worth it. And it'll only take you a minute: veggies in a jar with a few spices, garlic, lime juice, and apple cider vinegar, then into the fridge for a few days for a crunchy topping with a vinegary bite. Bring. It. On.
In addition to the amazing pikliz that you should totally make, the pork does get marinated overnight (or if you're like me, for two days because plans always change). I don't think it would make a huge difference if you didn't marinate since we're slow cooking, but if you have the time, do it.
What makes this slow cooker Haitian pork so delicious is the marinade and cooking liquid, which is a ray of sunshiny brightness: lemon, lime, orange, and apple cider vinegar plus veggies like onions and bell peppers, with the kick of habaneros.
We ate ours over rice, but Husband and I agreed this pork and the pikliz would be delicious in a corn tortilla if you wanna shake things up.
Fatty, crispy pork + citrusy marinade + vinegary pickled veggies will blow your mind. Oh, bonus points: this slow cooker Haitian pork will blow your mind while not being bad for you. Bonus, bonus points: it will be almost ready when you get home from work.
You can also view this recipe as a step-by-step web story here.
Get the Recipe: Slow Cooker Haitian Pork
Ingredients
Pikliz:
2 cups thinly sliced green and purple cabbage
1/2 medium onion, halved and thinly sliced
1 large carrot, peeled and coarsely grated
½ medium green, red or yellow bell pepper, seeded and thinly sliced
2 habanero chiles, seeded and very thinly sliced
2 garlic cloves, finely chopped
1 ¼ teaspoons kosher salt
5 black peppercorns
4 whole cloves
1 ½ cups apple cider vinegar
Juice of 1/2 lime
Pork:
1 habanero chile
1 medium onion, diced
1/2 green bell pepper, diced
1/2 red bell pepper, diced
¼ cup fresh chopped cilantro, more for serving
1 tbsp kosher salt, more to taste
1 tsp coarsely ground black pepper
6 sprigs fresh thyme
2 garlic cloves, finely chopped
¼ cup apple cider vinegar
Juice of 1 orange
Juice of 1 lemon
Juice of 1/2 lime
3 pounds pork shoulder, not too lean, cut into 1 1/2-inch chunks
Instructions
Pikliz:
Combine cabbage, onion, carrot, bell pepper, chiles, garlic, salt, peppercorns and cloves in a large bowl. Toss well.

Pack vegetables into a large (1 quart) jar with a tightfitting lid. Pour vinegar and lime juice over vegetables. Press down on vegetables if needed until they are completely submerged in liquid. Cover with lid and refrigerate for at least 3 days before opening. Stored covered in refrigerator, pikliz will last for at least 3 weeks, if not longer.
Pork:
Quarter the chile and remove the seeds and membranes. Finely chop the chile. Handle pieces carefully, preferably while wearing gloves; they are extremely hot.

Transfer quartered and chopped chiles to a gallon-sized ziploc bag. Add onion, bell peppers, cilantro, salt, pepper, thyme and garlic. Stir in vinegar, orange juice, lemon juice, and lime juice. Mix in pork. Seal and refrigerate overnight.

The next day, remove from refrigerator and pour the contents of the bag into your slow cooker. Cook on low for 6-8 hours. If possible, stay closer to 8 to avoid pork drying out.

Using a slotted spoon, remove meat from slow cooker. Transfer meat to a rimmed baking sheet. Drizzle meat with 2 tablespoons oil and salt to taste, and toss gently to coat.

Strain cooking liquid, discarding any solids, over a cooking pot. Bring sauce to a simmer over high heat until reduced by about half, about 25 to 30 minutes.

Meanwhile, heat the broiler. Broil meat, tossing occasionally, until meat is evenly browned, about 5 to 10 minutes. You want it nicely browned in spots but not so brown that it dries out.

To serve, drizzle meat with sauce and cilantro. Serve on a bed of rice or in a corn tortilla topped with pikliz.