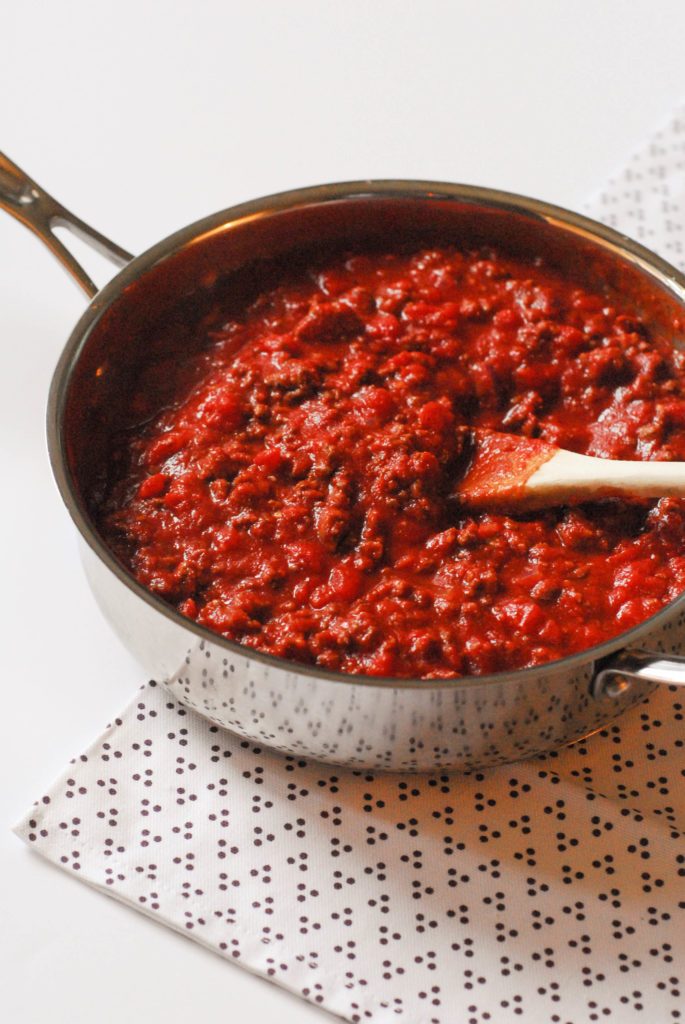 Almost two years ago (what the what?!) I posted a recipe for one of Husband and I's favorite dishes, which we lovingly call "Meaty Fusilli". It's made up of a very basic meat sauce, fusilli shaped pasta, feta cheese, and lots of fresh basil. I will often add spinach to mine, but Husband isn't down with that. More iron for me!
Something I've been thinking I would love to do on A Duck's Oven is a series of very basic recipes. I've already gotten that ball rolling with posts like "How to Make the Most of a Whole Chicken" and "Easy Crusty Bread". I think posts like these are so important. One of my biggest pet peeves is talking to people in customer service who use industry-specific jargon (I'm looking at you, Comcast), not because I can't get the gist of what they're saying  (although it's often difficult), but because they're not thinking about who they're talking to, and therefore sucking at their job. However, I know that I am totally guilty of this on my blog sometimes.
I try to do a good job of breaking down my instructions and not assuming anything when I write steps, but occasionally I miss something. I'd like to take my instructions one step further and explain why I'm adding each ingredient when and this ingredient instead of that ingredient. Small details like timing and this herb over that herb are really what make a dish what it's supposed to be.
Thoughts on this? Would you find it useful? Do you know someone else who would?
For these photos… listen, I TOTALLY would have taken more process pictures. Except that it's December in Oregon and unless I'm right up next to a window, it ain't happenin'. As you can tell by the mass amount of "noise" in these photos, these were hard enough to obtain. Sunshine, I miss you, but don't tell my husband or he'll try to talk me into moving back to Cape Town for the umpteenth time.
I'm going to explain away anyways, but it'll be a little more boring than usual thanks to lots of words and not a lot of pictures.

The Meat
Obviously, the meat you choose for your meat sauce is going to have a big impact on the final result. I use one pound of pretty good quality ground beef or game provided by my dad, which I keep relatively low in fat (a 90/10 ratio is the fattiest I go), and a half pound of hot Italian sausage. My sauce is by no means traditional! I think a little pork sausage does wonders to a meat sauce and we use the hot Italian sausage because we like spicy and I usually have some on hand anyways. You can totally use regular Italian sausage!
The Tomatoes
Of course, fresh tomatoes are wonderful. But most of the year, I don't have access to good quality fresh tomatoes <<< thanks to my mother in law, there are plenty in my freezer right now, though. What I usually use to compensate are one 15 oz can of tomato sauce, one 15 oz can of diced tomatoes, and one 6 oz can of tomato paste.  Sometimes I'll use two 15 oz cans of tomato sauce and skip the diced tomatoes, but what stays constant is the tomato paste. This really makes a sauce rich and I will add it even if I'm using fresh tomatoes. Tomato paste is important!
Other Stuff
Other key ingredients to this masterpiece sauce include onions, garlic, dried Italian seasoning, salt, pepper, and cayenne pepper. You really don't need more than this. There are people that add a little bit of sugar to make the tomato flavor pop. I don't feel like this is necessary and try to avoid adding sugar to things that don't really need it (by that I mean, like, a cake).
The Process
As important as all the ingredients are, the timing at which you add them to your sauce and how long you cook them for are crucial, too. For my sauce, I build the ingredients little by little, which is great because it means that it's a one-pot sauce. Yay, fewer dishes!
I start by cooking the meat. You never want to add raw ground meat to anything. It won't cook correctly and it will just be kind of gross. So cook the meat in the skillet or pot you plan to cook the entire sauce in. I just throw the ground beef and sausage in and let them cook together.
Once the meat is completely browned, I drain off most of the fat. It'll only make your sauce runny to leave it there. Don't worry too much about getting rid of all the fat, a little ain't gonna hurt anyone. Then add the onions. Letting them cook with the meat in a little bit of the fat that's left will create the perfect texture and let them absorb the savory flavor of the meat. A few minutes into the cooking, the garlic gets added. The reason it's not added immediately with the onions is because the onions will take a little longer to cook down than the garlic, and burnt garlic is a sad, sad thing.
This is where things get a lot easier. Add all the tomato goodness, the herbs, the spices, and let it simmer over low heat for about 15 minutes. You can definitely let it go longer to further develop the flavors depending on how much time you have. There's actually a big debate about cooked tomato sauces vs. fresh tomato sauces. I fall on the "cook it!" side but I'm open to both. Giving the sauce time to develop over heat really brings out the best of all the flavors and let's the sauce pick up the wonderful notes of every ingredient.
Then that's it! Add it to hot pasta of your choice and top it with parmesan or be like Husband and I and throw on some feta cheese and fresh basil.
This is a wonderful, simple sauce. Freeze it to add to pasta later, or don't even add it to pasta! Throw it on some veggies or just go straight for the bread if you really want to.
You can also view this recipe as a step-by-step web story here. 
Get the Recipe: Simple Meat Sauce
This meat sauce is simple to make with broken down instructions. Perfect over pasta or even over veggies!
Ingredients
1 lb ground beef, 90/10 fat ratio
½ lb Italian sausage, hot if you want the heat!
½ yellow onion, diced
1 tsp minced garlic
1 15 oz can tomato sauce
1 15 oz can diced tomatoes
1 6 oz can tomato paste
2 tsp dried Italian herbs
1/4 tsp salt
¼ tsp black pepper
½ tsp cayenne pepper
Instructions
In a large skillet or medium sized pot, brown the ground beef and Italian sausage over medium-high heat until completely cooked. Drain off most of the fat but leave the meat in the skillet.

Reduce the heat to medium and add the onions to the skillet. Let cook for 3-5 minutes or until onions have started to soften.

Add the minced garlic to the skillet and cook for an additional 1-2 minutes or until the garlic becomes fragrant.

Reduce heat to low and add all remaining ingredients to the skillet. Cover leaving a crack for steam to escape. Cook for at least 15 minutes, up to 1 hour, stirring occasionally.