Peanut Butter Chocolate Chip Cookies
On a whim, I decided to bake some cookies late the other night. I'd had a serious craving for peanut butter for several days, and I've been dreaming of some type of peanut butter sandwich cookie. But, that type of thing was just too much work for 10 o'clock at night so, the peanut butter chocolate chip cookie was born.
This is your classic chocolate chip cookie, just with the addition of peanut butter. And oh my goodness, it is so, so good. I don't buy sweetened peanut butter, so this addition gave the cookies a fantastic salty-sweet taste.
I may not be satisfied with "regular" chocolate chip cookies ever again.
Oh, and if you're a peanut-butter-lover and a dough-eater, don't even bother baking the dough, just dig right into this stuff because nothing in the world will make you happier. Except maybe mixing it with ice cream.
And on that note, I'm off to the store to buy ice cream.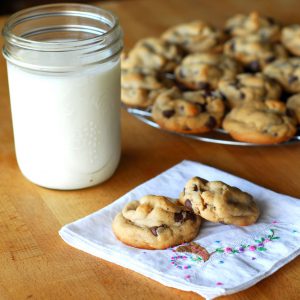 Peanut Butter Chocolate Chip Cookies
Makes 30 Cookies
Ingredients
1/2 cup (1 stick) butter
1/2 cup sugar
1/2 cup brown sugar
1/2 cup peanut butter
1/2 tsp vanilla
1 egg
1/2 tsp salt
1/2 tsp baking soda
1 1/2 cups flour
1 cup chocolate chips
Directions
1. Preheat oven to 375 degrees.
2. Using the paddle attachment on your KitchenAid or a handheld mixer, whip the butter until light and fluffy. Add the peanut butter and beat until well combined.  Add the sugar and brown sugar and combine. Add the egg and vanilla and stir until well combined.
3. Then add the salt and baking soda and beat into mixture. While the mixer is running slowly, gradually add the flour until dough comes together. Add the chocolate chips and mix until evenly distributed.
4. Drop tablespoon-sized spoonfuls of the dough onto an ungreased cookie sheet. Bake for 8-10 minutes, or until bottoms of cookies are golden brown. Let sit on cookie sheets for a few minutes, then remove to a cooling rack.