Instant Pot Ribs are the ultimate way to get tender, delicious ribs without a smoker and without spending your whole day working on them.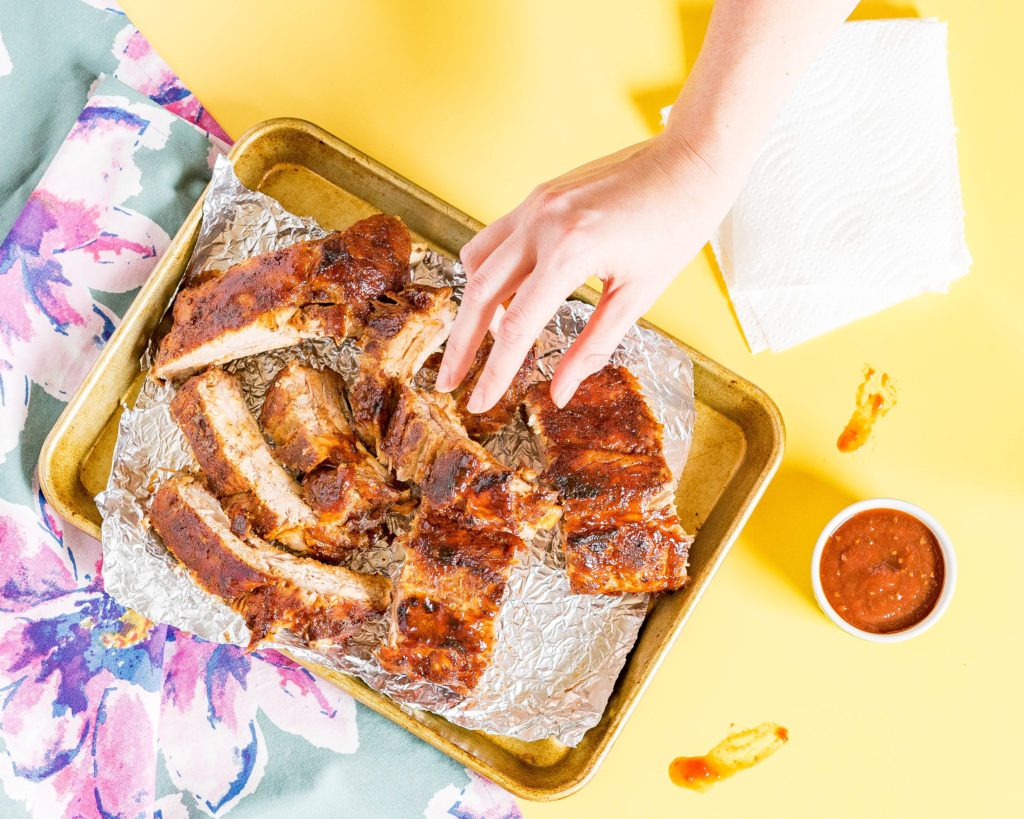 GUYS IT'S RIB SEASON. Fully, we are in it, the forecast says 90 in Portland this week. I AM HERE FOR THAT.
Okay, okay, I apologize for the caps lock. But gee wiz, I'm excited. Because that means I get to cook and eat all of the summer food.
Specifically, BBQ type food. Food that comes off of a grill. Or is a carb covered in cheese/mayo/etc. Or is a veggie with bacon. Seriously, all the good things. Like RIBS. Even better: Instant Pot Ribs.
Why the Instant Pot for Ribs?
I love super tender ribs but:
I don't have a smoker
I don't have patience
So I come up with a strategy to get what I want, and get it quickly. And of course, it involves the Instant Pot, the queen of getting sh*t done fast.
How to Make Instant Pot Ribs
These ribs go into the Instant Pot seasoned with your favorite BBQ/Cajun/etc seasoning.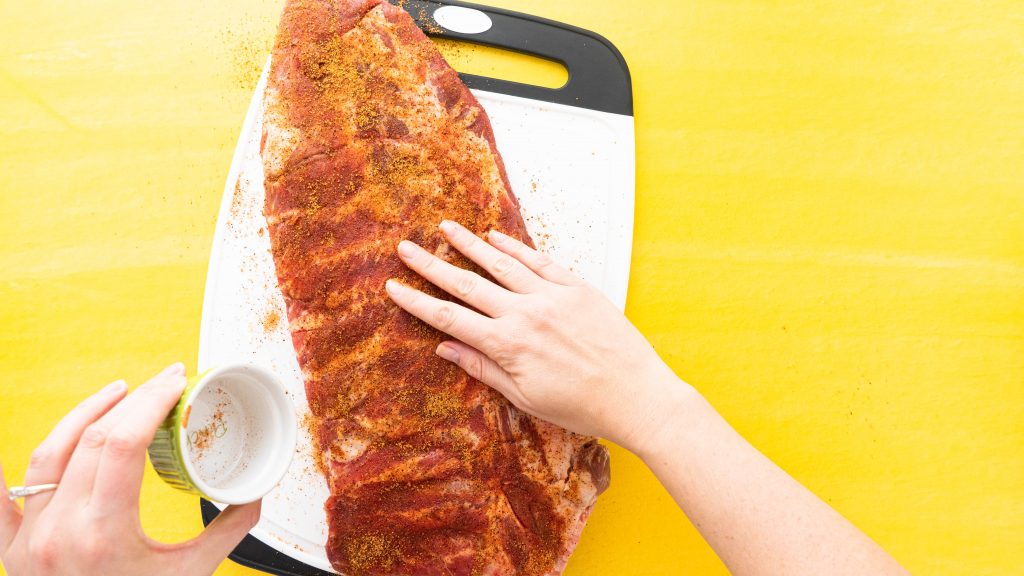 Then add a steam rack + a cup of water to the Instant Pot.
20 minutes in the Instant Pot makes these ribs perfectly tender. I don't quite like "fall off the bone" tender – I want my ribs to have some bite, so this is perfect time for me. If you're into that fall apart tender lifestyle, you should up the Instant Pot time by 5 – 10 minutes depending on just how tender you want them.
Then they get slathered in your favorite BBQ sauce and broiled until the edges are blackened and everything is caramelized and lovely. You could also throw the Instant Pot Ribs on a screaming hot grill to finish things off, it's totally up to you. Ta-da! Perfect ribs in less than 30 minutes.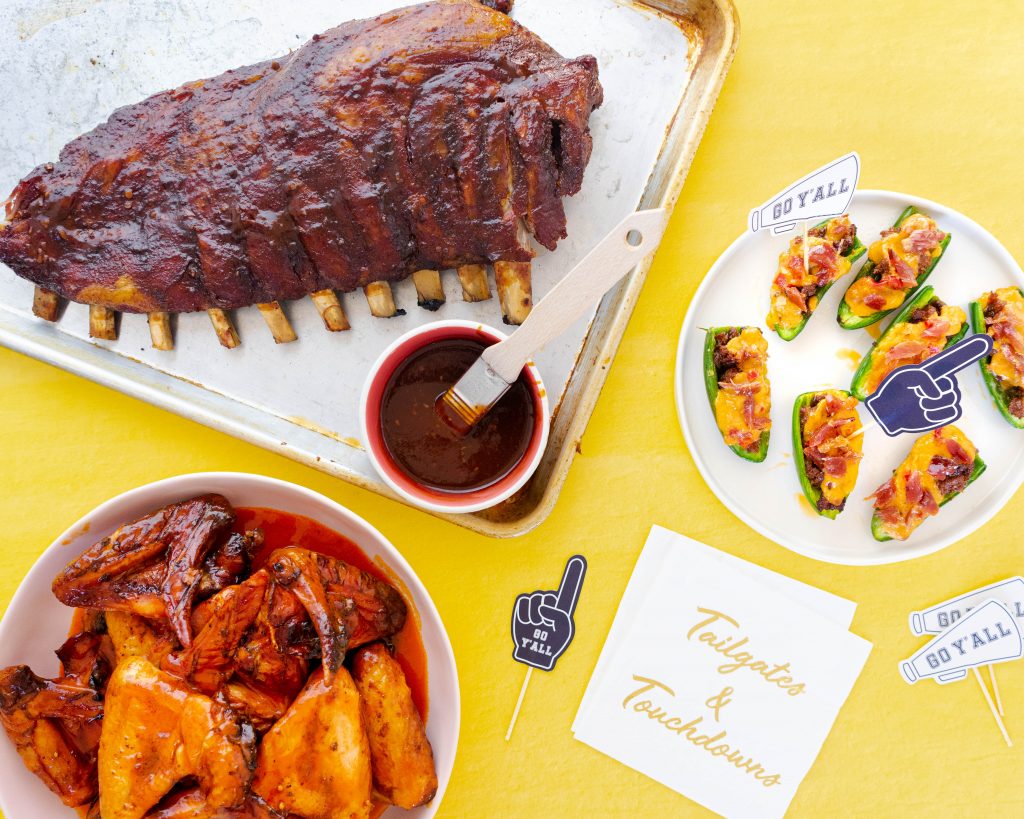 I know, I know, hard to believe, but this is real life.
I highly recommend serving these guys with my Chorizo and Pimento Cheese Jalapeno Poppers and Hot Wings for a full game day spread.
And if you're looking for the best rib source… you've gotta check out Porter Road. Meat shipped right to your home that's ethically raised and somehow tastes better than other meat?! I think it's magic.
You can also view this recipe as a step-by-step web story here.
Get the Recipe: Instant Pot Ribs
Instant Pot Ribs are the ultimate way to get tender, delicious ribs without a smoker and without spending your whole day working on them.
Ingredients
1 rack of ribs
2 tbsp of your favorite BBQ rub
1/2 cup of your favorite BBQ sauce
Instructions
Season the ribs with the BBQ seasoning.

Pour 1 cup of water into the bowl of your Instant Pot. Add a trivet or steamer rack.

Add the ribs standing up to the Instant Pot. Set to manual for 20 minutes. Use the manual release when done.

Line a baking sheet with foil. Preheat oven to broil.

Place the ribs on the baking sheets. Use a pastry brush to coat the ribs with BBQ sauce. Broil until just charred on each side.

Cut ribs into even sections and serve with additional BBQ sauce.
Notes
Add 5 minutes of time if you prefer extremely tender ribs. If you do have a smoker, try Instant Pot + Smoke! Smoke for 2 hours at 200 degrees after the Instant Pot.
Calories: 261kcal, Carbohydrates: 11g, Protein: 11g, Fat: 19g, Saturated Fat: 8g, Trans Fat: 1g, Cholesterol: 50mg, Sodium: 280mg, Potassium: 210mg, Fiber: 1g, Sugar: 8g, Vitamin A: 101IU, Vitamin C: 1mg, Calcium: 28mg, Iron: 2mg