I think I've said this before. I love chowder. Love, love, love chowder. But I always feel incredibly guilty eating it because I know all that butter and cream lurking in the chowdery goodness packs a huge calorie punch.
I saw a recipe a few weeks ago for a beer, sausage, and cheddar chowder and knew it was only a matter of time until I succumbed to heavy cream and loads of cheddar cheese. But then that little voice started speaking up in the back of my head: "Don't you want to look awesome in your wedding dress?! A week's worth of chowder in the fridge ain't gonna help get you those toned arms."
But I still had to have it. Then I remembered the miracle of cauliflower, and came up with this incredible recipe. Each serving is only 210 calories! Not to mention, I love getting my daily dose of veggies in soup form.
To start, brown some sausage in a large stock pot. I'm using the South African "boerwoers" because they're delicious and amazing. Feel free to use whatever sausage you prefer.
Remove all but about two tablespoons of the sausage fat, then throw in the magical trio: onion, celery, and carrots. These can be a rough, chunky dice: you're going to puree it all in a bit!
Once those are softened, add chicken broth and cauliflower and let it simmer until the carrots and cauliflower are plenty soft.
Then it's time for my favorite part. I discovered the immersion blender about two years ago and it has since become one of my favorite tools in the kitchen. Using an immersion blender, puree all those lovely veggies until super smooth. I found that I couldn't get rid of a few chunks of carrot, but make sure that cauliflower is silky.
And then distraction happened, and I got caught up and didn't take pictures of the rest. I decided at the last minute to add some potatoes, so I poked a few with a fork and microwaved them for a few minutes until soft, then cut them into sizable chunks and threw them into the soup, along with beer, nonfat evaporated milk, the sausage (now sliced), salt, pepper, paprika, a kick of cayenne, and a nice helping of cheddar cheese. I used a local brew from Butcher Block Brewing, their pale ale.
This soup was so good that it got Fiance's approval, and you have to understand how unlikely that is considering it's pretty much half vegetables. We enjoyed ours with some rye bread, which is very popular here in Cape Town.
I calculated the calorie counting using SparkPeople, but I didn't add the potatoes because I didn't know I was going to use them until the last minute! They won't add too much to the calorie count though. Each serving (about 1 1/2 cups) is only 210 calories!
Nonfat evaporated milk and pureed cauliflower are miracle workers when it comes to lightening up creamy soups! Try it in any chowder in place of heavy cream.
View the recipe in a step-by-step web story here.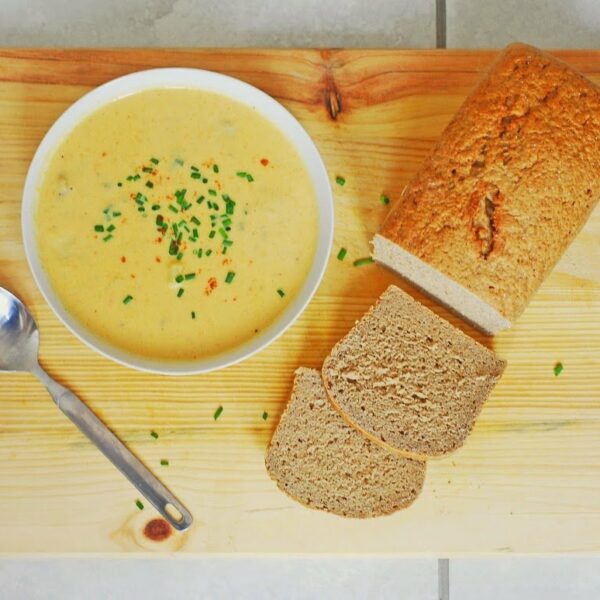 Get the Recipe: Healthified Beer and Sausage Cheddar Chowder
Ingredients
1 package, about 8 oz of sausage of choice
3 celery stalks, roughly chopped
2 carrots, peeled and roughly chopped
1 onion, roughly chopped
1 head of cauliflower, roughly chopped
2 cups chicken stock
1-2 cups water
6 oz pale ale
1 can nonfat evaporated milk
1/2 tsp salt
1/2 tsp black pepper
1/2 tsp cayenne pepper
1 tsp paprika
4 oz cheddar cheese, shredded
4 oz gouda cheese, shredded
3 potatoes, optional
Chives, chopped
Paprika
Instructions
In a large stock pot, brown the sausage. Remove the sausage and drain off all but about two tablespoons of the fat.

Add the celery, carrots, and onion and cook until the onions are soft. Add the cauliflower, chicken stock, and water. Use more or less water to cover the cauliflower. Bring to a boil and cook until cauliflower is soft, about 10 minutes.

Drain off and reserve about two cups of the liquid. Use an immersion blender to puree the remaining stock and vegetables until very smooth. If you need to, add in some of the reserved liquid while pureeing.

Add the beer, evaporated milk, salt, black pepper, cayenne pepper, and paprika. Bring to a simmer. Reduce heat to low. Add the cheese and stir until cheese is melted and all ingredients are well incorporated.

Slice the sausage and add to the soup. If you'd like to add potatoes, prick the potatoes with a fork all over and microwave for 3-4 minutes, until soft. Cut into cubes and add to the soup.

Taste the soup and add more salt and/or cayenne pepper to your taste, if necessary.

Serve soup with chopped chives and an additional sprinkle of paprika.