One of the happiest, simplest discoveries we've made about Cape Town is that mango is abundant here. The high-end grocery store that we sometimes go to has "snack pots" of already cut mango that Fiance adores and will often eat for breakfast. I've been trying to think of ways to incorporate it into more of our meals, although it's tempting to just cube it up and eat it as is.
This recipe was fun. I've had no luck finding Panko here (fine, I'll make my own breadcrumbs!) and had been craving crunchy chicken, so the coconut on this chicken was the perfect substitute. We did them as chicken fingers, for dunking purposes of course, and had them with coconut rice.
To make the mango dipping sauce, combine mangoes, green chillies, red onion, garlic, cumin, coconut milk, and honey in a food processor. Blend until nice and smooth. I wanted our dipping sauce to have a good kick, so I used a whole green chile. If you are sensitive to spice, use half a chile and then taste before adding more.
To make the chicken, arrange three bowls: one with seasoned flour, one with an egg and coconut milk, and one with shredded coconut.
Whip up the egg mixture until well combined. Dip the chicken in the flour, then the egg mixture, then into the coconut. I put a wire cooling rack over a cookie sheet to arrange the chicken on- this helps keep the chicken from getting soggy.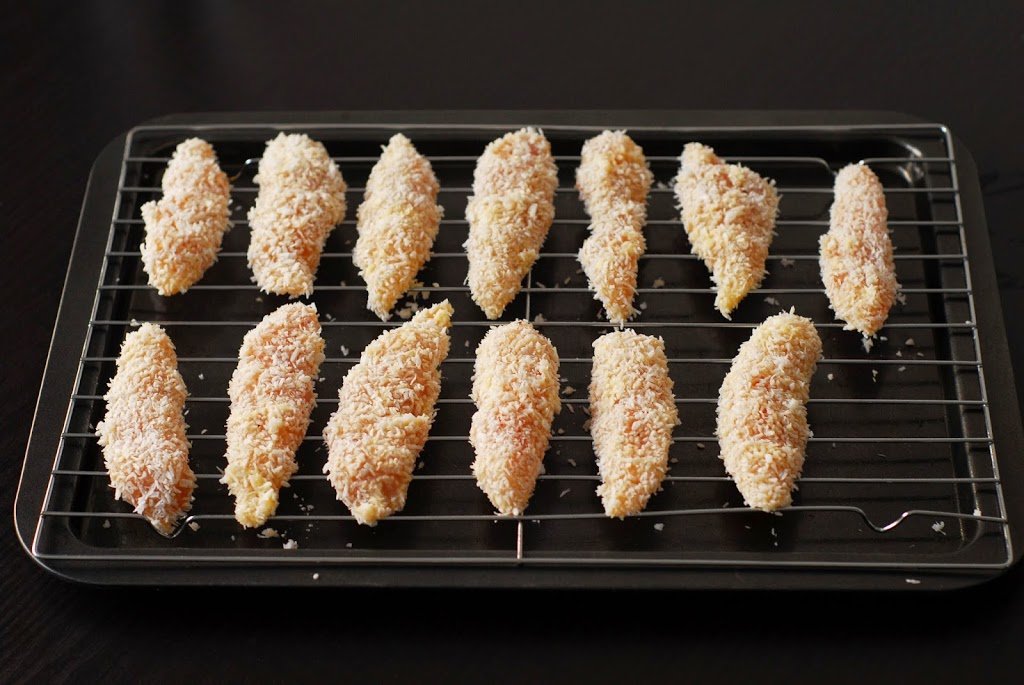 Then into the oven at 400 degrees F for about 10 minutes, then flip the chicken and bake for another 3-5, until nice and golden.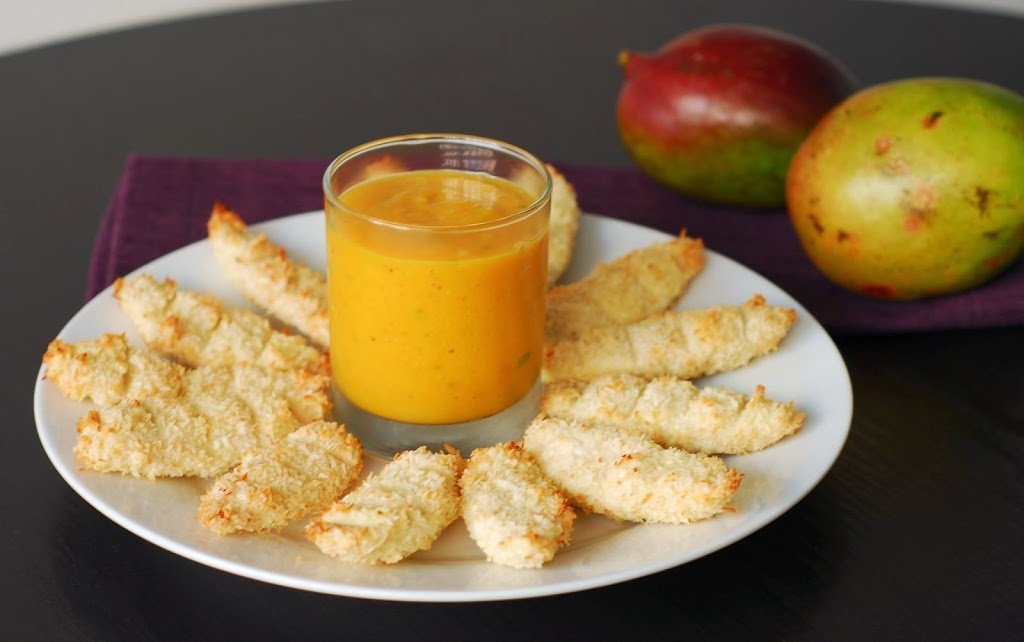 We had ours with spiced coconut rice. I love cooking rice this way: a mix of coconut milk and water, with salt, ground coriander, and turmeric added to the liquid. So tasty!
Get the Recipe: Coconut Chicken with Spicy Mango Sauce
Ingredients
Sauce:
2 mangos, skin removed and diced
1/4 red onion, roughly diced
1/2-1 fresh green chile
1/2 tsp minced garlic
2 tbsp coconut milk
1 tbsp honey
1/2 tsp cumin
Chicken:
4 chicken breasts, trimmed and cut into strips
1/2 cup flour
1 tsp salt
1/2 tsp black pepper
1 egg
1/4 cup coconut milk
1 cup shredded coconut
Instructions
Preheat oven to 400 degrees F (200 degrees C). Stack a cooling rack on a cookie sheet and spray with cooking spray.

In a food processor, combine all ingredients for the sauce, reserving half of the chile. Process until smooth. Taste the sauce- if you'd like it to be spicier, add the remaining chile.

In a bowl, combine the flour, salt, and pepper. In another bowl, whisk together the egg and coconut milk. In a third bowl, add the shredded coconut. Dip the chicken strips first in the flour mixture, then the egg mixture, then into the rice to coat. Set on the arranged cooling rack.

Bake the chicken for 10 minutes. Remove from the oven and flip the chicken pieces. Return to the oven and bake for another 3-5 minutes, until chicken is cooked through.

Serve chicken with spicy mango sauce on the side.