Hi All! I hope you'll forgive my extended absence from the World Wide Web. The restaurant industry has given me few opportunities to cook. I have really, really missed blogging and cooking over the past few weeks, though, so I forced myself to make some time in the kitchen with my camera.
An update to my cooking world: I have a grill to use now! It's amazing! The greatest benefit to my lazy self may just be how little clean up there is after. Not to mention, it's so nice to not have to turn the oven on and heat up my apartment in this weather.
I had a pack of skewers I hadn't gotten around to using yet so I decided to make some spicy chicken kebabs. To start this easy chicken kebab recipe, I chopped some cilantro.
Then I cut some chicken into about one inch cubes.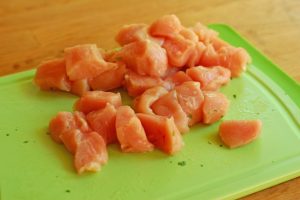 To make the marinade for the chicken, I combined olive oil, the chopped cilantro, adobo seasoning from Penzey's (mostly Mexican oregano and cumin), cayenne pepper, and paprika.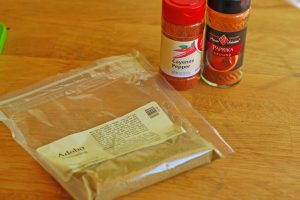 Add the chicken and let marinade for at least three hours.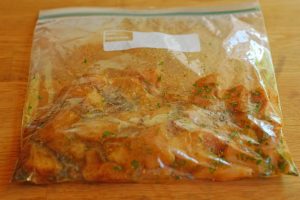 I stacked my kebabs with green bell peppers, red bell peppers, and red onions. It makes them look pretty AND they taste good. Then threw 'em on the grill. Oh, how I love this grill.
These pair nicely with some grilled veggies. I chose asparagus and funky little tomatoes from New Seasons.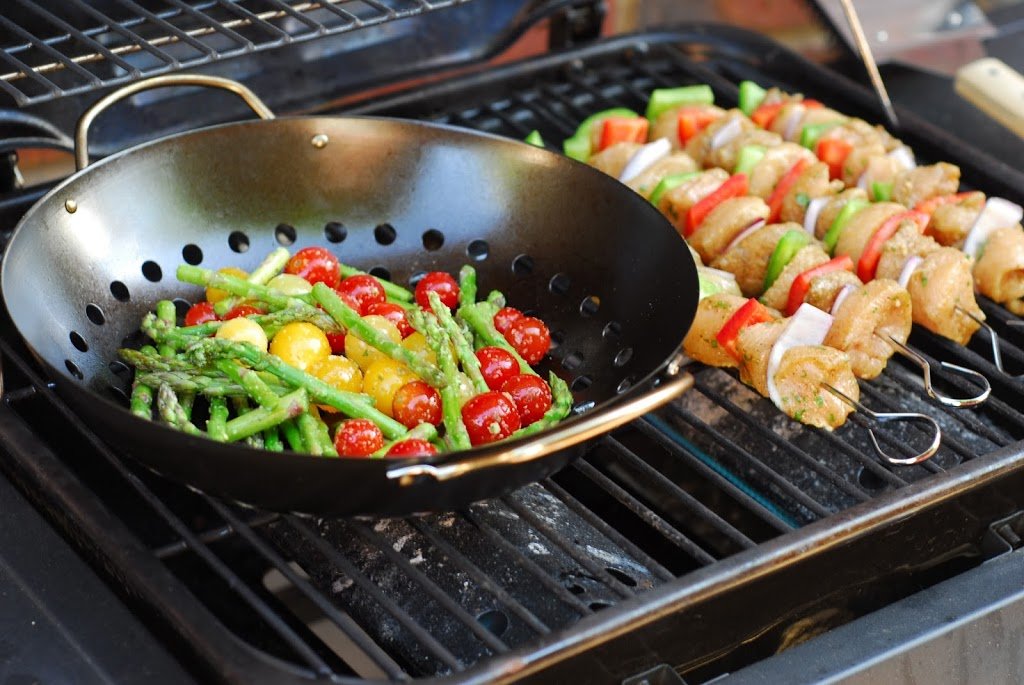 I grilled them for about four minutes on each side.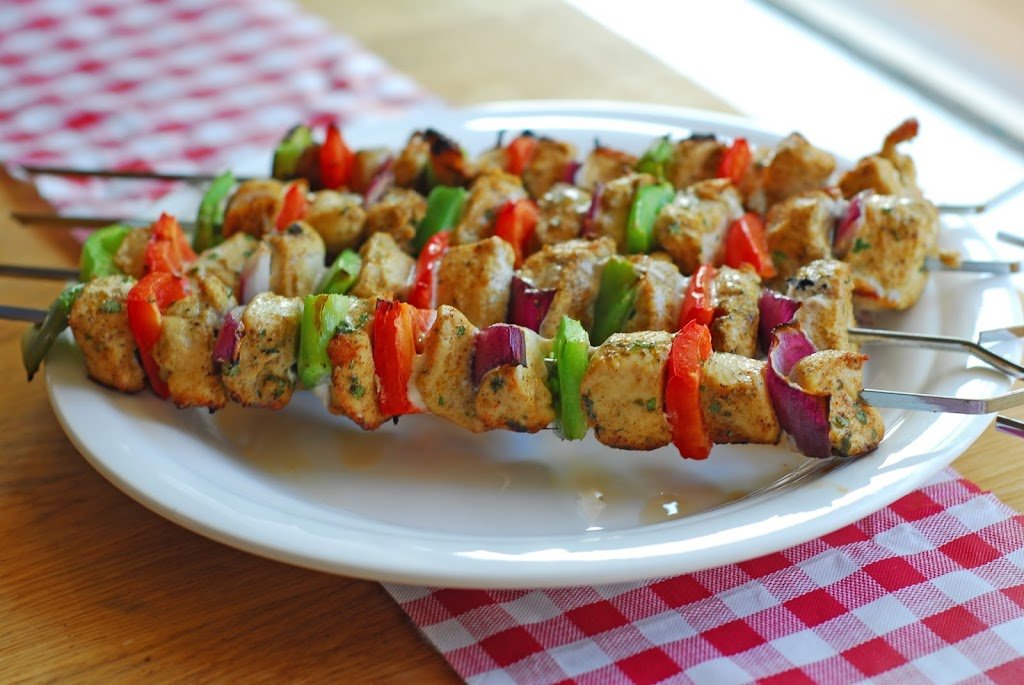 And that's it! So easy and so tasty. These kebabs are even boyfriend approved.
Feeling the grill vibes? Check out my grilled lemon chicken and Lime Coriander Chicken.
You can also view this recipe as a step-by-step web story here. 
Get the Recipe: Easy Chicken Kebab Recipe
This easy chicken kebab recipe is flavored with a spicy marinade perfect for the grill, but can also be done in your oven.
Ingredients
2 chicken breasts, cut into 1 inch cubes
2 tsp chopped cilantro
2 tbsp olive oil
3 tsp adobo seasoning from Penzey's, you can sub Mexican oregano and cumin
1/4 tsp cayenne pepper
1/2 tsp paprika
1/4 tsp kosher salt
1 green bell pepper, cut into 1 inch slices
1 red bell pepper, cut into 1 inch slices
1/4 red onion, cut into 1 inch slices
Instructions
Combine cilantro, olive oil, adobo seasoning, cayenne pepper, paprika, and kosher salt in a gallon size plastic bag. Add chicken and marinade for at least three hours.

Preheat a grill to medium heat. You could also use your oven, preheated to 400 degrees.

Alternate sliding the chicken, peppers, and onion onto metal skewers. Discard remaining marinade.

Grill for 4 minutes on each side. Enjoy!