I've got a confession to make.
This may or may not have been the first batch of cornbread I've ever made that didn't involve a box of Jiffy.
Okay, it definitely was.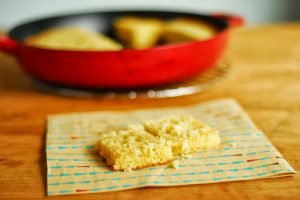 I was inspired to make it the other night when we had dinner at Boyfriend's parents' house. Boyfriend's mom made chili (using my Spicy Chili con Carne recipe! I'm glad I'm not the only one who loves it) and cornbread. She was telling us how she'd been trying to find a cornbread recipe using ingredients she had on hand, but kept running into recipes that included things that were nowhere to be found in her house. What she came up with was fabulous, with pepperjack cheese and fresh corn. I was reminded that Boyfriend truly is his father's son when his dad remarked "Why are there chunks of corn in it…?" which led to a conversation about cornbread preferences, namely savory vs. sweet. This recipe is a little on the sweeter side, and very simple. Boyfriend thanked me for the lack of kernels, but I can't say he'll be safe next time around.
It's really silly that I had never made it from scratch before. It was so easy! And so much tastier that from a box. Baking it in a cast iron skillet with some melted butter certainly helped sway me to the homemade side.
We had it alongside venison chili, made using my Spicy Chili con Carne recipe.
Get the Recipe: Cast Iron Skillet Cornbread
Cornbread made from scratch in a cast iron skillet with plenty of butter. Perfect along side spicy chili con carne!
Ingredients
1 cup coarsely ground cornmeal
1 cup all-purpose flour
1/4 cup granulated sugar
1 teaspoon kosher salt
2 teaspoons baking powder
1/2 teaspoon baking soda
1/3 cup milk
1 cup buttermilk
2 eggs, lightly beaten
8 tablespoons unsalted butter, melted
Instructions
Preheat the oven to 375 degrees and place a 9-inch cast iron skillet in the oven to heat while you make the batter.

In a large bowl, whisk together the cornmeal, flour, sugar, salt, baking powder, and baking soda. Whisk in the milk, buttermilk, and eggs. Whisk in almost all of the melted butter, reserving about 1 tablespoon for the skillet later.

Remove the hot skillet from the oven. Coat the bottom and sides of the hot skillet with the remaining butter. Pour the batter into the skillet and place it in the center of the oven.

Bake until the center is firm and a cake tester or toothpick inserted into the center comes out clean, 20 to 25 minutes. Allow to cool for 10 to 15 minutes and serve.