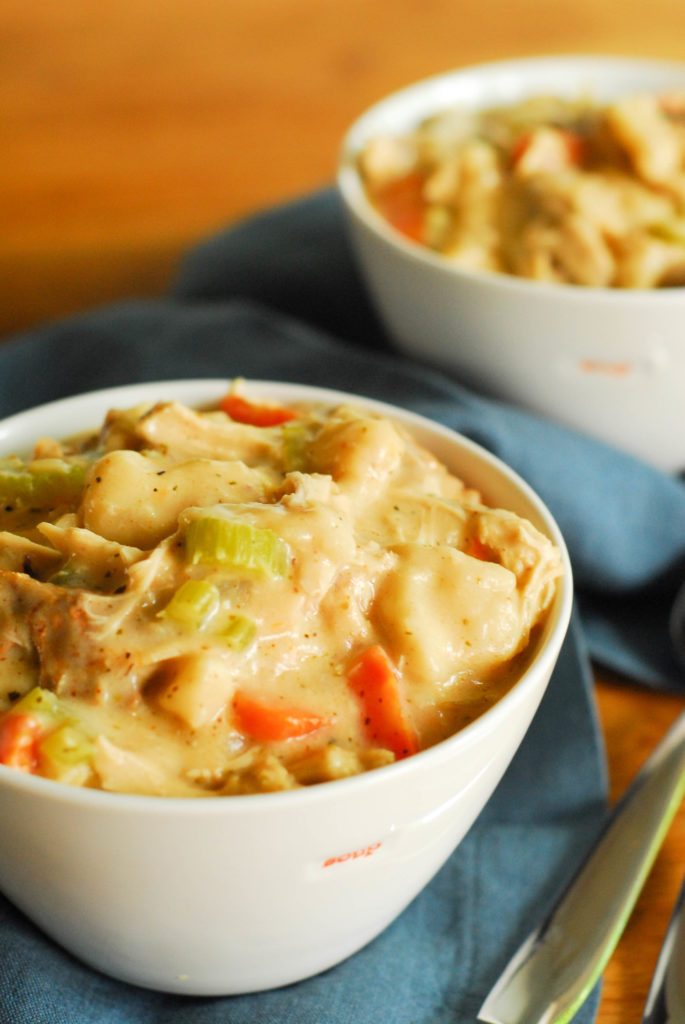 The soup kick is not over. And I'm going to bet that no one is sorry about it!
A recipe favorite of mine lately (which I really need to share with you all!) comes from my mother in law: whole chickens in the crock pot. The meat tastes incredible and produces tons of leftovers, you can flavor the chicken a million different ways, and I make delicious flavor bombs from all the juices leftover.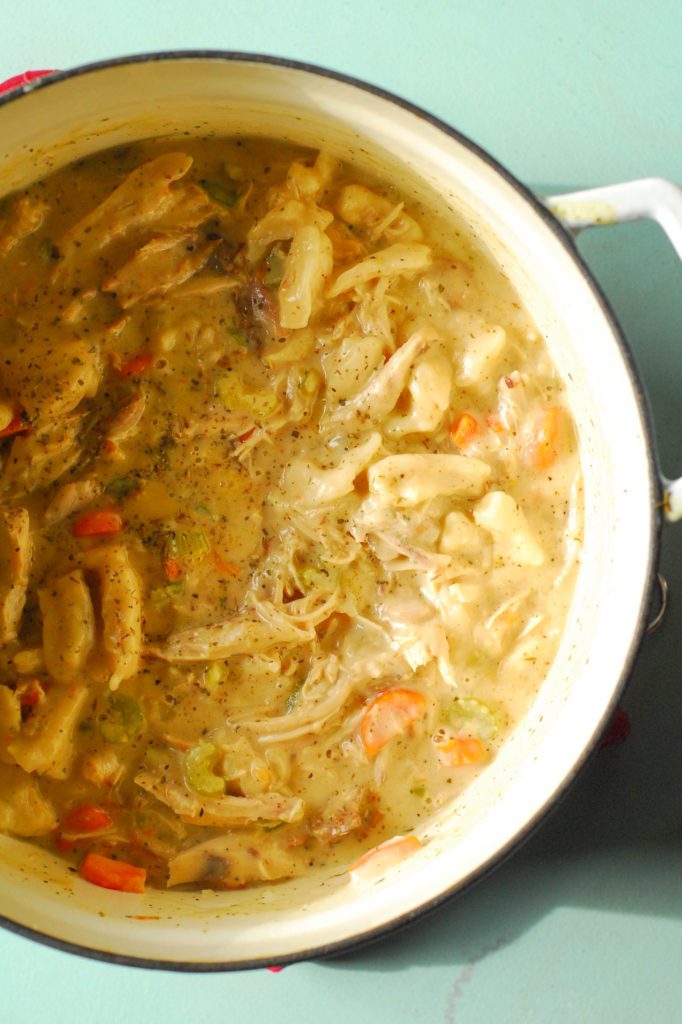 Last week, I wanted to do something a little different with the mass amount of leftover chicken. I don't think I've ever actually eaten chicken and dumplings before this, but it's a classic dish I've been wanting to cross of my list for some time now. I read recipes and see photos and just think it looks like the epitome of comfort food.
Lots of the super "easy" recipes include using a few cans of "cream of" soups. That's not really my style. The two things I did to make this recipe simple were to use leftover chicken and store bought biscuit dough. You could absolutely just pick up a rotisserie chicken from the grocery store while you're getting the biscuit dough!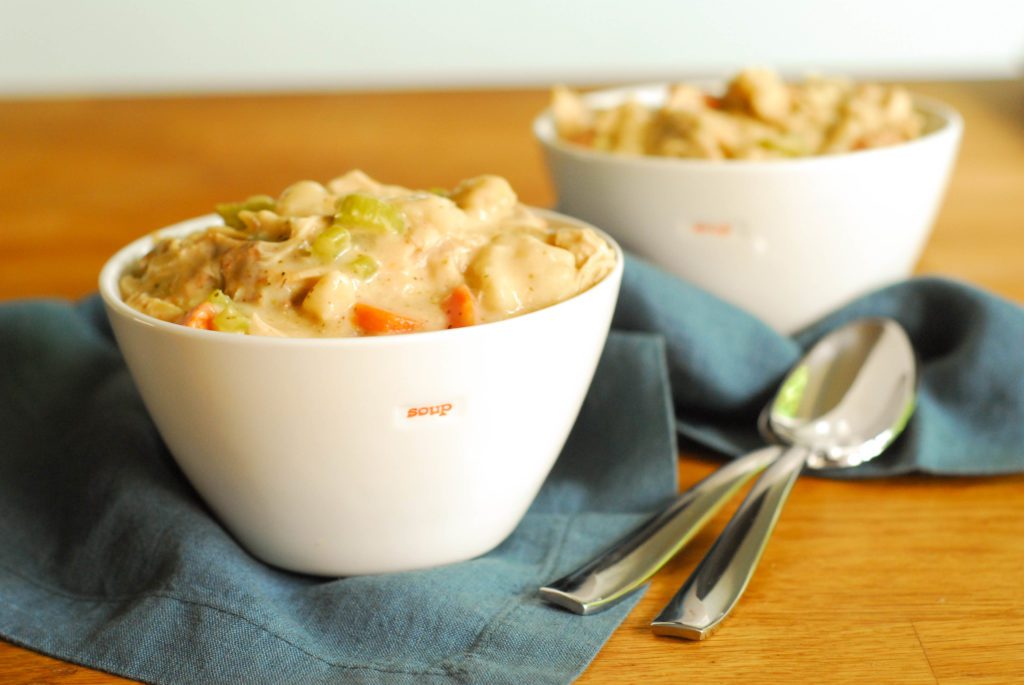 This recipe makes enough to serve about four people and would be very easy to double. I started by softening the veggies in butter, then adding more butter and a little flour. Next comes milk to make a roux. After it's simmered and thickened up a bit, add good quality chicken stock (preferably homemade chicken stock), salt, pepper, and Italian seasoning. Slice up some store bought biscuit dough and drop it in to cook for a few minutes. Then add the leftover chicken just long enough to heat it up and that is it!
This took me less than an hour to make which makes it one of my favorites for a week night dinner. You could prep everything beforehand by chopping the veggies and biscuit dough to make prep even quicker!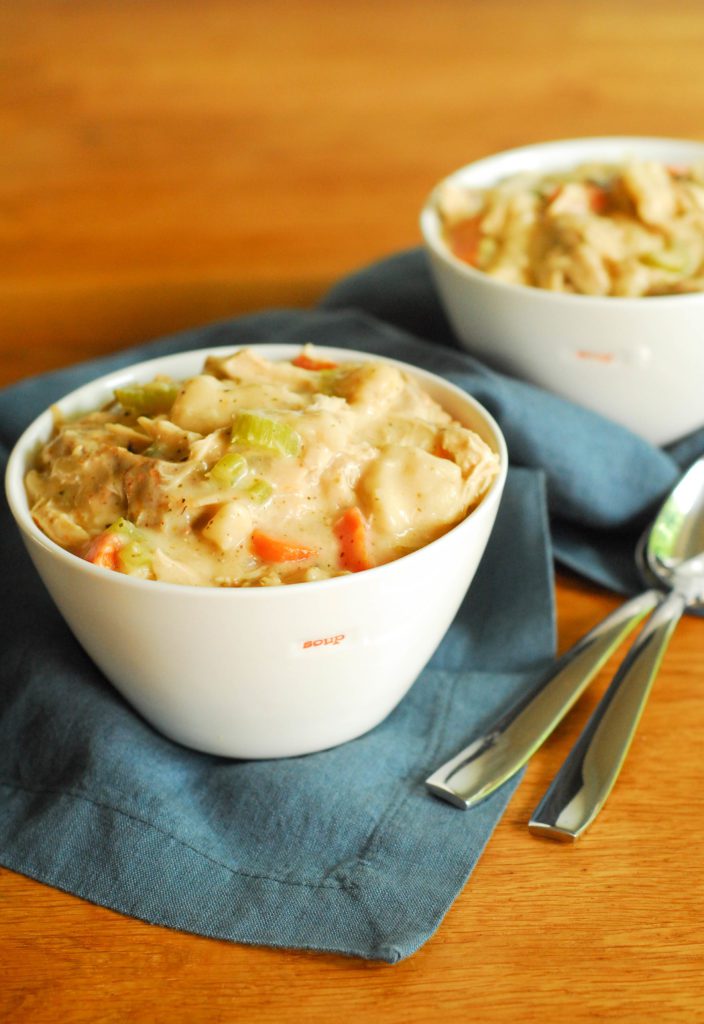 This was a really nice warm up meal. Warm your soul right up kinda meal. Help you survive the rest of January kinda meal.

Easy Chicken and Dumplings
Ingredients
½ yellow onion, diced
2 carrots, peeled and diced
4 celery stalks, diced
3 tbsp butter, divided
¼ cup flour
2 cups milk
½ tsp salt
½ tsp black pepper
1 tsp Italian seasoning
2½ cups chicken stock
½ can store bought biscuit dough
2 cups cooked and chunkily shredded chicken
Instructions
In a large, heavy bottomed stockpot, melt 1 tablespoon of butter over medium-low heat.
Add onions, carrots, and celery and let them cook until softened, 5-7 minutes.
Add remaining butter. Once melted, add flour. Stir frequently and cook for about 3 minutes.
Reduce heat to low and add milk. Bring to a simmer and simmer until mixture has thickened, stirring frequently, about 4 minutes.
Add salt, pepper, Italian seasoning, and chicken stock. Raise heat to medium-low and let simmer.
While the soup is simmering, remove about five biscuits from the store bought biscuit container. Slice into thin strips (about ½ inch wide). Drop into soup, cover leaving a crack, and let cook without stirring for 8-10 minutes, until biscuits have cooked in the center.
Stir in chicken and cook until heated through, 3-5 minutes. Taste and adjust seasoning as necessary.