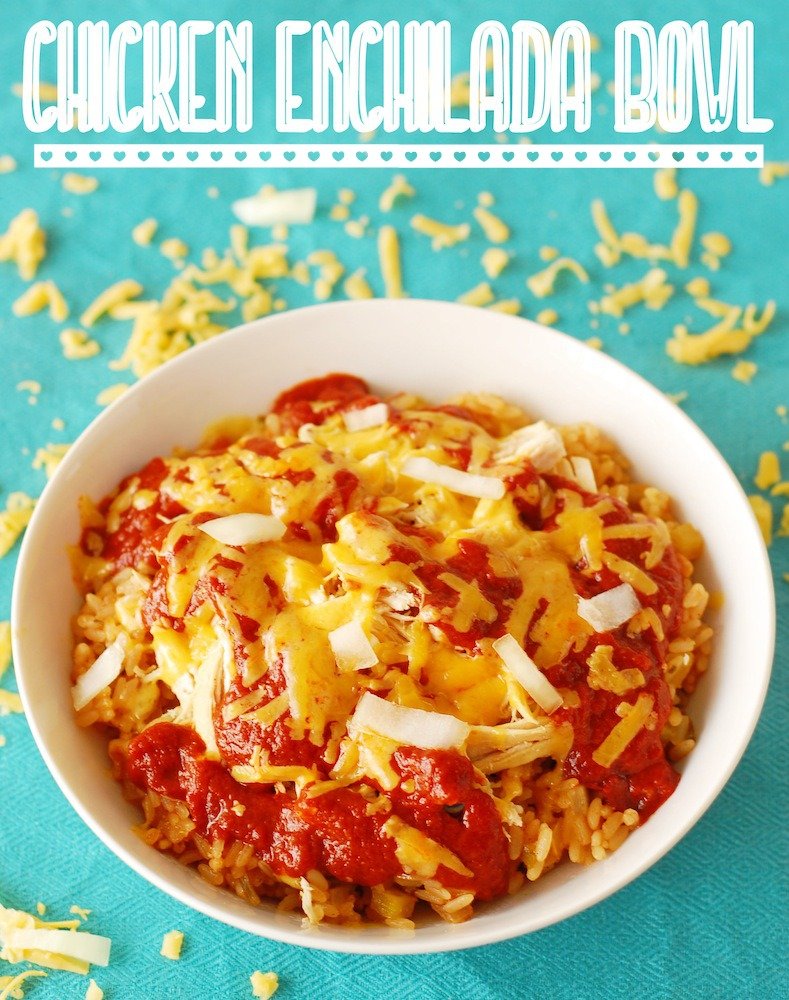 I love "bowls" for lunch! Mine are often composed of a mish-mash of leftovers, which are usually great, but deliberately put together ones are even better. Bowls like this always reheat really well and they're great for work because it means just one tupperware container, something my lazy self is totally on board with.

I worked in a Portland restaurant that primarily served pasta the year before coming to Cape Town. Super delicious, carby pasta covered in house-made sauces that I could modify to my heart's content. I knew I couldn't eat pasta everyday and I was working so much that I'd often be there during two meal times, so I brought my own meals to work as often as I could. Do you know how hard it is to eat the boring salad I threw together before running out the door when I could have baked ziti made to order? Ugh.
In order to not find myself saying "I'll just save this lunch for tomorrow…" and cave at the sight of macaroni and cheese, it was important that my lunches from home be something I was super excited about. And this enchilada bowl was always one of them.
Whenever I make chicken enchiladas, I make extra chicken and usually have extra enchilada sauce, then just put a few of these bowls together in tupperware containers for the week. Even if we don't have enchiladas, I'll occasionally put them together anyways because they're so easy.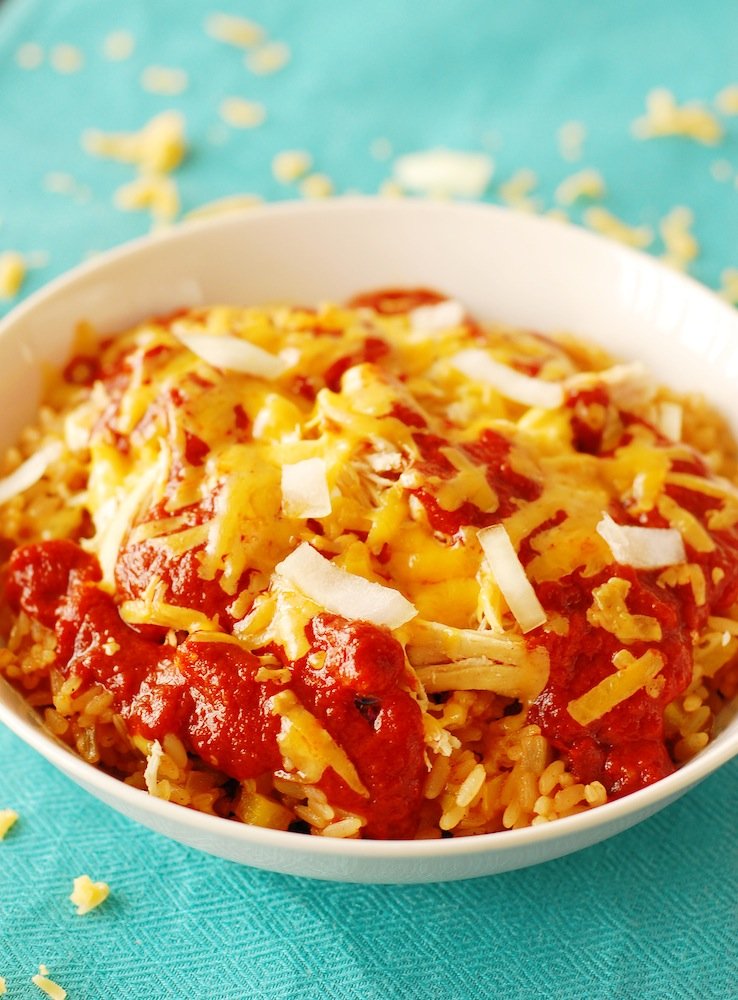 My favorite method is to just throw a few chicken breasts in my crockpot with salsa, chicken broth, cumin, and chili powder, but the chicken can be cooked stove-top if you're short on time. I cook the rice in chicken broth, salsa, and cumin and make my own enchilada sauce. This recipe for enchilada sauce is really easy and the results are incredible! So much better than canned or jarred enchilada sauce. You probably have most of the ingredients on hand, too!
This is a light version, but if you're looking for something with a little more oomph, mix the shredded chicken with a little sour cream and more shredded cheese.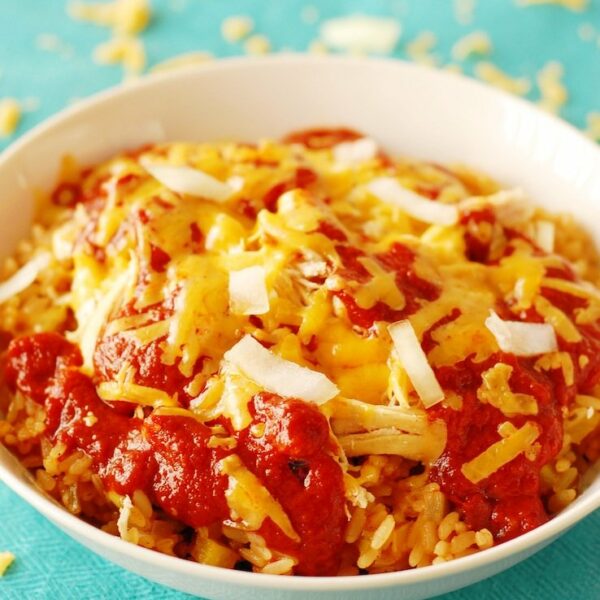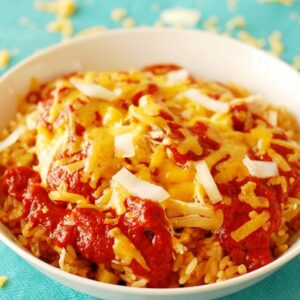 Get the Recipe: Chicken Enchilada Bowl
Ingredients
Chicken:
3 chicken breasts
2 cups chicken broth
1/2 cup salsa of choice
1/2 tsp cumin
1 tsp chili powder
Enchilada Sauce:
2 tbsp canola oil
1 tbsp flour
2 tbsp chili powder
1/2 cup tomato sauce
3/4 cups water
1/4 tsp cumin
1/4 tsp garlic powder
1/4 tsp onion powder
1/4 tsp cayenne powder, leave out if you're sensitive to spice, or taste before adding
1/4 tsp salt
Rice:
Short grain rice of choice
Chicken broth
Salsa
1/4 tsp cumin
For Serving:
1 cup shredded cheese
Diced raw onions, optional
Instructions
Chicken: add all ingredients to a crockpot and cook on low for 6-8 hours. If you're short on time, combine all ingredients in a large stock pot or dutch oven and simmer on medium-low heat for 30-45 minutes. Remove chicken from cooking liquid and shred by inserting two forks and pulling apart. Discard cooking liquid. Set aside.

Enchilada sauce: heat oil in a heavy pot over medium high heat. When hot, reduce the heat to medium and add the chili powder and flour. Cook for about 2 minutes, or until fragrant. Reduce heat to medium-low and add the tomato sauce, water, cumin, garlic powder, onion powder, cayenne pepper, and salt. Cook for ten minutes over medium-low heat, stirring occasionally.

Rice: Make the rice according to package directions for four servings. Replace 3/4 of the water with chicken broth and the remaining 1/4 with salsa (this is approximate, totally fine if your ratio is a bit off) and add the cumin to the cooking liquid.

Assembly: divide rice between four bowls. Top each with a quarter of the shredded chicken, then a quarter of the enchilada sauce, then 1/4 cup shredded cheese. Top with a few of the diced raw onions if desired. If prepping for lunches, do the same but store in separate tupperware containers.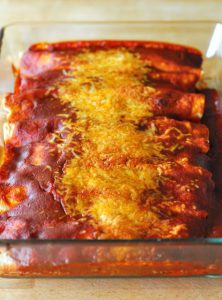 If you do want to make chicken enchiladas, try my recipe! It's one of the most popular recipes on my blog and one of my favorite weeknight dinners. It's also a great dish to put together for friends who are moving, just had a baby, or would just like a meal they didn't have to cook themselves!