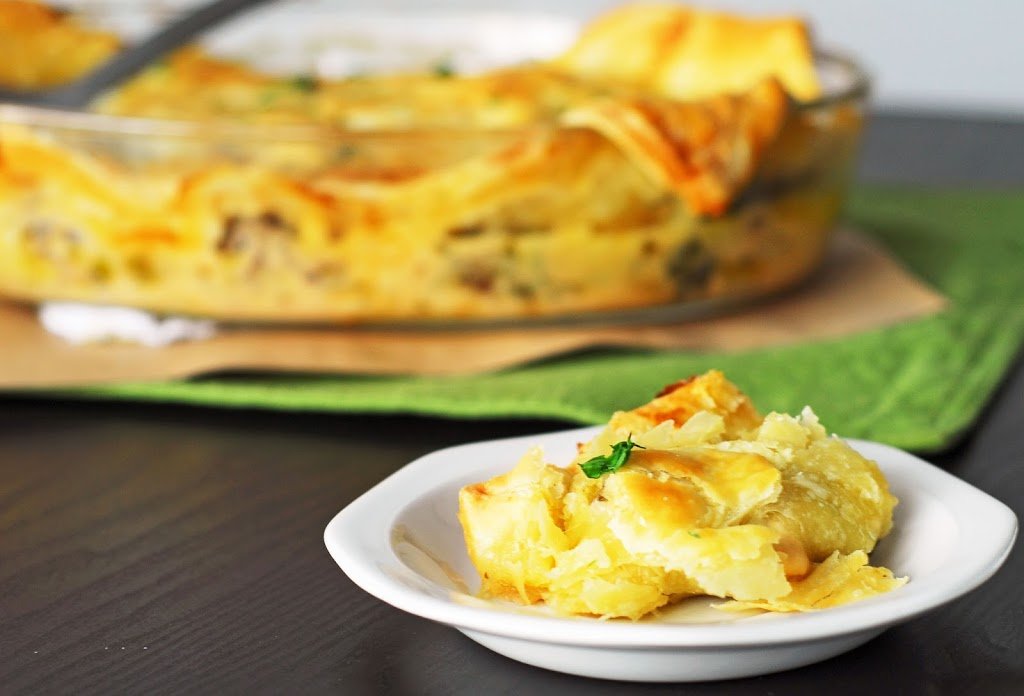 I had so much trouble naming this dish. It was originally supposed to simply be a pie, but then I couldn't find a pie dish and my cake tin was too shallow, so I ended up baking it in a casserole dish. Did that make it casserole? It's not shaped like a pie.
Then, there were too many key ingredients: cheddar cheese, sausage, potatoes, leeks… How do I create a name that isn't absurdly long?
Fiance insisted that it was more pie like because of the flaky, crunchy top and it was originally intended to be a pie, so it stayed a pie.
This dish was inspired by a pie feature in a local magazine. I couldn't help but laugh to myself when I read the opening line:
"When we hear the word 'pie' most of us think of pastry with a meat filling."
Just another daily reminder that I am not in the US, but the very different and wonderful South Africa. Meat pies are not very popular at all in the US- when we think of pies, we think of cherry pies or the all-American apple pie. The only relatively common savory pie eaten there is chicken pot pie.
So I took a crack at this well-loved style of pie and made my own with the ingredients we most love. Do this in a pie dish or a casserole dish, whatever you prefer.
I've never cooked with leeks before, and I loved the subtle flavor they provided without doing a thing to disrupt the texture.
Start by layering some half-cooked potatoes, sliced potatoes in a buttered dish of your choice. Top with sliced leeks, chopped onions, and garlic that's been sautéed.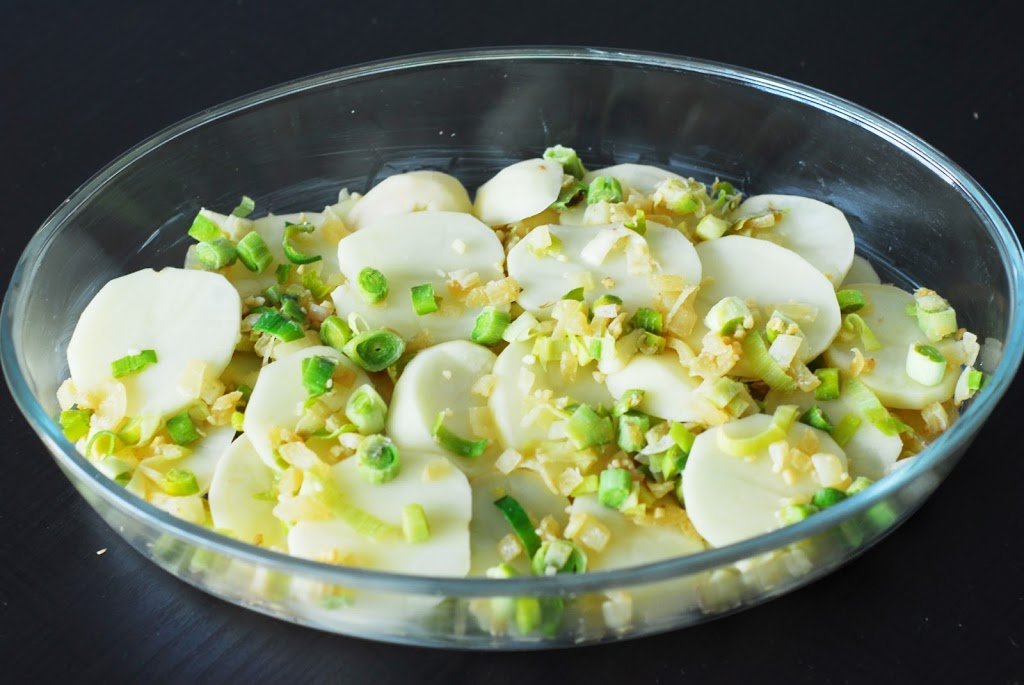 Then on goes chopped sausage and fresh parsley.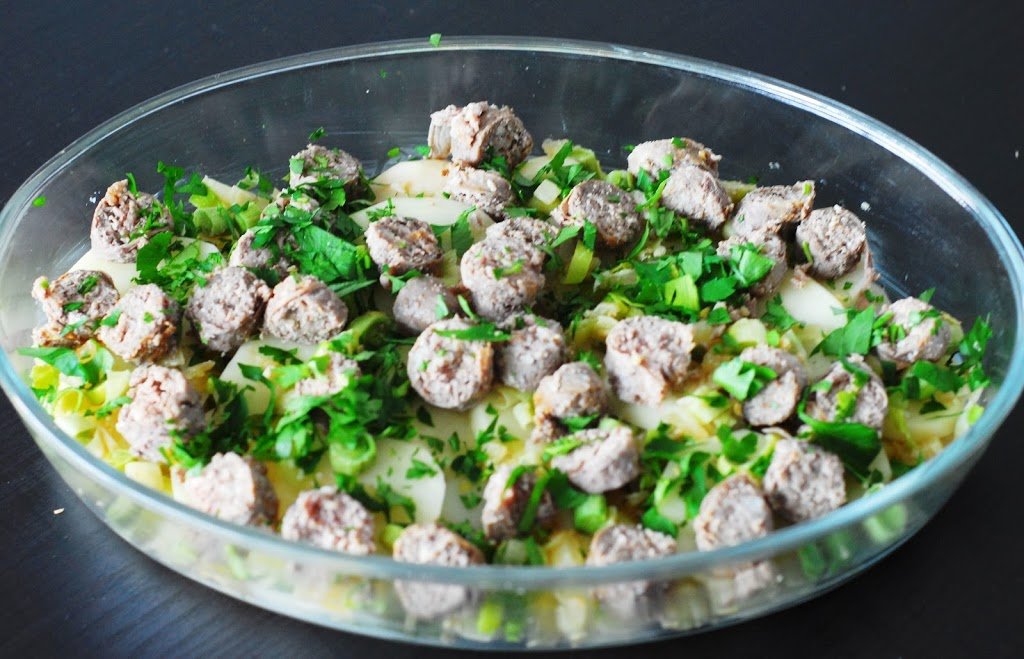 Then a glorious cheese sauce.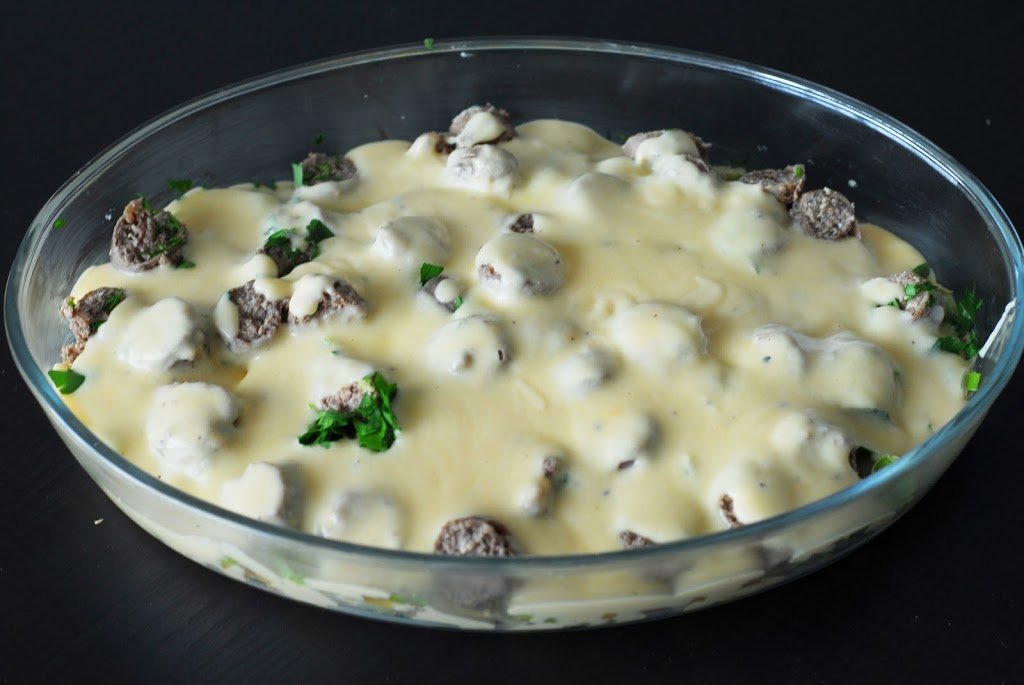 And, one of my favorite things in the world, a layer of puff pastry. I didn't even bother trimming the corners. It's "rustic", right? Brush on an egg wash to make sure it turns out nice and golden. I cut little slits in it to let some of the air out.
Bake it for a good hour or until the potatoes are thoroughly cooked and the top is golden and lovely. You can broil it for a minute or so to make sure it's really golden, if necessary.
Serve with a salad, or call it a meal as is. I love and adore easy one dish meals like this! You could easily prepare this in a disposable foil container and freeze it before baking.
Get the Recipe: Sausage, Leek, and Potato Pie
Ingredients
3 leeks, chopped into 2 cm slices
1 onion, diced
1 tsp minced garlic
2 tsp olive oil
4 yellow potatoes
1 lb sausage, cooked and sliced into 1/2 inch slices
1 tbsp chopped parsley
3 tbsp butter
3 tbsp flour
1/2 tsp salt
1/2 tsp black pepper
2 cups milk
1 1/2 cups shredded cheddar cheese
1 sheet puff pastry, thawed
1 egg
Instructions
Preheat oven to 350 degrees F (180 degrees C). Heat the olive oil in a skillet over medium heat. Add the leeks, onions, and garlic and cook until onions are just soft.

Prick the potatoes all over with a fork. Microwave for three minutes on high heat, until slightly soft and partially cook. Let cool, then slice into 1/2 inch slices.

Grease a pie dish or casserole dish with butter. Layer the potatoes in the dish and top with the cooked veggies, sliced sausage, and parsley.

To make the cheese sauce, melt the butter in a medium-sized pot over medium heat. Add the flour and cook for about three minutes, or until flour is just beginning to brown. Add the salt, black pepper, and milk and continue to cook until mixture has thickened and sticks to the back of a wooden spoon, about 5-8 minutes. Remove from heat and add the shredded cheese. Stir until cheese has melted.

Pour cheese sauce over the sausage and potatoes. Lay the sheet of puff pastry over the dish, trim the edges if necessary. Whisk the egg and brush over the puff pastry. Cut little slits in the pastry to let steam and air out.

Bake the pie in preheated oven for 1 hour. Broil for a few minutes if necessary to brown the pastry.