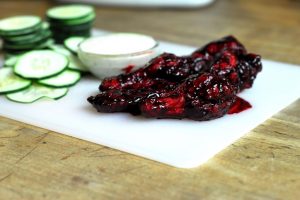 I looove hot wings. Just love and adore them. Even though they are absolutely a football food, I tend to make them well into February (ahem, June…). I just love the sensation of my mouth burning from heat and my nose running because I'm inhaling vinegar. What, you don't? I'm alone in that? Oh, okay then.
I've been experimenting with different wing sauces lately and tested several out on my family. These blackberry chipotle wings were a crowd favorite! The sauce is incredibly simple. Just four ingredients: blackberries, chipotles in adobo, adobo sauce, and brown sugar.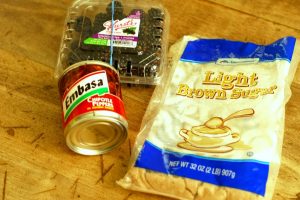 Start by cooking the blackberries over medium-low heat to break them down.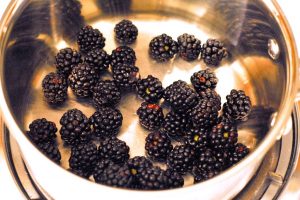 They'll start to look like this after a few minutes.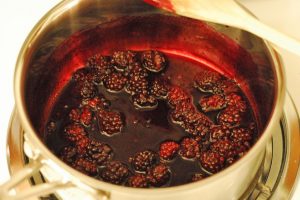 Add the chipotles, adobo sauce, and brown sugar, let it cook and break down for a bit, and then grab this handy dandy tool- immersion blender!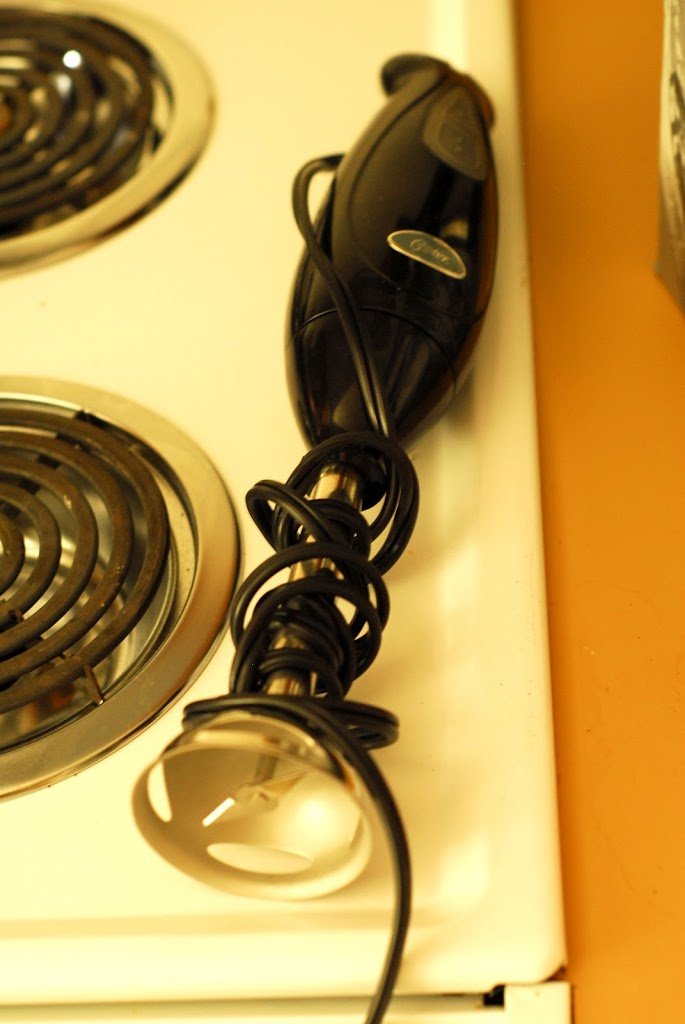 If you don't have one that's fine, just pour the mixture into your regular blender. Once well blended, pour the mixture into a fine mesh strainer over a bowl to get out all the chunky stuff- mostly seeds. Push it through with a rubber spatula.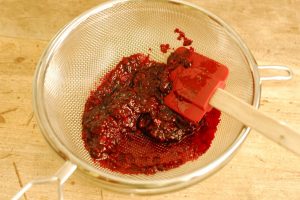 You'll be left with this lovely stuff. Something I've learned with wing sauce- a little goes a long, long way.
Now to fry the chicken! I dredge it in a very simple mixture of flour and montreal steak seasoning. I put that stuff on everything! It's so peppery, delicious, and versatile.
Mix the two together in a gallon-sized plastic baggie.
Add a package of rinsed "party wings" (NOT regular wings) to the flour mixture in the bag, seal, and shake shake shake until all the wings are well coated.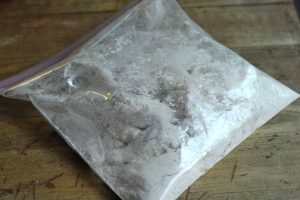 Heat a pot of oil to 300-350 degrees. I use my well-loved dutch oven for this.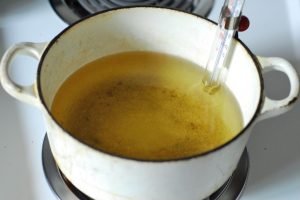 Add the chicken in batches and fry until they're floating and golden brown. Remove them to a paper towel lined plate and repeat until all the chicken is fried. Throw 'em in the bowl of sauce and toss them around until they're well-coated.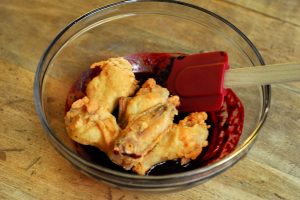 Although the traditional veggies to serve with wings are celery and carrots, I think cucumbers go beautifully with the blackberries. But I totally support tradition if that's the way you wanna go.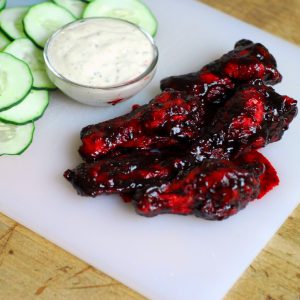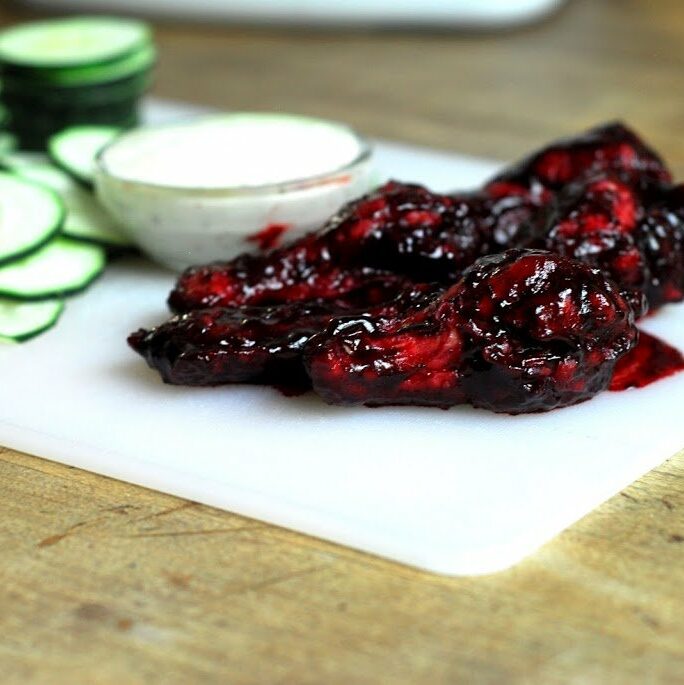 Get the Recipe: Blackberry Chipotle Hot Wings
Ingredients
Wings:
1 pack wingettes or party wings
1 cup flour
1 tablespoon Montreal Steak Seasoning, or other seasoned salt
Vegetable or canola oil for frying
Sauce:
1 cup blackberries
1 tbsp brown sugar
3 tsp adobo sauce from canned chipotles in adobo
2 chipotle peppers in adobo
Instructions
Combine flour and seasoned salt in a gallon sized Ziploc bag. Add the chicken to the bag and toss to coat.

Fill a medium sized saucepan about three inches deep with oil. Heat until oil reaches 325 degrees. Add the chicken in batches to the oil, being careful not to crowd the pan. Fry until wings are golden brown and remove to a paper towel lined plate.

While the chicken is frying, begin cooking the berries in a saucepan over medium-low heat. Once they've sufficiently broken down, add the sugar, adobo sauce, and chipotles. Let cook for about 5 minutes.

Using an immersion blender or a blender, blend the sauce until there are no remaining chunks. Pour into a fine mesh strainer over a bowl and use a rubber spatula to press the mixture through the strainer.

Add the chicken to the sauce and toss to coat. Serve with cucumbers and ranch.