A few weeks ago, I made a discovery: marinading chicken in yogurt makes it so moist and flavorful. I'm way behind on this, I know. The hundreds of pieces of chicken I've prepared and consumed since fending for myself have totally missed out.
If you've been following my blog for awhile, you know that lately I've been using a lot of ingredients and influences that have never made an appearance here before. It's a weird thing for me to keep plain yogurt in my fridge that I don't intend to cover in honey and berries. But I just can't get enough!
I've also been using a lot of chicken drumsticks lately. If you prefer thighs or breasts, hey, that's your call. Any cut will work just fine for this recipe, but if you're using boneless, skinless cuts, reduce the cooking time a bit.
For the marinade, toss yogurt, tons and tons of parsley, cumin, paprika, garlic, salt, and pepper into a food processor and blend until those parsley leaves are finely chopped.
Add the marinade and the chicken to a big ol' plastic baggie or a bowl and rub the marinade into all the chicken's nooks and crannies. Make sure to get it under the skin, too. Let it sit for at least a half hour, up to 24 hours in the fridge.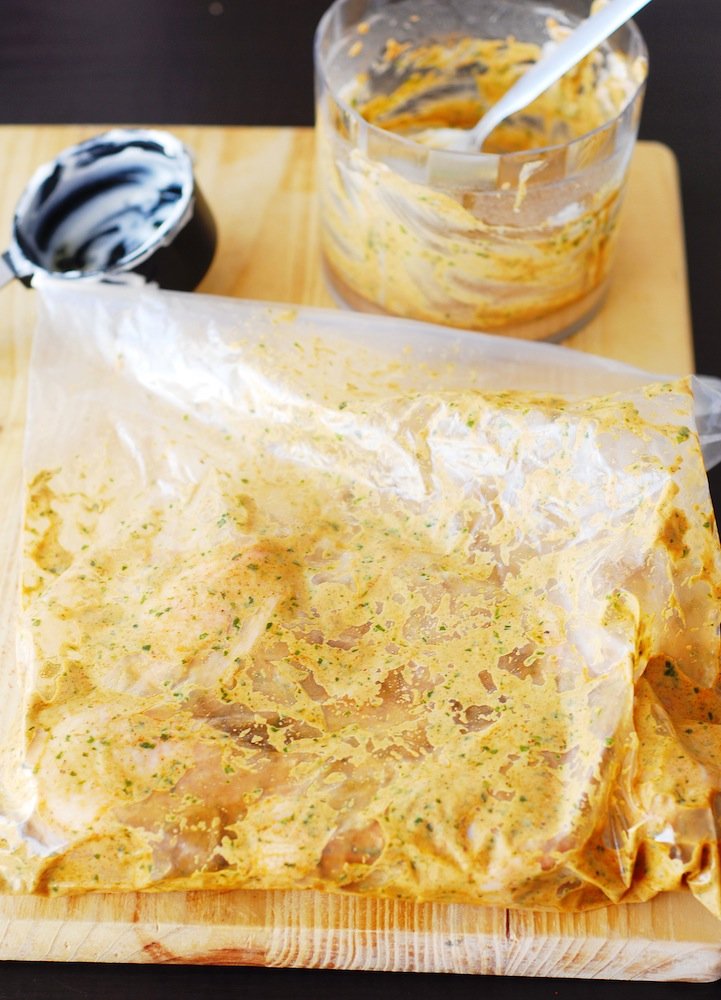 Cooking time! This recipe calls for cooking the drumsticks in the oven, but you could totally grill them. They'd be so tasty on the grill. I roasted broccoli and brussels sprouts on the same cookie sheet to make sure we get green things in our diet.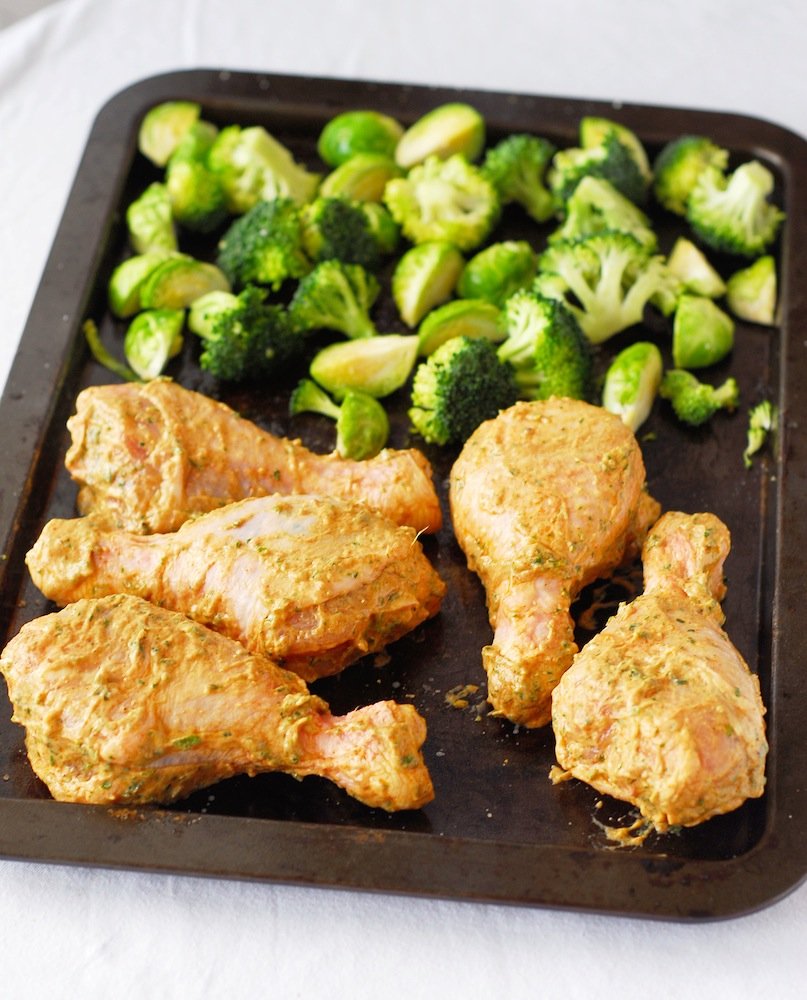 Cook for about 25 minutes, flip the chicken, and cook for another 15, or until the skin is nice and golden. You might need to broil them for a few minutes.
We had our chicken legs with the tasty veggies you saw and plenty of naan and feta cheese. This chicken + homemade naan = crazy tasty meal. Seriously, make yourself some naan to go with this. It's not that hard and I posted a recipe for it this week!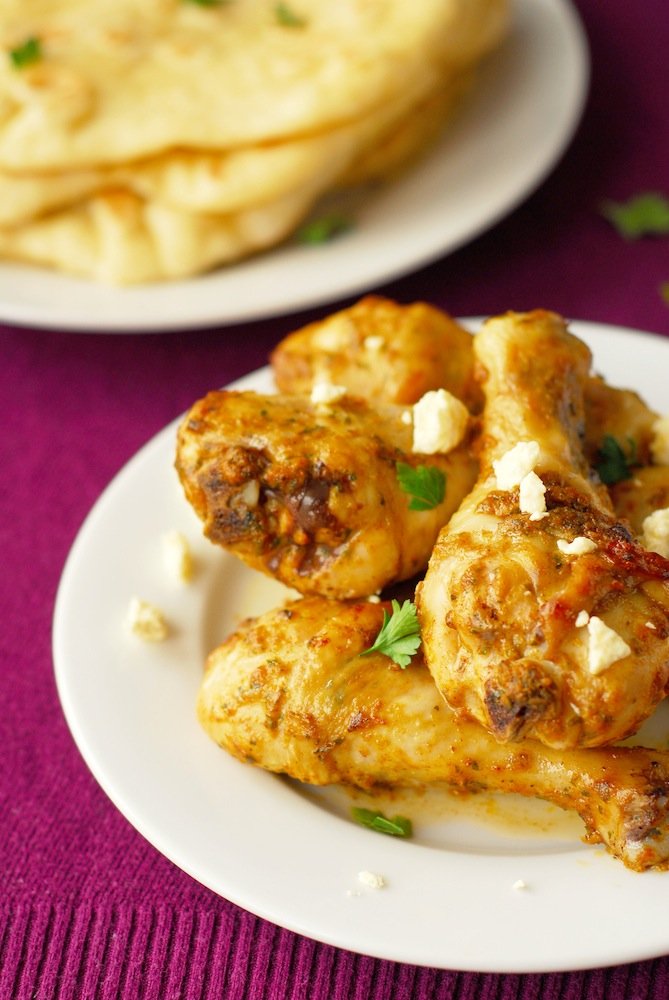 Have fun gobbling this up! And prepare to become just as enthralled with yogurt marinades as me.
You can also view this recipe as a step-by-step web story here.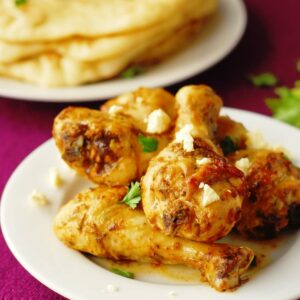 Get the Recipe: Spiced Yogurt Chicken
A simple yogurt based marinade for drumsticks that produces moist, incredibly flavorful chicken! Excellent served with naan and feta cheese.
Ingredients
4-6 chicken drumsticks
1/2 cup plain yogurt
2 tsp minced garlic
1/4 cup parsley leaves
2 tsp cumin
2 tsp paprika
1 tsp salt
1/2 tsp pepper
Feta cheese & naan for serving, optional
Instructions
In a food processor, combine the yogurt, garlic, parsley, cumin, paprika, salt, and pepper. Process until well combined and parsley is finely chopped.

Add the yogurt mixture and the drumsticks to a large ziploc bag. Rub the marinade around the chicken legs, making sure to get it under the skin.

Marinade chicken for at least 30 minutes, up to 24 hours.

Preheat oven to 425 degrees F (218 degrees C). Arrange drumsticks on a lightly greased baking sheet. Bake for 25 minutes, then remove from oven and flip the chicken legs and bake for another 15 minutes, until cooked through and skin is golden brown. If necessary, broil the chicken for a few minutes to brown the skin.

Let chicken rest for five minutes before serving. Serve with feta cheese and naan, if desired.
Adapted from Taming of the Spoon