These sous vide spicy lime glazed carrots are one of my favorite side dishes. Zestiness from the lime juice, spice from jalapenos, and a little sweetness from honey, these are delicious and simple. Thanks to sous vide, they're always the perfect texture!
There are few things as delicious as sous vide carrots. They're one of the most popular vegetables to sous vide and for good reason! Generally, carrots aren't exactly an exciting veggie, but when sous vided, they're incredible. Perfectly tender and so well seasoned.
Frankly, sous vide veggies are underrated. With this cooking method, they'll always be perfectly cooked. Make sure to try my Sous Vide Asparagus and Sous Vide Corn on the Cob recipes, too!
This cookbook outlines my entire method for keeping your freezer stocked with ready to sous vide meals (and some great recipes to boot!).
I love to use sous vide to make my meal prepping routine easier (I mean, I did write a whole cookbook about it!). I suggest prepping multiple servings of carrots, vacuum sealing, then freezing so whenever you want a delicious side dish, you can go straight from the freezer to the water bath.
Why Sous Vide is Great for Cooking Carrots
Usually, carrots are simply roasted in the oven or relegated to soups and stews. While they're delicious this way, they deserve better! Carrots can absolutely shine on their own. The best carrots are tender but not mushy. When you oven roast them, it can be difficult to get that timing just right.
Here are some reasons you should sous vide carrots:
It's okay if the carrots aren't the same size, they'll still all have the same perfect, tender texture.
You don't have to pay super close attention. Just drop them in the water bath and walk away.
Easy clean up – when they're done, just remove them from the bag (and all the juices!) and toss.
Time and Temperature
This cook time is hot by sous vide standards, but you'll have perfectly cooked carrots! Make sure to place a trivet under the sous vide water bath to protect your countertops.
Sous vide carrots for 1 hour at 185 degrees F.
How to Sous Vide Carrots
Here's the equipment you'll need:
Don't have a vacuum sealer? No big deal. There are lots of air removal methods.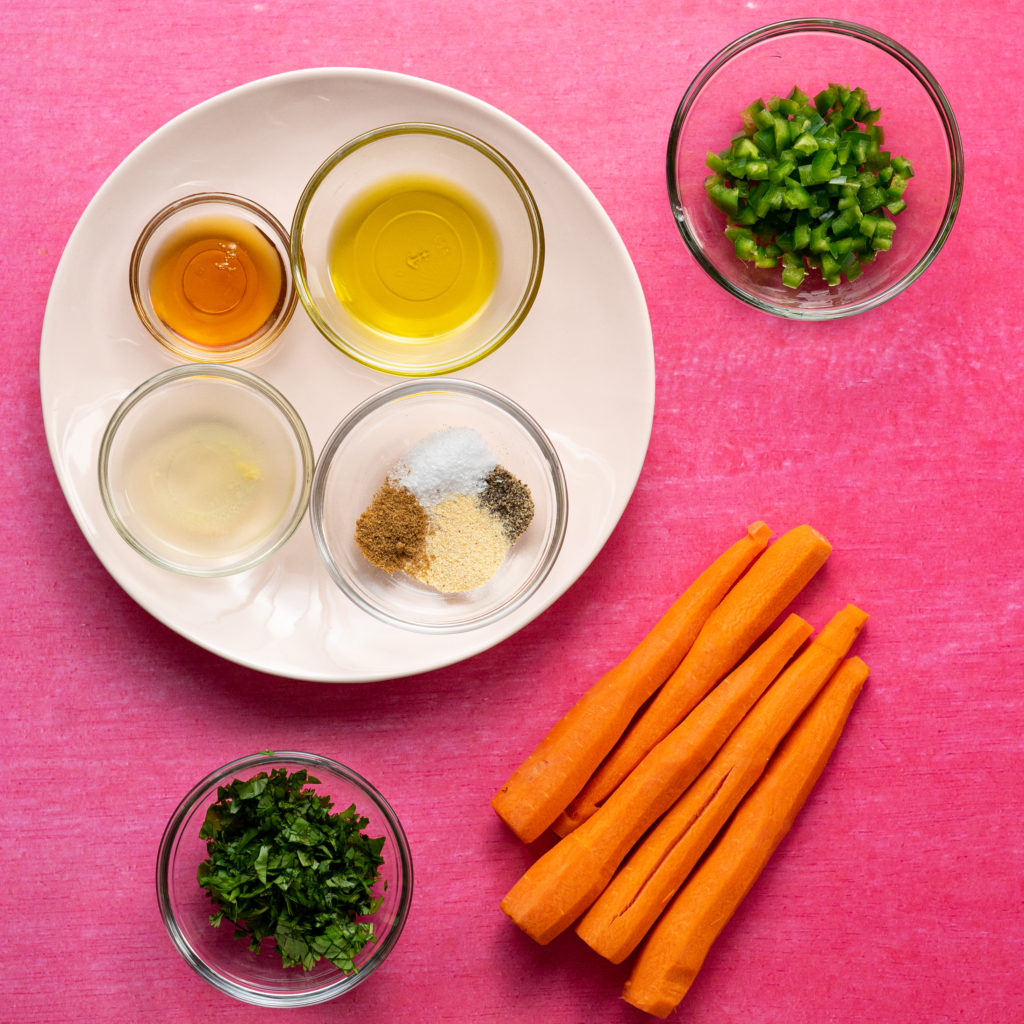 This process is just so easy. Simply add all of the ingredients except the cilantro to a vacuum seal bag, give it a little toss to coat the carrots, and vacuum seal.
Drop the vacuum sealed bag in the preheated water bath and cook for 1 hour.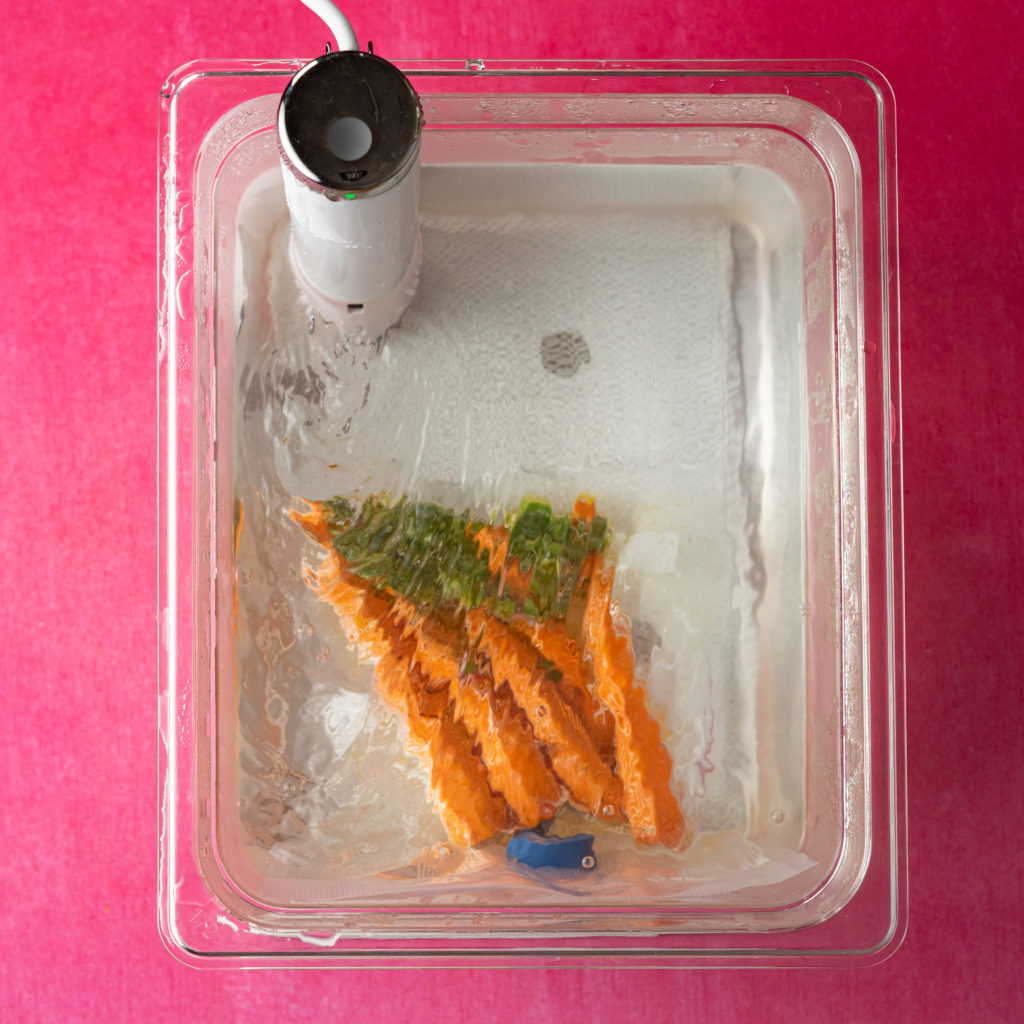 When the carrots are done sous viding, pour the full contents of the bag into a cast iron skillet over medium-high heat. Turn the carrots every so often until browned.
Remove to a serving plate and spoon the juices and jalapenos over the carrots. Garnish with cilantro – that's it!
Tips to Keep Sous Vide Bags Submerged
Carrots are lightweight and the bag will want to float. There are a few different ways to keep the bag submerged and you may find a combination of methods to be helpful.
Sous vide balls. These are really common, but I don't use them.
Sous vide magnets. I am obsessed with these. I use them almost every time I cook.
Ceramic plates and bowls. Yep, the dishes in your cupboard! Ceramic dishes can stand up to heat. A small plate is easiest, but a bowl will be heaver if your bag is really trying to float.
Common Questions
How should I store the carrots?

After cooking, you can serve right away or refrigerate in an airtight container.

How long will the carrots keep in the fridge?

You can keep cooked carrots in the fridge for 5-7 days.

Can I freeze sous vide carrots?

Absolutely. You can freeze them before or after you've cooked them, right in the bag. If you freeze the carrots raw, you can go directly from freezer to sous vide bath when you're ready. Just add an extra 10 minutes of cook time.
You can also view this recipe as a step-by-step story here.
Get the Recipe: Tender Sous Vide Spicy Lime Glazed Carrots
These sous vide carrots are perfectly tender thanks to sous vide. Lime juice, jalapenos, and honey are the perfect flavor combination!
Ingredients
1 lb carrots, trimmed, peeled, and halved lengthwise
1 jalapeno, ribs and seeds removed, finely chopped
2 tbsp fresh lime juice, about 2 limes
1 tbsp honey
1 tbsp olive oil, extra virgin
1/2 tsp kosher salt
1/2 tsp garlic powder
1/4 tsp freshly cracked black pepper
1/4 tsp ground cumin
Instructions
Preheat water bath using immersion circulator to 185 degrees F.

Add all ingredients except cilantro to a bag of your choice and toss to combine a bit. Remove the air and seal using your method of choice, trying to keep the carrots in as flat a layer as possible.

To cook, place bag in preheated water bath and make sure the contents are completely submerged (I like to use a ceramic plate or silicone coated magnets). Cook for 1 hour.

When done sous viding, add all of the bag's contents, including the liquid, to a large skillet over medium-high heat. Cook until carrots have begun to brown and caramelize.

Serve with the liquid and garnish with the cilantro.
Notes
If cooking from frozen, add an extra 10 minutes to the cook time.
Calories: 98kcal, Carbohydrates: 16g, Protein: 1g, Fat: 4g, Saturated Fat: 1g, Polyunsaturated Fat: 0.5g, Monounsaturated Fat: 3g, Sodium: 370mg, Potassium: 392mg, Fiber: 3g, Sugar: 10g, Vitamin A: 18988IU, Vitamin C: 13mg, Calcium: 41mg, Iron: 1mg