I have a secret.
It's my fondue recipe. Guys, it's kind of……………………. gross. But totally delicious.
And what I mean by that is, there's a secret ingredient that is frowned upon. Now is the time to put your judgy face away.
Ready?
Processed cheese.
LET ME EXPLAIN MYSELF.
Have you tried to make fondue before? It can be really hard to get right. It'll take forever to melt and get smooth, then suddenly you'll have gone too far and the texture is gritty and totally off.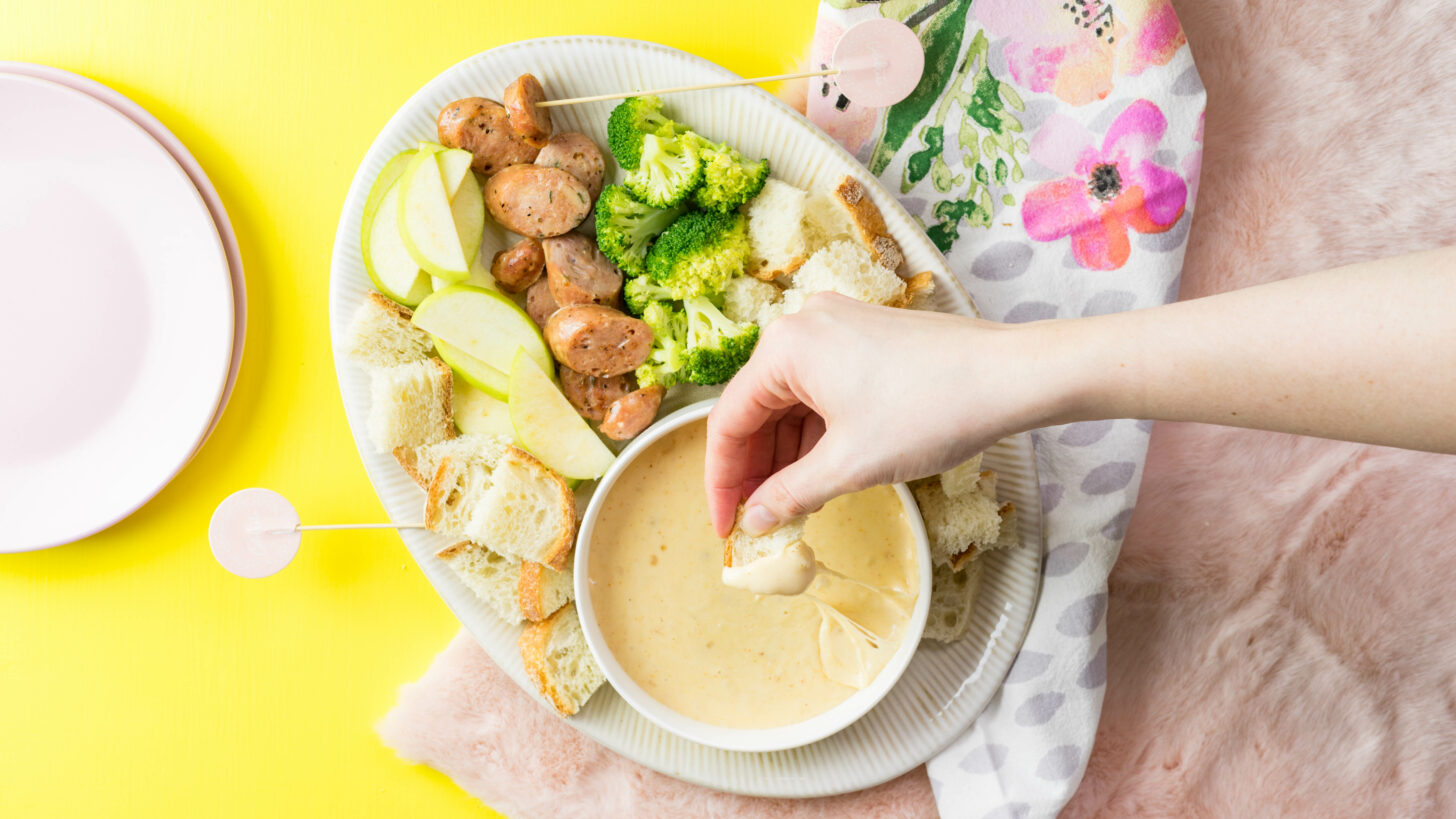 Not so if you use processed cheese! Let's be clear: I'm not buying a pack of individual American cheese slices or Velveeta. My preference is to go to the deli counter at my grocery store and get processed Swiss cheese in a block. No mass plastic waste from individually wrapped slices (not to mention you don't have to open all of those individually wrapped slices).
I do like to use some real deal Gruyere to fancy things up and add flavor.
My pro tips for the perfect fondue:
Be patient! It might take a bit to melt down.
Use medium heat. A lot of people will say to keep it loooow, but with processed cheese, you have more wiggle room.
Don't use all the wine to start. Start with about half, then set the rest aside and add to thin out the fondue. You can easily thin it out, but you can't thicken it unless you have more cheese!
My go-to dippers are apples, sausage, and obviously a mountain of bread. Really feeling DIY? Try making some homemade focaccia!
Go forth and fondue!
You can also view this recipe as a step-by-step web story.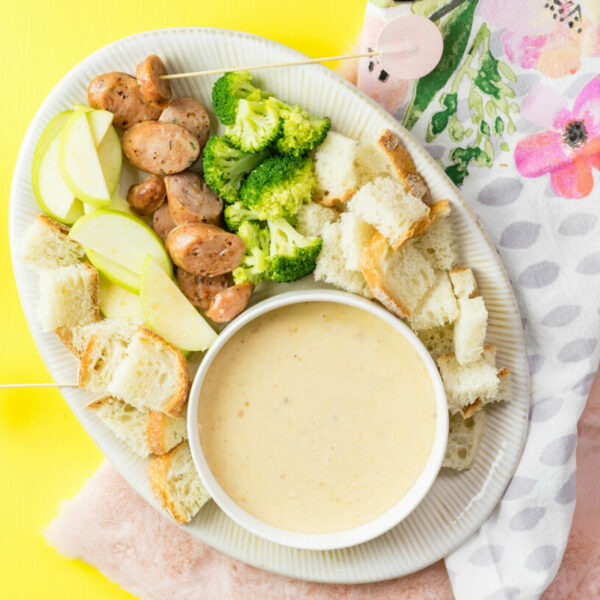 Get the Recipe: Easy Swiss and Gruyere Fondue
My easy swiss and gruyere cheese fondue recipe will give you the confidence to make creamy, smooth fondue! Make it for a party or just for dinner.
Ingredients
1 cup white wine
1 tsp garlic
8 oz shredded gruyere cheese
12 oz processed swiss cheese, cubed
1/4 tsp nutmeg
Instructions
Place a medium-sized pot on your stove over medium heat. Add the wine and garlic and bring to a simmer. Simmer for 5-7 minutes.

Siphon off about half of the wine and set aside.

Add the gruyere, about a quarter of the cheese at a time, letting it melt between additions. Stir regularly. Repeat with the swiss cheese.

Add the wine that was set aside a bit at a time until your desired consistency is reached.

Stir in the nutmeg and serve.
Notes
Serve with bread, soft pretzels, sausage, steamed veggies, and apples.