Lemon Yogurt Cake with Grapefruit Icing
If you haven't checked out my blog's shiny new Facebook page, go have a look!
Although most people associate bright, citrus fruits with late spring and summer, many of them are coming into season now. Lemons, oranges, grapefruits, tangelos, and clementines are all ready for pickin' and eatin', and I intend to do so. To celebrate the first glimpse of beautiful, fresh produce I made lemon yogurt cakes with grapefruit icing. Tart, moist, and oh-so-delicious. And, if you ask me, a much tastier alternative to an old box of chocolates for Valentine's Day.
I used Ina Garten's lemon yogurt cake recipe for the cake. Mix together flour, kosher salt, and baking powder. Set aside.
(Forget to take a picture.)
Combine yogurt, sugar, eggs, oil, lemon zest, and vanilla using your KitchenAid or a whisk. Add the dry ingredients while mixing until well incorporated.
Pour the batter into a greased 8 1/2 x 4 1/2 inch loaf pan or a super cute bundt cake pan. Bake in an oven preheated to 350 degrees for about 50 minutes if using a loaf pan or about 23 if using a mini bundt cake pan.
While they're cooking, whip together the grapefruit icing by juicing half a grapefruit. To do that, take a grapefruit.
Cut that grapefruit in half.
(The above pictures are really just there because grapefruits are so pretty. I have faith in you to cut a grapefruit in half on your own.) Then squeeze the heck out of one of the halves into a bowl.
Add lots and lots of powdered sugar, and some red food coloring if you want to boost the color.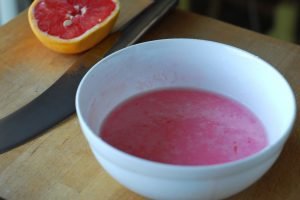 You have another task while the cakes are baking! In a small saucepan, combine some fresh squeezed lemon juice and sugar over low heat until sugar has melted. Pretty simple.
When the cakes are beautiful and golden, pull 'em out.
Let them cool for a few minutes in the pan, then turn them onto a cooling rack that is on a baking sheet. While they're still hot, pour the lemon mixture over them.
Top 'em off with the grapefruit icing…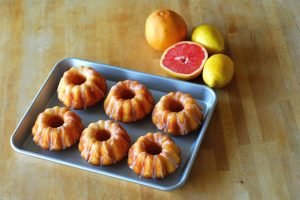 And give some bright, summer flavors to your taste buds a few months early.
Lemon Yogurt Cupcakes with Grapefruit Icing
Modified from Ina Garten
Makes 6-8 mini bundt cakes or 1 loaf


Ingredients
Cake:
1 1/2 cups all-purpose flour
2 teaspoons baking powder
1/2 teaspoon kosher salt
1 cup plain whole-milk yogurt
1 1/3 cups sugar, divided
3 extra-large eggs
2 teaspoons grated lemon zest (2 lemons)
1/2 teaspoon pure vanilla extract
1/2 cup vegetable oil
1/3 cup freshly squeezed lemon juice
Grapefruit Icing:
Juice of 1/2 grapefruit
2 cups powdered sugar
1 drop red food coloring (if desired)
Directions
1. Preheat the oven to 350 degrees F. Grease an 8 1/2 by 4 1/4 by 2 1/2-inch loaf pan or a mini bundt cake pan. 
2. Sift together the flour, baking powder, and salt a bowl. In another bowl, mix together the yogurt, one cup of sugar, the eggs, lemon zest, oil, and vanilla. Slowly whisk the dry ingredients into the wet ingredients. 
3. Pour the batter into the prepared pan and bake for about 50 minutes if using a loaf pan or 20-25 minutes if using a mini bundt cake pan, or until a cake tester placed in the center of the loaf comes out clean. 
4. Meanwhile, cook the 1/3 cup lemon juice and remaining 1/3 cup sugar in a small pan until the sugar dissolves and the mixture is clear. Set aside. 
5. To make the icing, whisk the grapefruit juice, powdered sugar, and food coloring until smooth. 
6. When the cake is done, allow it to cool in the pan for 10 minutes. Carefully place on a baking rack over a sheet pan. While the cake is still warm, pour the lemon-sugar mixture over the cake and allow it to soak in. Cool. 
7. Top with the grapefruit icing and serve.