This nectarine lemon bars recipe is the perfect way to use everyone's favorite late summer fruit! If you're looking for an incredible nectarine dessert recipe, this is the one. The texture and flavor of the nectarines are enhanced by the lemon, and in bar form, they're great for a crowd (or keep them to yourself!).
This is a tough call and I'll likely change my mind several times in my life, but I think nectarines are my favorite fruit. They're better than peaches because they're not fuzzy. Sorry peaches. And, as you may or may not know, I am allergic to a lot of fruits, like watermelons and cantaloupe, and nectarines are just fine. I live a sad life, being deprived of things like melons.
Fiance is a lemon bar fiend. They are tied with pumpkin pie in the battle for his sweet tooth. Since I bought a giant bag of nectarines and came home to realize my eyes were bigger than my stomach and he'd been begging for lemon bars, these were born.
And they are oh so good.
To make sure they didn't interrupt the perfect texture of lemon bars, I caramelized and softened them in a little bit of melted butter. Because butter needed to sneak its way into these treats as many times as possible.
How to Make Nectarine Lemon Bar Crust
Start with the crust, which is simply flour, powdered sugar, and butter. There's that butter again.
Press the dough into the bottom of a greased glass baking dish and bake it for about 20 minutes. I'm using a cake pan because we wanted a half batch (I know, I know, it was a hard decision to make) and we don't have any small glass baking dishes yet.
How to Make the Nectarine Lemon Bars
While the crust is baking, slice up the nectarines nice and thin and toss 'em with a little sugar.
Then add them to melted butter in a frying pan over medium heat.
Once they're a little soft and the outsides have little golden brown spots, remove the nectarines from heat.
Whip up the batter eggs, sugar, lemon juice, and a little flour. I should have whisked a little longer, but it's fine. You'll do better than me.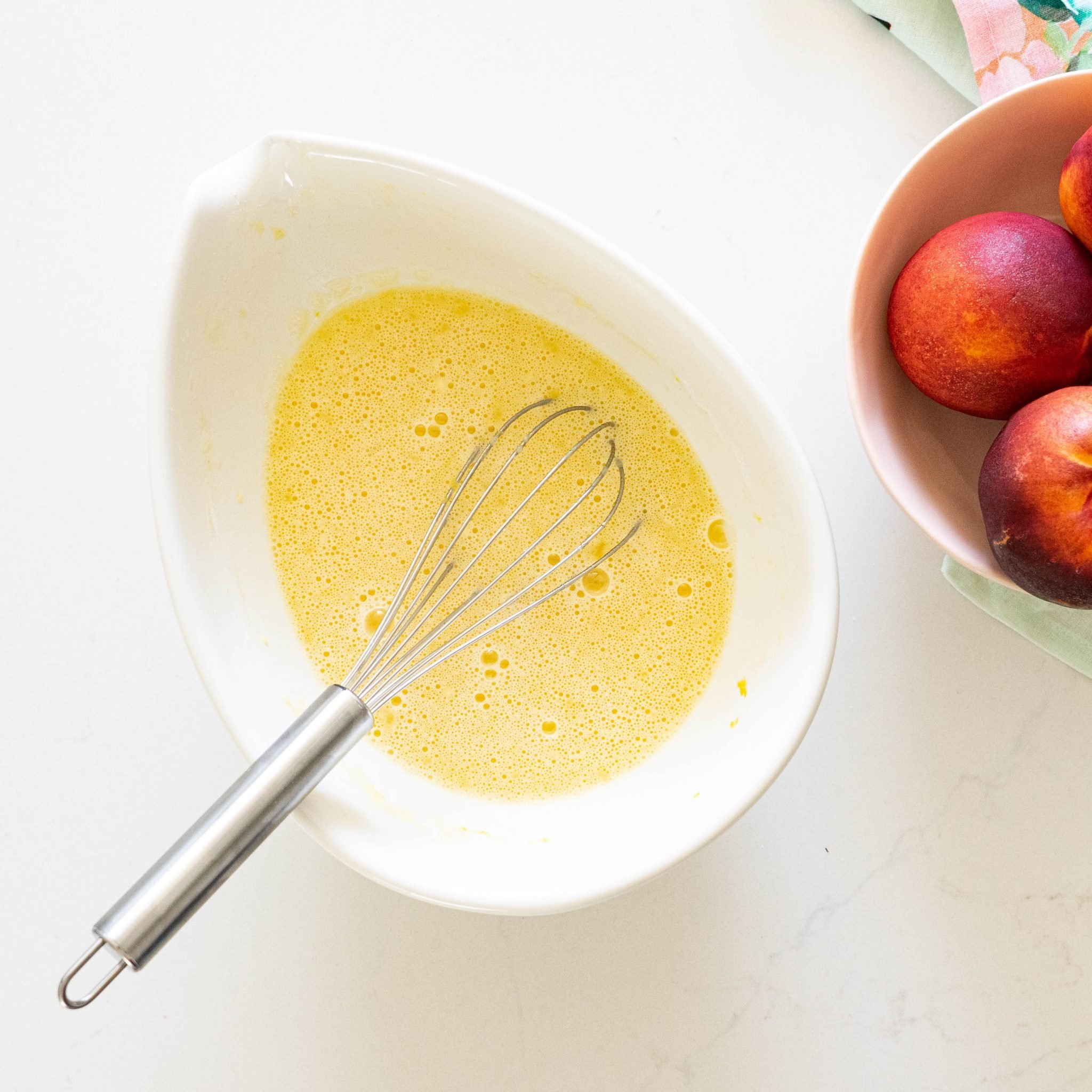 Pour the batter right over the hot crust, then arrange the nectarines in the batter. They'll float and make it easy for you to make them pretty.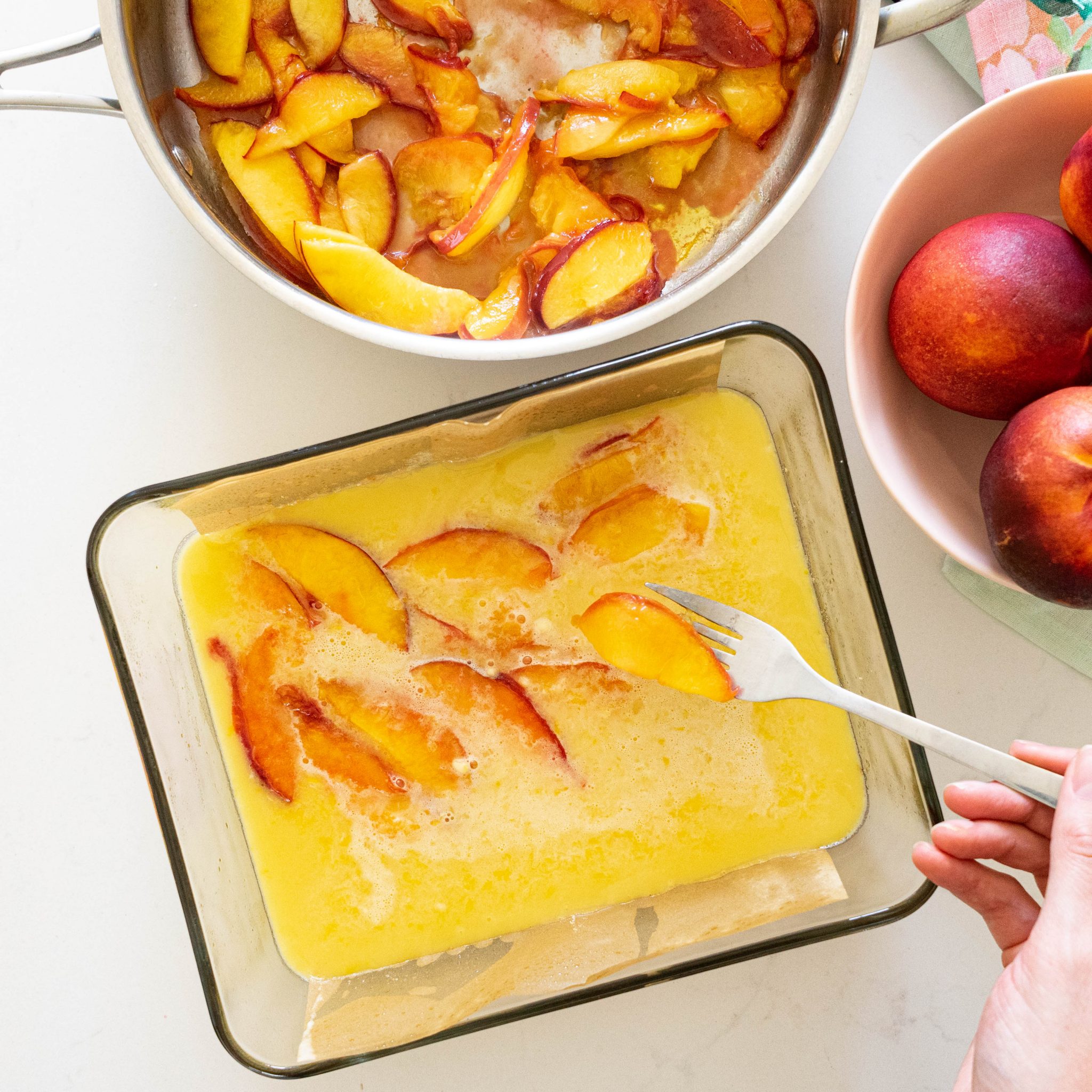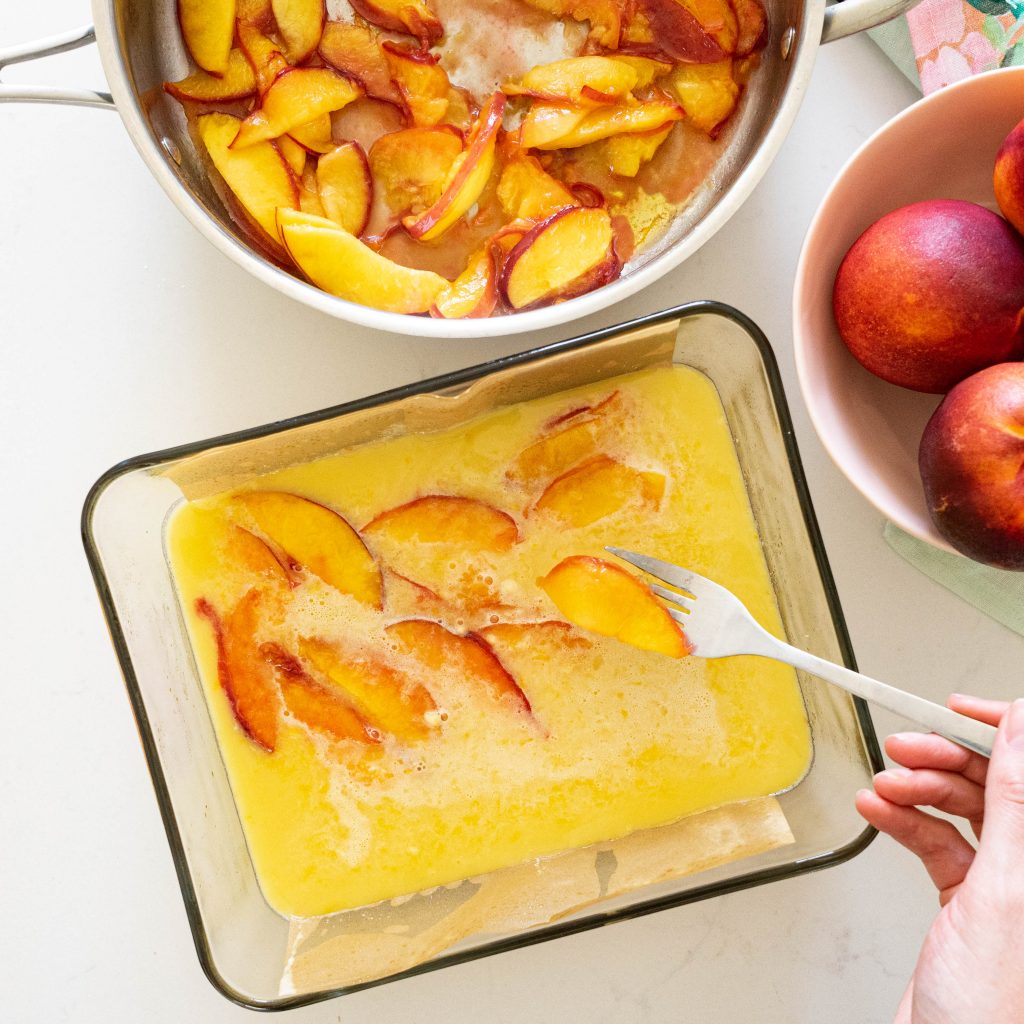 Pop 'em back in the oven and let them cook until the center is no longer jiggly. It's an exact science, clearly.
Then, just because this dessert is cruel, refrigerate them for a few hours, as long as you can stand.
Make a full batch and eat the whole thing. For my sake.
Finished nectarine lemon bars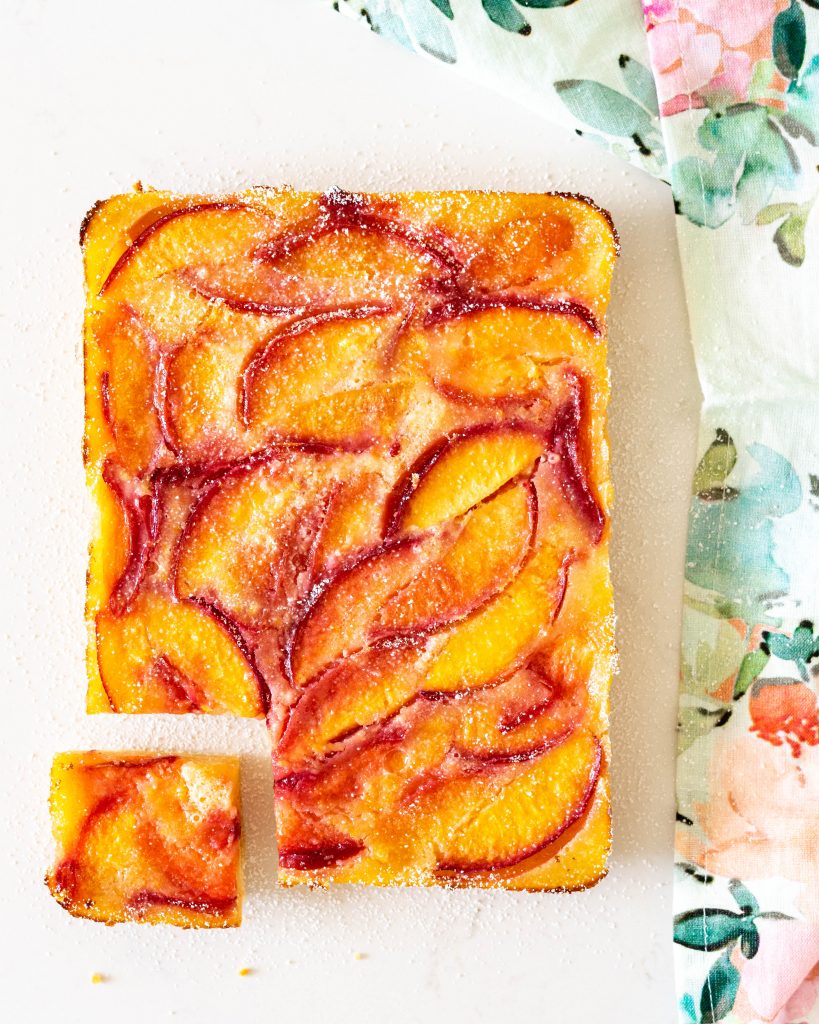 You can also view this recipe as a step-by-step web story here.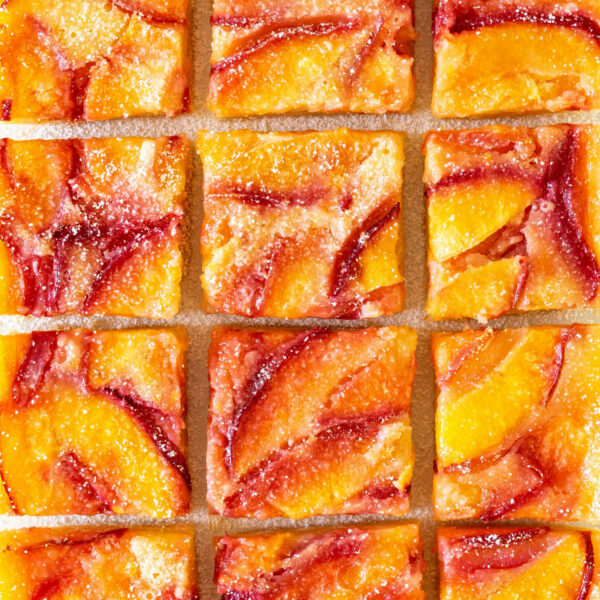 Get the Recipe: Lemon Bars with Caramelized Nectarines
You'll love this nectarine dessert recipe. The texture and flavor of the nectarines are enhanced by the lemon, and as bars, they're great for a group.
Ingredients
Crust:
1 1/2 cups flour
2/3 cups powdered sugar
3/4 cup butter, cold and cubed
Batter:
4 nectarines, cut into 1/4 inch thick slices
1 tbsp sugar
1 tbsp butter
6 eggs, ideally room temperature
1 3/4 cup sugar
1 cup lemon juice, ideally room temperature
1/3 cup flour
Instructions
Preheat oven to 375 degrees F (190 degrees C). Grease a 9×13 inch glass baking dish.

To make the crust, whisk together the flour and powdered sugar. Cut in the cold, cubed butter with a pastry cutter, the whisk attachment on your KitchenAid, or crumble with your fingers. Press into the bottom of the glass baking dish. Bake in the preheated oven for about 20 minutes, or until the edges are golden brown.

While the crust is baking, toss the nectarines with the 1 tbsp of sugar. Melt the 1 tbsp of butter in a skillet over medium heat. Add the nectarines and toss them around to coat. Let them cook in a single layer for about 3-5 minutes, or until golden spots appear. Flip and let cook for another 3 minutes, until slightly golden. Set aside.

Whisk together the eggs, sugar, and lemon juice. Add the flour a little at a time and whisk until no longer clumpy.

Pour the batter over the hot, prepared crust. Arrange the nectarine slices in the batter. Bake for an additional 20-25 minutes, or until center is no longer jiggly.

Refrigerate for at least two hours, or until chilled. Sprinkle with powdered sugar and serve!
Serving: 1bar, Calories: 227kcal, Carbohydrates: 35g, Protein: 3g, Fat: 9g, Saturated Fat: 5g, Polyunsaturated Fat: 1g, Monounsaturated Fat: 2g, Trans Fat: 1g, Cholesterol: 69mg, Sodium: 85mg, Potassium: 103mg, Fiber: 1g, Sugar: 25g, Vitamin A: 397IU, Vitamin C: 6mg, Calcium: 14mg, Iron: 1mg