Hearty Eight Bean Soup
Oregon is notorious for rain. And rightly so!  It rains in Oregon pretty much non-stop from October through June. But I've come to terms with it because it means we get all of this beautiful, green foliage and the summer months are fantastic. If you know me, you know I cannot cope with extreme heat or extreme cold, so Oregon is just right.
The bigger cities in Oregon, such as Portland and Eugene, reside in the valley of Oregon. Although the valley does get the almost year round downpour, one thing we don't get a lot of is snow. I have had precious few snow days in my life, but the occasional storm does throw everyone into a tizzy. We really don't know how to cope with extreme weather. The little bit of snow we do get comes in December, January, and February almost exclusively.
Yet somehow, we have had a decent amount of snow in March. What?! This is not how spring is supposed to happen. In fact, today is the second day of spring, but the sky decided to open up and dump six inches of snow on Eugene today.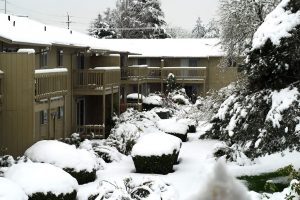 The university closed for most of the day, so we actually get a for real snow day this year! So bizarre, but kind of fun. Only because I have groceries, though. And it had better not freakin' last for more than a day. My poor balcony decorations can't take it.
So, in honor of the bizarre weather, I decided to make a soup. Because nothing goes better than soup and snow.
But I didn't take any pictures of the process. And I apologize for that. I hope you'll forgive me- the snow has caused me to lose what marbles I had.
Enjoy this soup! It's got chicken, corn, tomatoes, and eight types of beans! Navy, pinto, green lentils, split yellow peas, yellow eye steuben, black turtle, small red, and split green peas. Whew! That's a lotta beans.
Hearty Eight Bean Soup
Makes 8 servings

Ingredients
1 chicken breast, fat trimmed
1/2 cup salsa
1 cup chicken broth
1 1/2 cups eight bean blend
1 tbsp butter
1 small onion, diced
3 stalks celery, diced
1 1/2 tsp minced garlic
3 cups chicken broth
1 can diced tomatoes
1 can tomato sauce
1 tbsp chili powder
1/2 tsp cayenne pepper
1/2 tsp black pepper
2 tsp Italian seasoning
1 can corn
Directions
1. Combine chicken breast, salsa, and chicken broth in a crock pot and cook on low for six hours or high for three hours. Cover beans with at least 4 cups of water in a large bowl and let sit for at least four hours.
2. When chicken is done, remove the chicken from crock pot and shred by inserting two forks into the breast and pulling them apart.
3. When beans are ready, melt the butter in a large stock pot. Add the onions, celery, and garlic and cook until veggies are soft and garlic is fragrant. Add all remaining ingredients except the corn and chicken. Stir well, taste, and add additional seasoning if need be. Let simmer on medium low for an hour and a half to two hours, or until beans are cooked through.
4. Stir in chicken and corn and cook until just heated through. Serve with chopped green onions on top.